This article originally featured in the May 2020 issue of Connect.
Rhema Baquero (Kobe)
Ethan Wang rolled out of his hotel bed in the early morning for one of the biggest challenges of his life, the Okinawa 100K Ultra Marathon on December 15, 2019. Like a kid before Christmas, anticipation kept him up nearly all night. Wearing an Aquaman cosplay, he arrived at the bus just before 3a.m. to see hundreds of fellow competitors. A wave of comradely hit him, and he knew he was ready for the race.
"That was such an encouragement. You feel the energy. It's kind of like going to war. It's your brotherhood. You're feeding off that energy of that anticipation, so that woke me up," he said. "The atmosphere at 4, 5 in the morning as people are out there trying to run a hundred. There's kind of like nothing like that in the world. People are dedicated. Right away, I'm like 'Yeah man, I can do it. I'm psyched'."

Wang arrived in Kobe on the JET Programme in 2001. At the end of his contract, an ALT position opened with the Amagasaki Board of Education.
"The timing was just perfect," he said. "I didn't even have time to really go home. I just hopped over to Korea. Left Japan and came back in as a tourist. I had that visa before Amagasaki City helped me with the working visa."
The Taiwan-born, American-raised Wang ran track and field and cross country while in high school in New Jersey, but hated it.
"I was terrible at it. I was just doing that to kind of fulfill requirements. I tried football during freshman year and that was a huge commitment," he groused. "As a freshman in high school, you just want to try and do different things."
Wang was always into fitness but did not become serious about running until about five years ago, when he began running to help his then-wife. She wanted to do a physically challenging activity to help regain confidence after recovering from a prolonged illness and surgery.
"We started running together. She wanted to do a marathon to prove to herself that she could overcome any sickness. Which kinda makes sense, right? A marathon is no easy task, so if you can do that, then you're OK," he said.
They trained, applied to different marathons and were accepted into the 2015 Kyoto Marathon. They finished together with a time of 04:43:52.
"We did it. We did the marathon in Kyoto, and we started together and finished together," he said. He did not imagine that it would be as fulfilling as it was. After they parted ways, he kept running as a way to cope and find peace.
"I was going through a difficult time in my life. I started to run to exercise and it was the perfect thing for me. For more than a year I couldn't sleep. I was just going through a lot of stress trying to balance what happened. It was a huge problem," he said. "Running was very, very therapeutic. When you're running, especially those difficult workouts you don't really think about anything else."
Running became a way to focus on the present and free his mind from negativity.
"So I kept going and going, further and further, more and more, and longer and longer. It just became an addiction. Which could be a problem but it was the only way I could kind of cope with what was happening."
The following fall, he entered the Kobe Marathon on his own. Wang improved, running 03:44:25, and the race solidified his desire to continue marathons. But he doesn't care about his times. He is all about having fun. Hence, the cosplay element.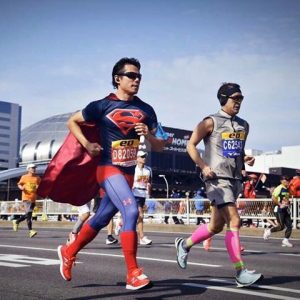 GANBARE SUPERMAN
On October 30, 2016, Wang entered the Osaka Marathon, and since it was close to Halloween, ran dressed as Superman.
"When you're running in a superhero costume, especially Superman, it kind of gives you more energy and power. And you feel like you can go faster," he said.
Runners take notice and strike up conversations when they see him. He appreciates their interest and enjoys talking about his costume and props—even if it slows him down.
"It's an ice breaker. No matter where you go, if you're weird, people will talk to you. They have questions they want to ask, so that makes [running] more interesting and amazing," he said.
When you're running in a superhero costume, especially Superman, it kind of gives you more energy and power. And you feel like you can go faster.
After these past five years of running, even the lows have become a positive. For the first couple of years, sometimes he wanted to give up during races. Cramps and muscle pain were not just physical but mental as well.
"It's a learning process. The more you do it, the more you learn how to cope with the difficulties, the challenges," he said. "Even though your body says stop, someone says, 'You can do it! Just one step at a time! Keep going!' That's what I dealt with, is you feel even though these people don't know me, they are trying to support me the best they can. That's huge. I owe it to them to try my best and keep going."
But Wang thinks that sometimes it is more difficult to quit running than it is to keep going.
"I think that's also an addiction. For me, when I get those pains, that's when I get a kick out of it. Sometimes, I feel more energetic; I feel more challenged," he said. "I don't know if this is what goes through a masochist's head, psychology wise, but I think part of it is that when there is pain, there is relief. I know in my head that there is a relief, and that's a super high, and therefore I eat it up."
Ultimately, his body got used to the pain. He wanted to feel the highs and the lows again because they make him feel alive. So a year ago, he decided to tackle ultra marathons after being recommended the book Born to Run.
ULTRA RACING
Wang's first ultra run was during Golden Week last May in Mukogawa as the Winter Soldier. That 70-kilometer run took him back and forth along the river banks. Reaching 42.196 kilometers during this race taught him a lot about himself.
"Between 42 and 70 was painful. But I asked for it!" he declared. "You start imagining things. It is like an out of body experience. Part of that race was kind of like a dream. I think my mind was trying to escape it."
The race taught him tolerance levels and new ways to cope. He made phone calls to family and friends, Instagrammed images, and listened to motivational talks by his favorite actor, Denzel Washington. He even applied his meditation techniques of mindfulness to the most painful moments.
"You learn about patience," he said. "Imagine doing anything in your life for six hours in your life non-stop—even anything that can be super fun. Doing that is mentally stressful."
On the morning of the Okinawa 100K Ultra Marathon, Wang stood in pitch blackness soaking in the anticipation. As he ran, he took moments to absorb an Okinawan scenery much different from his Kansai home. He let his mind slip from the thoughts of his burning leg muscles, the heave of his focused breath, the sounds of his footsteps steadily pounding the pathway. He even stopped to take in the southern sunrise.
"I don't know if it was because I'm running a 100K or something," he said. "It was the most beautiful sunrise​ I've​ ever experienced. I mean it's a cliché, people are like 'Sunrise, I've seen a thousand of them in a lifetime' but for some reason, I think there was so much emotion in the air, in my head, that changed your perspective. . . or it is that beautiful. It was amazing."
Wang said Okinawa helped him realize that most things in life don't matter.
"There were points during that run where you experience that it was just nothing. I don't know how to describe it. I don't know if it was relief, freedom, or it was more like peace," he said. "It was peaceful more than anything I think. I feel that was kind of my path.That my journey through all these runs . . . that was part of something that I was supposed to experience."
On paper, this race was one of the most physically challenging things he has ever done.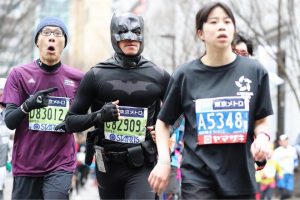 "It was more than I could imagine what the experience would be," he said. "I would describe it as maybe the most spiritual thing I've done. Which is not what I expected."
The transition from marathon to ultra marathon was painful, but for him, the leap from 70K to 100K was easier and more pleasurable than a shorter run.
"The journey has been insane. It's sick. And I'm not finished! I'm going to continue to do what I want to do. I'm going to continue to do regular half marathons, different kinds of races, and I'm going to continue to costume because I'm still loving it."
Wang said he cannot wait to see what's for him. Running has changed his way of thinking for the better.
"I'm super happy. Maybe the happiest point ever in my life. What I truly believe is in order to be happier and be satisfied and to be content you also need the challenges and the difficult parts and the negative parts in order to move up to the next stage," he said. "So I welcome the negative parts about life and I think the difference is I know how to deal with it better and how to grow from it and how to learn from it. I embrace it. I don't see it as a negative thing because everything negative in life I think it ends with something positive. The funny thing is that it's working."
Wang finds it ironic that despite running that first marathon for someone else, he himself grew as a person.
"I had no idea at that time that [running] was something that I would need to use to help guide me through recovery from what was going to happen next," he said. "So who knows, right? Running saved me. Sounds religious, but that is the honest truth."
RACE HISTORY

2020-02-16: KIX Senshu Marathon – 04:10:23 cosplay: War Machine + Punisher
2019-12-15: Okinawa Ultra (100km) – 13:03:53 cosplay: Aquaman
2019-12-01: Osaka Marathon <2nd time> – 04:36:29 cosplay: Deadpool
2019-11-17: Kobe Marathon <2nd time> – 04:39:22 cosplay: Thor
2019-11-03: Nishinomiya Koshien Half – 01:50:58 cosplay: Tiger Mask
2019-10-13: Miki City Ultra (60km) – 06:29:54 cosplay: Logan
2019-07-14: Coney Island Half – 01:56:58 cosplay: Hulk
2019-06-09: Koyasan Ultra (50km) – 06:03:41 cosplay: Captain America
2019-05-03: Mukogawa Ultra (70km) – 07:47:07 cosplay: Winter Soldier
2019-03-17: Seoul Marathon – 03:30:29 cosplay: Black Panther
2019-01-13: Taipei Marathon – 03:47:58 cosplay: Iron Man
2018-12-08: HAT Kobe Marathon – 03:52:56 cosplay: Spider-Man (red)
2018-11-11: Okayama Marathon – 03:44:51 cosplay: Spidey (black) / Venom
2018-02-25: Tokyo Marathon – 03:54:46 cosplay: Batman
2017-02-26: Himeji Marathon – 03:32:36 cosplay: Flash
2016-12-11: Nara Marathon – 03:35:37
2016-10-30: Osaka Marathon – 03:35:12
2015-11-15: Kobe Marathon – 03:44:25
2015-02-15: Kyoto Marathon – 04:43:52
2014-10-05: Yodogawa Half – 02:05:47
This slideshow requires JavaScript.
Photos: Ethan Wang
Check out more of his photography and race cosplays on his Instagram.
Rhema Baquero is a second-year ALT from America in the great port city of Kobe. She can often be found in a coffee shop either reading, writing, drawing, or studying Japanese. After playing rugby at university and graduate school, she was excited to finally attend the Rugby World Cup.