This article originally featured in the April 2020 issue of Connect.
Strawberry parfait, strawberry daifuku, strawberry shortcake and even strawberry buffets . . . If you have not come across these while living in Japan, you must be living under a rock, because Japan loves ichigo. According to JETRO, Japan comes out on top in terms of strawberry consumption and boasts around 300 different varieties. With everybody competing for a slice of the pie and meticulously growing these red gems in greenhouses, strawberries can be enjoyed in Japan almost throughout the year.
Strawberry picking is extremely popular around this time of the year, so if you have not gone yet, check out Ichigo Walker Plus for a comprehensive list of strawberry farms. The site is in Japanese, but plop the link into Google Translate and you will be able to find places in your preferred region that are currently in season, offer all-you-can-eat or feature your favourite type of strawberry! Meanwhile, here are some pictures from Se-Gil, Dahlia and Katie to get your appetite for strawberries going.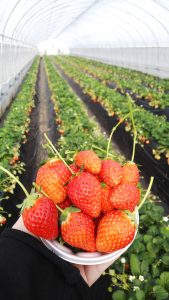 Katie Sampaio (Saitama)
I went to Japan's No. 1 strawberry-producing region—Tochigi! JA Hagano Mashiko Tourism Strawberry Complex boasts 111 greenhouses and unlimited all-you-can-eat Tochiotome strawberries.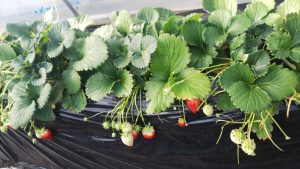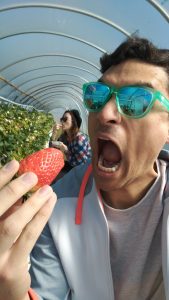 Se-Gil Feldsott (Nagano)
I went strawberry picking in February with my wife, Julie, while visiting my aunt and uncle in Fuji, and saw some amazing views of Mount Fuji while we were there. Unfortunately, for the all-you-can-pick, you do not get to take any home (i.e. you have to eat what you pick) so I ate 51, and Julie ate 36! They were so delicious! We ate all of the ripened strawberries we could find in our assigned picking section.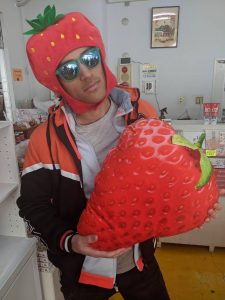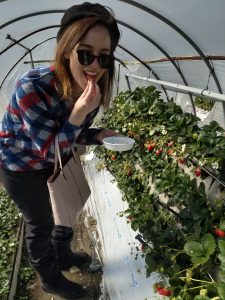 Dahlia Lemelin (Gunma)
In mid-February, a small group of Gunma JETs met for some strawberry picking just outside Takasaki, at Farm Club Nakazato (ファームクラブ中里農場). For 1800 yen, you get access to a greenhouse for an unlimited time, all-you-can-eat strawberry picking! With the deal including a small plastic tray to pour chocolate or condensed milk (self-serve!) to dip your strawberries, it is recommended you come hungry!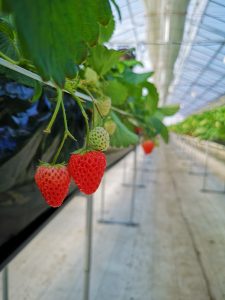 Before Japan, Shao Ting never knew fresh strawberries could smell so good. You can find her busy chasing after flowers this spring and summer. Follow her @inSakuraLand for titbits and tips on Japan travel.