This article originally featured in the April 2020 issue of Connect.
The forgotten side of Shiga
Sophia Freckmann (Shiga)
On a hot summer's day at the end of May in my hometown of Prague, I received an email titled, "Welcome to Takashima City, Shiga Prefecture." I opened the email excitedly and read its contents. If my face could turn into a question mark, it would have at that point⁠—I immediately paid a visit to my good friend, Google. I would be lying if I said that the minimal amount of information online on what to expect from a place I would be living in didn't worry me, but I knew that I would learn with time.
Sounds familiar? Chances are, many of you posted to places apart from the familiar big cities didn't know what to expect initially as well. Similar to when traveling to a new place⁠: even if you do your research, you are most often still surprised when you finally make it there. Just shy of two years later, I feel that my zero knowledge of Takashima City (高島市) has undoubtedly increased. One of the things we can do is share the knowledge about our new homes for others' benefit. And, in light of recent events where teachers are advised not to travel abroad, it's perhaps even more of a reason to explore places in Japan! Here are a few reasons why I think you should visit Takashima.
Introducing Takashima
Once called Omi Province, modern-day Shiga Prefecture held the capital of Japan, Otsu. The prefecture's historic name still lingers as a reminder in town names as well as the prefecture's own wagyu, Omi beef. Unlike the east side of Shiga Prefecture, with a Shinkansen station at Maibara making it more quickly and easily accessible, the west side of Lake Biwa is significantly less developed. Less than an hour's train ride on the local Kosei Line from Kyoto, Takashima is made up of small towns Omi-Takashima, Adogawa, Kutsuki, Shin-asahi, Omi-Imazu and Makino.
Takashima means 'tall island' and there is something poetically island-like about the place. To the east of the city sits the largest lake in Japan, Lake Biwa, which one could mistake as the sea when looking across it. To the west are the mountains that make up the Takashima Trail. And the rest? Well, many, many rice fields. As for how they came up with the part about being 'tall,' your guess is as good as mine!
From natural and historic landmarks to cafés and other local produce, it makes for a popular day-trip destination year-round. Active types may find themselves in the area when completing the Biwa Ichi, a cycle around the whole lake, doing water sports during the summer, or hiking the many trails in the mountains. Tourists most notably tend to flock over during spring for the cherry blossoms and also for autumn foliage.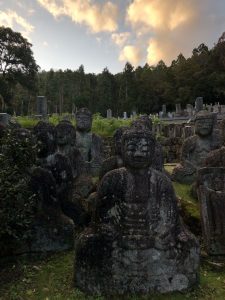 Shirahige Shrine and many buddhas
Perhaps one of the main sites that brings tourists to Takashima is Shirahige Shrine. The shrine is located in the town of Omi-Takashima, the first stop in Takashima city. The town used to be sister cities with a town in Ireland, and many connections between the two countries still remain, particularly, a love for the author Jonathan Swift. As the train pulls into the station, it's hard to miss the huge brown statue of a western man tied with ropes held by little people. As some towns have famous heroes in their main square, Omi-Takashima has Gulliver.
Shirahige Shrine is about a 20-minute walk away from the station. Parking is available for those traveling by car, making the walk much shorter. The shrine itself is known for bestowing blessings of longevity (fun fact: shirahige means 'white beard'), love, fertility, and safe voyages upon its pilgrims. If you don't quite need the blessings, it's still worth a visit for the great phototunity alone. The shrine has an iconic torii gate—think Hiroshima's Miyajima Island or Lake Ashi's torii gates—although admittedly smaller, and a lighter shade of red.
As a warning, an unfortunate mistake in city planning allowed a highway road to run between the shrine and the shore of Lake Biwa where the torii gate stands. There is no pedestrian crossing, so do make sure to look before you cross. For those who played Frogger growing up, those skills do not go to waste here.
On your walk back to your transportation of choice, off the main road and up a small hill in Ukawa sits a graveyard with an impressive amount (48 to be exact) of life-sized sitting buddhas. The buddhas sit quietly as if pondering the lake below, and vary in size, postures, and facial expressions. It's not well-known, but the surreal atmosphere is sure to make you want to pinch and bring yourself back to reality. Continue along back to the main road and you'll find an abandoned hotel with potential for ghost sightings, although not guaranteed.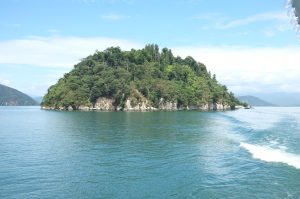 Chikubushima
There are three islands located in Lake Biwa. Boarding a ferry at Omi-Imazu port, it is possible to visit one of the islands, called Chikubushima. The island which is only two kilometres across holds one of the 33 temples of the Saigoku Kannon Pilgrimage, and is known for its mystical energy. Tickets can be purchased from Omi-Imazu port, with ferry times varying seasonally (details can be found here. Visitors are allowed to explore the island for between 75 to 85 minutes.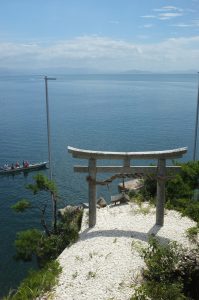 You can also test your throwing skills and the island's mystical powers in kawarake-nage, earthenware tile-throwing between the torii gate, with Lake Biwa as a backdrop. Chikubushima is located equal distances from Omi-Imazu and Nagahama, so it is also possible to access the island from Nagahama Port.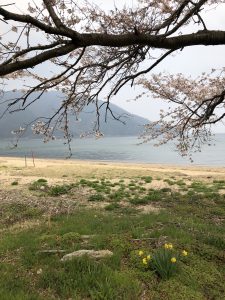 Metasequoia Namiki and Kaizu Osaki
The northernmost part of the city is Makino, one of the only two places in Japan written only in Katakana (the other being Niseko in Hokkaido, making the two sister cities for this reason). It's the place where the seasons are most visible and best enjoyed in Takashima.
The hot summer, although milder than in the cities, is a great time for swimming at Sunny Beach. In autumn, you can see the changing colors of fall leaves at the Metasequoia Namiki (featured in CONNECT's October issue). Every year in October in Makino, the Kuri Marathon takes place, allowing runners to participate in a 2 or 10km run, or a half marathon. The races all end going down the famous 2.4km Metasequoia Namiki. Your reward? A pack of chestnuts and a snazzy t-shirt.
If you're lucky and the winter brings good amounts of snow, you can go snowshoeing or skiing at Makino Kogen. In spring, cherry trees along the coast next to the lake, known as Kaizu Osaki, are in full bloom. There is a path for walking under the cherry trees, as well as boats that allow viewings from the water. It's a beautiful sight that attracts a lot of visitors.
Cafes Worth Visiting
Traveling should always be paired with good food and coffee. Here's the inside-scoop on some places to try in Takashima.
First on the list is Wani Cafe in Omi-Takashima, about a ten-minute walk from the station. The entrance to the café is not the most obvious, as it involves going through an alley off the main street. The café serves coffee, cakes, shaved ice, as well as teishoku, a.k.a. set meals. For a little over 2,000 yen, you can get a starter made from locally sourced seasonal produce, a choice of curry or pasta, and a choice of drink and dessert. It's run by a lovely couple, and the menu is constantly changing, fueled by their passion for cooking and making new things.
Another great cafe offering teishoku is Cafe Collabo located in Shin-Asahi. Also using seasonal produce, the set offers tastes of different dishes, paired with soup and rice, and sometimes even decorated with seasonal flowers (not edible, unfortunately). Lunch sets are served from 11:30 a.m., but popularity makes them run out fast! If you make it there and they have run out, don't worry, you can still order à la carte. Be sure to check out the furniture refurbishment workshop connected to the café in the back for a look at some cool designs made using aged wood!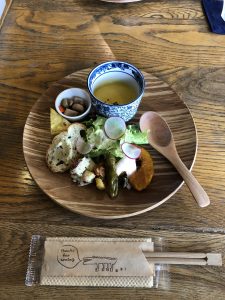 Don't have time for lunch but looking for a good cup of coffee? Also located in Shin-Asahi, Coffee Works Plus is an espresso bar offering visitors a choice of many different kinds of beans for your ideal brew. The shop itself is slightly small, only offering a few seats for customers, but take-away is also possible.
Last on the list, but definitely not least, is Totoro in Makino. It offers teishoku sets for both lunch and dinner. Featuring a very friendly atmosphere, there is a wide range of food on offer from tempura, steak, katsu to sashimi sets. Prices for the sets range from between 1,000 to 2,000 yen, but be sure to come with a big appetite (or a friend) as the portions are quite big!
Keep a lookout!
If you want to find out more about what Takashima has to offer, a recent tour in February was covered and featured in both the April and May issues of the Savvy magazine, which can be found at most convenience stores.
All Photos: Sophia Freckmann
A Greek/American/Irish citizen raised in the Czech Republic, Sophia is a second-year JET currently based in Takashima, Shiga Prefecture. When she isn't teaching at her junior high school, Sophia likes running, watching old films, listening to podcasts, or planning her next travel destination (although not all at the same time). You can follow her on Instagram @sophiafreckmann.