This article originally featured in the April 2020 issue of Connect.
Isabelle Teo
Spring is in the air! As we shed our jackets and embrace the sun, it's time to spruce up our wardrobe! Though sakura-themed clothing and pastel pinks will probably return in full force this season, other trends are cropping up to break the monotony. My frivolous activity of choice while desk warming is scrolling through endless style articles, dreaming of how magnificent I could be when I'm eventually released back into the wild, so let me share the fruits of my labour.
Colour Me Impressed!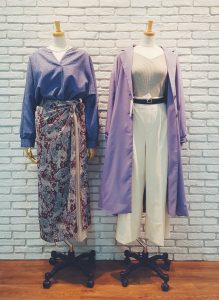 When one thinks of spring colours, soft pastels leap to mind and this year . . . is no different. However, this year's シャーベットカラー (shaabetto kara), or sherbert colours, do lean heavily towards the cool side for a refreshing feel against the incoming heat. Let's stay away from the traditional sakura pinks—you want to pop in contrast to your surroundings after all! Think icy blues, lavender, and mint, but don't be restricted to them! For example, if you want to wear yellow, choose cool-toned yellows with green bases.
For more masculine fashion, muted colours such as earthy tones and subdued blues are the way to go! To go with the theme of sustainability and nature, earthy tones, from soft sands to terracotta browns, have been popping up all around stores. They work whether your fashion is feminine, masculine, and anything beyond. Classic blue especially has been chosen as the Colour of the Year and a hue that instils calm is definitely welcome in the current world we live in.
Show Some Skin!
As society grows more open to showing skin, fashion is happy to take advantage. バックシャン (bakkushan) is a combination of the English word 'back' and the German word 'schön', which means beautiful. This trend focuses on showing off the beauty of the back in a refined manner, and it looks particularly refreshing after your back and shoulders have been hiding away in the cold of autumn and winter. There are many variations to this style, from how open that back is, to the inclusion of ribbon or lace, so there'll be something for everyone!
シアー素材 (shiaa sozai), or sheer fabric, is also gaining popularity. Chiffon, lace, tulle, and even sweaters with a looser knit—anything that hints coyly at what's underneath. Most common are sheer shirts with neat colours or blouses with sheer sleeves for a more elegant and mature look.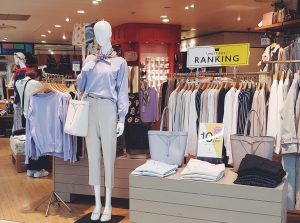 Go Big or Go Home!
With all these pale colours and delicate fabric, a splash of excitement is sorely needed. Whether it be bolder silhouettes or louder accessories, there are plenty of ways to spice up your outfits this spring!
The boxy silhouette of wider pants is hot this season. For a tighter cinch and a more defined waist, look for culottes (キュロット). Both long-length culottes for a more mature feel and short-length culottes for a fun, girlish feel are popular in spring, especially as the weather grows warmer and the breeze is greatly appreciated. For a more masculine fit, look for wide-legged pants (ワイドパンツ)!
As for patterns, instead of the small flowers that you've probably seen all year round and the sakura petals that float across half the dresses in store, go for larger, bolder floral prints! Heck, ditch the flowers altogether, and go tie-dye. Yes, you heard right—tie-dye (タイダイ) is on the upswing right now, and I for one am excited about the challenge. While in my opinion, a loud and cheerful swirl of colours will never be remiss, this season brings a wash of more delicate colours, with soft blues and greys.
Finally, finish off your outfit with some statement accessories. Bring a little glam with larger earrings. Bags with thicker bamboo handles align with the nature theme of spring perfectly. Wear your favourite chonky, old school ダッドスニーカー (dad sneakers).
A Shoutout to Fellow Northerns.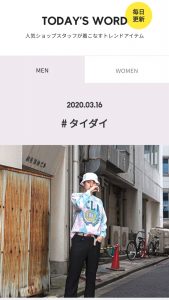 Of course, Japan's a big country and the northern prefectures might still be feeling the chill. Even though this year has been a lot warmer, it still snows in Akita even into March. And if you're like me, from a tropical island and never quite warm until the temperature nears 30ºC, you'll need ways to layer up well into spring.
An outerwear piece (アウター) is always a good way to keep warm. Trench coats (トレンチコート) are an excellent investment that rarely go out of style, especially in classic tan or beige. Pair them with light denim and flat shoes for an elegant but casual look. Casual blazers (ジャケット) are also classic, and a great choice for those working in schools and offices.
A personal favourite is to style my favourite sweaters from winter with loose, flowing skirts
Choose a pleated skirt (プリーツスカート) for a more refined skirt, or go all out with patterns for a pop of fun!
Don't just take my word for it—research trends for yourself! The world of fashion is ever-evolving and even if you don't want to trawl through chunks of Japanese text, the images should be more than enough to give you some much-needed inspo. Fashion-themed listicles are equally popular on the Japanese side of the internet. I've tried to include as many Japanese search phrases as I could in the article above, but here are a few terms to help your search:
春コーデ – spring coordination | メンズ – men's
トレンド – trends | 低身長 – short stature
高身長 – tall stature | プラス サイズ – plus size
I personally like the street style website WEAR that features everyday looks that are actually wearable. You can also sort based on height, age, and even hairstyle! There's also a section called トレンドキーワード(torendo kiiwado) that keeps track of trends. The more prolific models link to their pieces so you can shop their look. Zozotown is another popular shopping site that also sells used clothing, and at the time of writing this, it has a whole section featuring trends for spring and summer. Both have mobile apps for your convenience!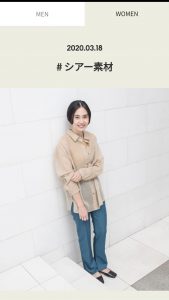 I hope these points have inspired you to upgrade your spring wardrobe! And remember, wherever you find your fashion inspiration, these trends are only suggestions that can be subsumed into your own style! Dress to your own best!
Cover Image: Taisiia Stupak on Unsplash.com | Article Images: Isabelle Teo
Isabelle Teo is a second-year elementary school ALT in the chilly wastelands of Akita. She writes and cooks and wants to burn to ashes.