This article originally featured in the March 2020 issue of Connect.
Japan's exquisite flowers
Hoong Shao Ting (Nagano)
This slideshow requires JavaScript.
Weather around the world has been weird—think the terrible Typhoon Hagibis and fires in Australia—and Japan has seen a warm winter these past few months. This also means that nature's rhythm has been affected, and if you haven't heard, the 2020 sakura season is going to be plus-minus one week earlier than past years.
As compared to travellers who only visit for a short week or so, people living in Japan have a big advantage when it comes to chasing after the fleeting cherry blossoms. Many of us will be travelling to different parts of the country, though, and like me, you may be worried (to varying extents) about whether you will catch those elusive blooms. Check out the tips and insights I have summarised from my past few sakura seasons, and let me know if you have any advice to share too—I am always looking to up my hanami (花見, lit. flower-viewing) game!
Having lived in Singapore with an abundance of tropical flowers blooming by the roadsides and in parks, as well as the UK with its elegant gardens, I can say that the Japanese love and do their flowers on a whole different scale. Here, you can find yourself wandering among thousands of blossoming trees, admiring carefully-designed patchworks of flower beds, and looking at expansive hills or fields carpeted in blooms. Apart from the iconic cherry blossoms in spring, Japan with its four seasons also boasts a plethora of blooms in every hue, so much so that many of the traditional colour names are inspired by flowers. For example, sakura (light pink), wisteria (light purple), peach blossoms (pinkish coral), canola (yellow), forget-me-not (blue) . . .
For the uninitiated, here's welcoming you to the fantastic floral paradise; for fellow anthophiles (yes, I just found out there is a term for people who love flowers!), here is a reminder to start charting your course for 2020.
Colourful Snaphshots
Looking at these never fails to make me happy and I can still vividly remember the heart-fluttering moments when I pressed the shutter. You know I can't wait for spring to be in full swing.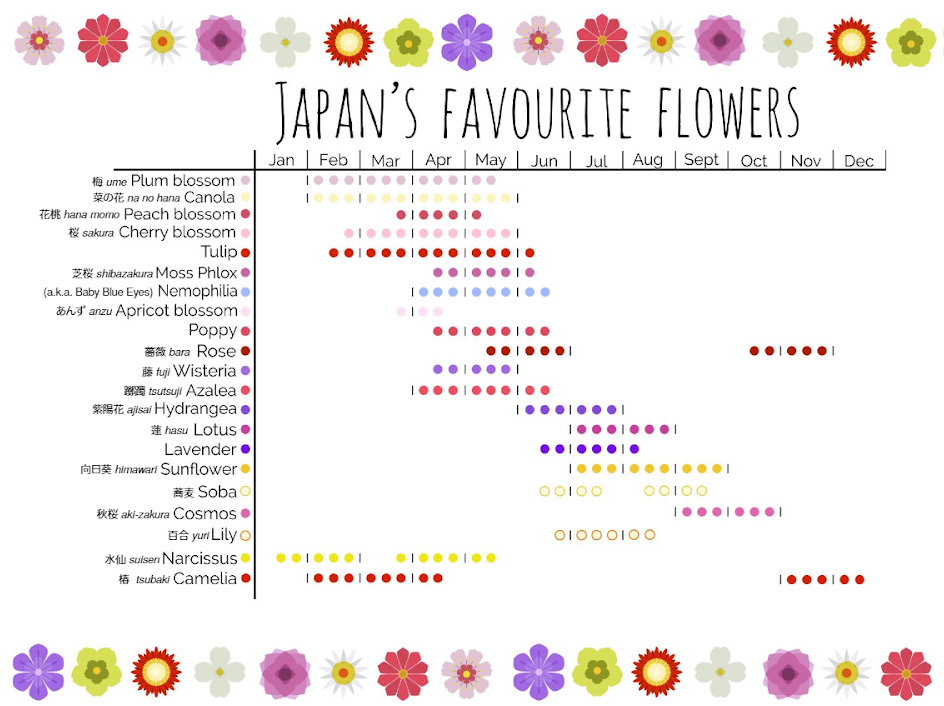 In spring, when she is not busy checking the blooming status of flowers across Japan, you can find Shao Ting (trying to resist) shopping for sakura-themed stationery. She also occasionally updates her travel blog aptly named inSakuraLand.
All Photos: Hoong Shao Ting