Feature Image: XTU Architects, X_CLOUD CITY (model) (2019)


Natalie Andrews (Tokyo)
When I heard of the "Future and the Arts: AI, Robotics, City, Life" exhibition in Roppongi, it was through word of mouth. More specifically, it was described to me as a "futuristic art exhibition in Japan"—and upon hearing the words "futuristic" and "Japan" in the same sentence, my first thought was of vibrant neon lights flashing through a gritty, rainy city in a cyberpunk image of Tokyo. My second was of the smooth white head and childlike voice of SoftBank Robotics's "Pepper", a robot designed to read human emotions, followed by a mental image of a world where every home has its own artificially intelligent robot assistant.
As it turns out, I was thinking entirely too small.
The projects and works of "Future and the Arts: AI, Robotics, City, Life—How Humanity Will Live Tomorrow" number over 100. They are not far-flung imaginings of a fantastical world, but a realistic and deeply thought-provoking approach on how both our natural and human-made worlds will grow and change as a result of advancements in science and technology. The exhibition, which is being held in Roppongi's Mori Art Museum, is one which "contemplates cities, environmental issues, human lifestyles and the likely state of society and human beings in the not-too-distant future." (1)
The exhibition consists of five sections—"New Possibilities of Cities", "Toward Neo-Metabolism Architecture", "Lifestyle and Design Innovations", "Human Augmentation and Its Ethical Issues", and "Society and Humans in Transformation." Each segment is fascinating in its own right, containing a wide variety of works that range from speculative yet plausible architecture to studies on the ethical implications and social effects of genetic engineering on humans—scientific processes which are already underway.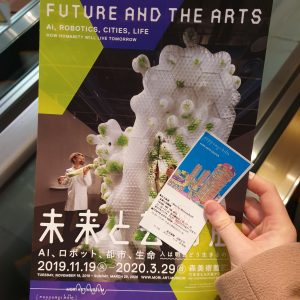 Entering the venue takes ten minutes of standing in line, ¥1,800 at the counter, and an elevator that shoots up to the 52nd floor with ear-popping speed. A literal wall of text prefaces the entrance: a message from Nanjo Fumio, the director of the Mori Art Museum. The inspiration for this current exhibition stems from an exhibition held in 2011 named "Metabolism: The City of the Future", Fumio writes, a showcase based on "the concept of a city that metabolizes and continues to grow." "Future and the Arts" examines the possibility of how this "metabolist city" may be reached using today's technological achievements and advancements in science and biotechnology. The 2019-20 exhibition then reaches beyond a cityscape and examines the ways in which lifestyles, worldviews, and the human condition will shift, intertwined with the future.
"Our age is one that requires intellectual thought and the critical insights of art to navigate." (2)
A look around at the world's largest cities such as Tokyo, New York, or Shanghai reveals sprawling forests of blocky buildings, interspersed with skyscrapers that needle toward the sky, providing us with a vantage point to gaze out over—and beyond—a grey cityscape. On the other hand, if we visited Singapore, we would find that cityscape to be showered in green as a result of "biophilic design", a concept where the human desire to connect with nature is translated into the built environment.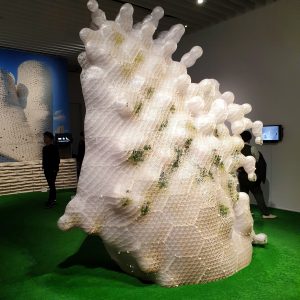 Imagine if this concept was spread over the world, was made to adapt to each country's climate, and two worlds were made to become one—and that only touches the surface of the thoughts "New Possibilities of Cities" provokes.
Our digital age is not forgotten in these speculations but utilised to its fullest extent. One exhibit was particularly striking to me—3D-printed sculptures made to accommodate oxygen-producing bacteria called "cyanobacteria". As we face the issues of deforestation and dying coral reefs, could this bio-sculpture be the foundation of a solution? There is a definite beauty in its form, purposely shaped like coral and built through a digital algorithm.
But what about our lifestyles, our habits … our bodies? Technological advancements bring a whole host of ethical implications with them. Data sharing,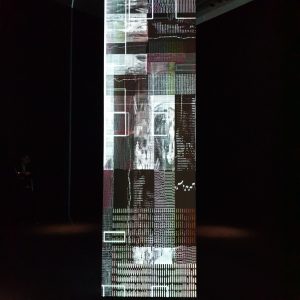 relationships with AI, and genetic engineering and manipulation are all major factors to dwell on. "In a society in which a child can have the genetic information of three or more parents," the description for section 4: "Human Augmentation and Its Ethical Issues", says, "the recognition of new familial relationships and concomitant amendments to the legal system will be required."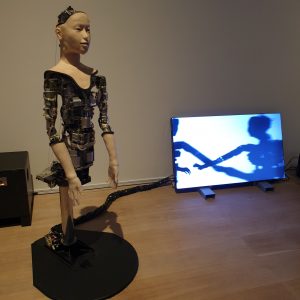 "Future and the Arts: AI, Robotics, City, Life" provides a unique lens through which to examine the future, raising several questions in the viewer. How will we consciously change our impact on society and the environment—and how will we unconsciously 
affect it with our behaviours? Will we have the patience to nurture the marriage of biology and technology, or will we surge ahead with a single-minded objective? Each piece in the exhibition is unexpectedly profound, forcing the viewer to consider the world in ways they never have before.
What pathway will humanity take as our world expands ever outward?
This slideshow requires JavaScript.
"Future and the Arts: AI, Robotics, City, Life" will be on display until the 29th of March, 2020 [Sunday].
Period
11/19/2019 [Tue] — 3/29/2020 [Sun]
Open every day
Venue
Mori Art Museum (53F, Roppongi Hills Mori Tower)
Admission
Adult: 1,800 yen
University / Highschool student: 1,200 yen
Child (Age 4 up to Junior high school student): 600 yen
Senior (Ages 65 & over): 1,500 yen
This exhibition is closed until the 13th of March due to the coronavirus outbreak.
Sources:
"Future and the Arts: AI, Robotics, City, Life" information booklet

Nanjo Fumio, Mori Art Museum Director
Natalie Andrews is an ALT living in Tokyo, jumping on every chance she gets to do some solo poking around local events and exhibitions. Since the abundance of train lines means that all of Tokyo is basically her backyard, "local" can mean up to an hour or so away—but the event is usually worth it.
Not that stand-up comedy night, though. That was horrific. 
All photographs/video are licensed under "Creative Commons Attribution-Noncommercial-NoDerivative Works 4.0 International.