This article originally featured in the January 2020 issue of Connect. 
Rhema Baquero (Kobe) – Updated with pictures from the trip. 
I do not like being cold. I really despise feeling cold inside of my own home. Give me shorts and tank top weather. Give me the warmth of the summer sun on my melanated skin. I will bare unbreathable humidity. I will tolerate the sweating. The hottest months are when I am at my happiest. As a Texan, I am accustomed to winters that rarely dip below 32°F (0°C) and summers with averages of 90°F or more (32°C). But last year, I learned that Japanese winters in Kansai, while not the toughest in Japan, are not a joke. As I write this, I am swaddled in layers of clothing, sitting beside a cranked up space heater while under my beloved 炬燵 (kotatsu). With the sun setting as early as 5 p.m., I know that the winter is not my element.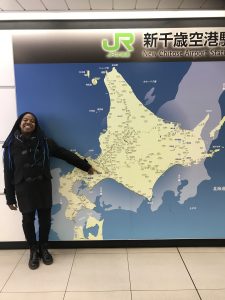 But, for New Years, my husband and I were invited by a friend to spend the holidays with him and his family in Japan's northernmost island of Hokkaido. Hokkaido is famous for its winters, and this destination has been on my travel list for some time. Though the temperatures can drop to lows of 24.8°F (-4°C) in December, from the pictures, the stretches of fluffy white snow look enticing and simply beautiful. We are elated to be invited, so I am going to grab my thickest coat, load up on hot packs and explore a part of Japan very different than my homes here, and in America.
With so much to look forward to, I can definitely brave the severe chilly weather for a week. Our itinerary is flexible, but there are a few things we hope to do while there:
All about the Seafood
Whenever we go out with the friend we are staying with, he raves about Hokkaido's sushi superiority to all other sushi in Japan. We want to put his claims to the test. For fairness, we are going to binge on Kansai sushi just before leaving to have the freshest taste to compare to. A large portion of crabs in Japan are landed in Hokkaido, so I must chow down on snow crab and if I can, try the Hanasaki crab.
This slideshow requires JavaScript.
Ramen, お願いします!
Many parts of Japan are known for their take on ramen, but Sapporo ramen is iconic for its rich, salty miso base with a knob of butter, corn and seasonal seafood. They also have a hearty way of making my go-to favorite style, tonkastu ramen. When I am at my coldest, I will have to warm my hands on a rich, steaming bowl. If we have a chance, we will also try the unique soup curry which, as the name suggests, is a curry you can drink.
かんぱい! Beer Museum & Garden
You can pick up a can or bottle of Sapporo at any コンビニ (convenience store) or grocery store, but it would be interesting to learn about the history of the process at the Sapporo Beer Museum, Japan's only museum of beer. The Beer Garden on the property will provide a chance to sample new flavors.
Shredding Snow
As a former skater, I have always wanted to try the transition from cement to snow. What better place to try it for the first time than a winter sports mecca? Snow tubing and sledding are options we would also love to experience. Plus, racing down a white-capped mountain will give us a chance to really take in the natural beauty of this part of the country.
Hello Hatsumode
Last year, we went on our 初詣 (first shrine visit) at a small local shrine after seeing the massive lines at Minatogawa Shrine and Ikuta Shrine. We turned up at the right time and were able to witness a ceremony in progress. This year, we will wake up early to brave the New Year crowds at Hokkaido-jingu Shrine, a shrine with mystic grounds surrounded by forest and nature. I appreciate shrines for their historical nature over spiritual, but I look forward to witnessing the tradition from the perspective of our Japanese friends.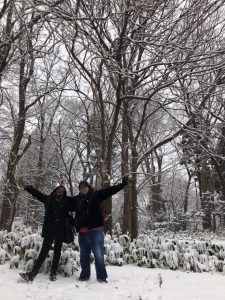 Rhema Baquero is a second-year ALT from America in the great port city of Kobe. She can often be found in a coffee shop either reading, writing, drawing, or studying Japanese. After playing rugby at university and graduate school, she was excited to finally attend the Rugby World Cup.