This article originally featured in the December 2019 issue of Connect.
Christmas in Nojiri Siobhan Fahy (Wakayama)
Sad, sitting in a cinema watching Star Wars and eating undercooked kushikatsu (deep-fried skewers). Those were the ingredients for our not-so-merry first Christmas in Japan. Back home in New Zealand, the silly season was always my favourite time of year: December in the Southern Hemisphere is warm, everyone is on a long break, and Santa wears shorts. It's also the time when I'm surrounded by my extended family, fastidiously decorating the tree with my mum, and gorging on Kiwi classics like glazed ham, pavlova and trifle. This stark contrast led me to vow never to have such a woeful Christmas again.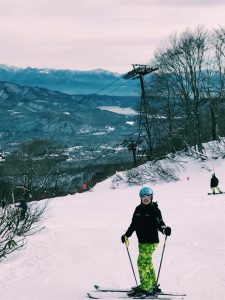 Fortuitously, it turned out I wasn't the only Fahy residing in Japan. The following year we were invited to spend Christmas in Lake Nojiri, Nagano, with my uncle and his family. They've lived in Tokyo for fifteen years and my husband and I were more than happy for this familial connection. The prospect of travelling from our mikan dotted countryside to the white blanketed mountains of Chūbu kicked my planning brain into gear. I couldn't wait to make my dreams of a white Christmas come true!
We broke up the 500 km trek north with stops along the way. Our highway bus left from Osaka early in the morning so we headed there the night before as our first pitstop. The long bus ride the next morning was surprisingly enjoyable, but I'd say the best entertainment came from the couple who were getting their drink on at 8 a.m. . .I suppose it was 5 p.m. somewhere! Our next two stops were in Gifu: Takayama and Shirakawa-go. Shirakawa-go had been on my bucket list for a few years and it did not disappoint. I was hoping to see the gassho houses cloaked in snow but unfortunately didn't get the chance—it was absolutely magnificent regardless. Kanazawa was our last stop and we enjoyed forking out 1000 yen for a gold leaf-covered soft-serve, strolling around the samurai area, and of course Kenrokuen. But alas, still no snow.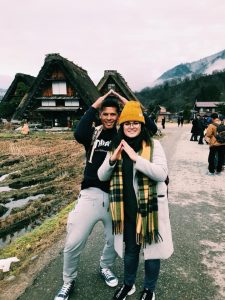 The final leg of our journey to Nojiri was pure magic as the snow finally began to fall. It was wonderful to be met by family at the train station and welcomed into a cosy Christmas atmosphere. We wasted no time in getting a traditional Christmas underway. As soon as we had placed our bags down, we were whisked out the front door to join the neighbours (all international residents) in carolling by candlelight. Growing up going to midnight mass, I was surprised to realise that I didn't actually know any of the lyrics beyond the first verse! After this storybook scene, we retreated back into the cabin for warmth and an overdue catch-up.
On Christmas morning, we awoke to wool strung everywhere. I felt like Catherine Zeta-Jones in "Entrapment" (am I showing my age?) edging my way through to the living room to find out what on earth was going on. I was informed that this is called a "string maze" or "webbing" and the objective is to find your gift at the end of the string. It was good fun winding and weaving around the furniture and each other to see what Santa had delivered overnight. I was very happy that even though my husband and I are dancing around thirty, we weren't too old to be left off the good list. A gorgeous brekky and a real espresso topped off the morning as we enjoyed the panoramic views from the living area over the snow-trimmed lake. We deviated slightly from our traditional Christmas routine as we took a short drive north into Niigata to hit the slopes before slaloming back into Nagano to resume the festivities.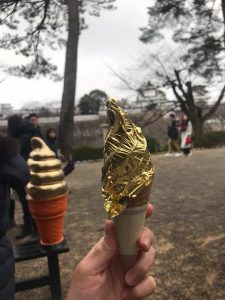 The star of the day was Christmas dinner. I was astounded that there was a full-sized oven that had come all the way from the United States. Even more astounding was the supersized turkey that appeared out of that magical contraption! We celebrated in the warmth of the cabin but most importantly, the company of family. My dream for a white Christmas had come true.
Siobhan is a third-year ALT living in Yuasa, Wakayama with her husband. Hailing from New Zealand where excellent coffee can be found everywhere, she is still coming to terms with its scarcity in Japan. To distract herself, she kickboxes and plans the heck out of a holiday. Find her on Instagram @seizeandfumble.
All Photos: Sioban Fahy