This article originally featured in the December 2019 issue of Connect.
Annelise Wilp (Saitama)
When my boyfriend visited me in Japan for the holidays last year, we knew that we wanted to stay in a ryokan, or a traditional Japanese inn, together. We decided that we wanted to spend New Year's at a ryokan in Kawaguchiko, a famous resort town with picturesque views of Mount Fuji.
We arrived late at night in Kawaguchiko and snagged a taxi. There were many hotels and restaurants near the station, but the taxi took us away from all the commotion. Earlier, I had called the owner of the ryokan that we would arrive late, and she immediately yelled "NO ENGLISH!" in response. I was starting to feel that our ryokan getaway was not going to turn out like we thought.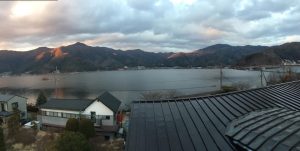 We arrived at the ryokan, which only spanned two floors with probably less than ten rooms, and paid for our accommodation. Soon, we found that the toilets were barely functioning. It was also winter, and the chill went straight through the walls. Teeth chattering, we googled restaurants to no avail. The ryokan turned out to be in a pretty isolated area, and most restaurants were closed due to the holiday. Finally, we found a place called Dino Diner. I didn't picture having American diner food on New Year's in Japan, but we were cold, hungry, and eager to leave the old ryokan.
The diner turned out to be one of the best places I've eaten at in Japan. Even though I had an avocado burger as my last meal of 2018 (nothing wrong with avocado burgers, of course), the irony of sitting on the floor Japanese-style in an American diner made it a memorable experience.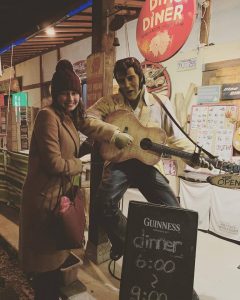 After dinner, we made our way back to the musty ryokan to watch the countdown on a tiny TV which didn't add much to the room. Rather than watching the ball drop in Times Square, we watched "Ninja Warrior" and a compilation of Japanese boy bands ring in the new year.
When 2019 finally arrived, we heard the other families in the ryokan yell "Happy New Year!" in English. Though I thought my sake would freeze over, my boyfriend and I did a celebratory "kampai!" Snuggled up in the futon, our faces hot from sake, we slumbered into the new year.
Annelise Wilp is a second-year ALT placed in Saitama. She is originally from Chicago and enjoys reading, writing, and trying to get started on her future bestselling novel.