This article originally featured in the December 2019 issue of Connect.
Eating Well When Its Cold Outside
Charlie Perry (Nara)
It's getting to that time where the snow starts to fall, the trees become bare, and the air becomes so chilly that you see steam as you exhale. After spending a long day shivering in a freezing school/office, waiting back at home is the cozy, warm kotatsu that you can snuggle yourself under. It's exciting to think about, isn't it?
However, winter isn't always a happy, fun, and snow-filled season it's made out to be. As the notorious winter blues hit, it can be hard not to slip into bad habits and let laziness take over—especially when Mcdonald's or that great ramen place is just around the corner . . .
Moreover, our bodies are built to crave comfort food during the winter period. According to dietitian Kelly Kennedy RD (Everyday Health, 2008) (1), it is believed that biological changes are triggered during this cold season which makes us want to eat all that delicious yet bad junk food. This can make it incredibly difficult to stay healthy, both in a physical and mental way.
Yet, do not fret! Here, you can find out how to not give in to that craving and enjoy a hearty, happy winter.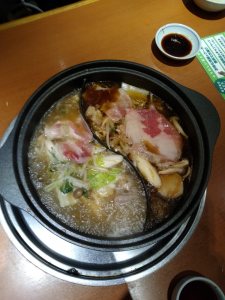 Japan's Winter Food
Luckily enough, Japan has many flavourful seasonal food with many health benefits that you can easily incorporate into tasty meals. For example, daikon, the great white Japanese radish, is an iconic winter vegetable reputable for being good for the digestive system. You can use daikon in many various ways, such as shredded in a salad, or stewed for a nice warm dish to soothe your soul. Furthermore, it is very simple to use meaning you can make great dishes out of this delectable vegetable.
A special dish using daikon is oden, a fish cake stew, which is a symbolic winter meal here in Japan. Oden features lots of different types of vegetables and proteins food, with eggs, meatballs, kelp and tofu. You can find oden in convenience stores— or why not try making it for yourself?
Another popular winter vegetable is renkon, or lotus root in English. This unique root is packed full of macronutrients, vitamins and minerals ideal for keeping your skin, liver, hair and eyes all in good health. Renkon is best enjoyed in traditional Japanese recipes, so if you haven't tried it yet make sure you do! This vegetable is a perfect ingredient to add to all your seasonal dishes.
A dish you have to try during winter is shabu-shabu. This hotpot dish can be enjoyed in specialist restaurants or even easily cooked at home! Tailored to suit, you can customise and have whatever you would like in your hotpot, like mushrooms, tofu, green onion, and beef. This meal is perfect to share with friends, so why not give it a go after a long week at work? You could surprise everyone with your very own homemade shabu-shabu! Check out this recipe at Just One Cookbook to learn how to make it.
Being Healthy On A Dime
In some cases, it feels as though having a Black Thunder chocolate bar or a succulent conbini fried chicken is far more accessible than a bowl of fruit. Most people believe that fruits and vegetables are more expensive, and junk food is sold at a much cheaper price. This is even more apparent when you think about the sweets you could get for 100 yen compared to a single apple for 350 yen. Nevertheless, you can still keep to a budget all while sticking to a healthy diet and here's how.
Though it can seem fresh produce is expensive, there are many other cheaper options to get your 5 a-day. While there is a stigma surrounding frozen and tinned vegetables, you might be surprised how versatile these products are. They are far cheaper, take less time to cook and are perfect for meal prep dishes, which you just pop in the microwave. You can still be lazy in your kotatsu all while sticking to a balanced diet. It's the best of both worlds, don't you think?
Meal prep is great, because it allows you to tailor your own meals while also adding some simplicity into your life. Adulting can be hard and things can overwhelm you, so when you are feeling particularly stressed after a long day at work, it can be nice not having to worry about your meal when you get back home. It also decreases your monthly shopping expenditure, as all you need are frozen/canned vegetables, meat (or meat substitute for you veggies), and a few carb products like rice, pasta, or noodles. I myself meal prep and my weekly shop on average comes to 3000 yen, sometimes even less! So, not only are you staying healthy, but there are many other great benefits to meal prepping too.
Of course, if meal prepping doesn't sound like something that interests you, don't worry. There are other alternatives. For instance, there are plenty of healthy options in your local conbini sold at very reasonable prices and you don't even need to cook it for yourself!
The soups sold at conbinis are surprisingly delicious, filling and nutritious. They are perfect for the season and average only 350 calories! There are a wide range of soups available, like beef and tofu or vermicelli noodle soup. These soups should definitely be on your food shopping list.
Happy Body Is A Happy Self
Reading about how to stay healthy is easy to do, but committing to it can be difficult especially when things get hard. Still, it is important to stay motivated and understand that eating healthier foods will help you become better, improving your body, mood, mental health, and sleep cycle, among others. You should commit to it, not for anyone but your own self, give yourself that love and care, because you deserve it!
If you are worried about falling off the wagon, there are ways to help you give you that daily motivation. You could keep a food diary, or use helpful apps to track your progress. I specifically recommend MyFitnessPal (3), which helps you log your food and it tells you all the nutritional value. Or you can use post-it notes on your walls to remind you of your goals, like "I want to cut out snack foods" or perhaps a weight goal, or even maybe just a little message saying, "You are strong!"
If you want to take it a step further, why not include more exercise into your regime? According to WebMD (4), exercise is known to stimulate endorphins, reduce stress and increase self-esteem. It's a great activity to do during this upcoming season to keep your spirits high and happy. You could find your nearest gym, join a sports club, or even sign up for a class and learn something new. Depending where you are, you could also invest yourself in some skis or a snowboard and enjoy some of Japan's slopes! Not only is it a fun sport, but is also a great opportunity to experience winter in Japan.
If you feel you are struggling, it is important to remember that you just have to try your best to incorporate healthy choices into your lifestyle rather than sticking to a specific diet or regime. Instead of going for that melonpan, go for a banana or cereal bar. Instead of soda, have some tea. These simple decisions will make a huge impact and help you stay in a good mindset for the upcoming winter.
Stay Warm
Sources:
(1) http://bit.ly/34RrXA8
(2) http://bit.ly/33zw8zi
(3) http://bit.ly/2Y6PQkN
(4) https://wb.md/2P1bH9f
Charlie Perry is a second- year ALT from the UK, living in Nara prefecture. She enjoys socialising, reading, writing, hiking, and singing off-key in a karaoke room by herself. She's also part of the Nara AJET committee and edits the Nara AJET Newsletter. You can follow her on LinkedIin.