This article originally featured in the December 2019 issue of Connect.
An interview with Daisy Braid on her unique creations and being a DIYer in Tokyo.
Daisy Braid (Tokyo) Interviewed by Devoni Guise (Saitama)
Daisy Braid is an Australian sewist living in Tokyo, Japan. After scoping out her Instagram and blog, her clothes spoke for themselves and an interview was scheduled to learn more about her craft. Here it is, enjoy.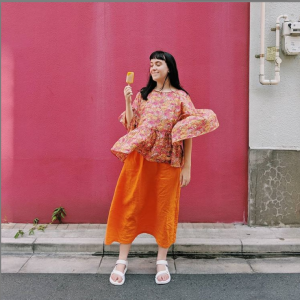 Getting Started
Q: So, when did you start DIYing? What sparked your interest?
I've always been a creative person but I started making my own clothes seriously in 2016 when I moved to New Zealand. I got a job at a really cool fabric store and every day was surrounded by a bunch of creative people and heaps of beautiful fabric. I just had to get my hands on some and make something!
Q: Oh, cool, how long would you say it took for you to get 'good'? When did you feel comfortable wearing your work or sharing it with others?
I wouldn't describe myself as 'good' at sewing. I'm self-taught and always learning new things! I think the thing that scares a lot of people off is the idea that you have to be good. I refuse to sew buttons and zippers because they are so tricky and because of that, I have made simple sewing part of my style and brand. I started wearing and sharing my makes from day one. The sewing community is super supportive and encouraging so I was never afraid to share my sewing failures and achievements with them.
Q: What type of reactions would you say your clothing usually gets? Is it different in Japan versus Australia?
I think the reaction is always positive wherever I am. It's a great conversation starter and I love how it can spark conversations about people's hobbies and sustainability.
Q: In Japan versus Australia, how does the DIY process differ for you?
The DIY process here is really different. When I left New Zealand I had to sell my sewing machine and overlocker, two things that I had grown so used to. In Tokyo, I bought the cheapest sewing machine I could find and started sewing in my tiny apartment. Unfortunately, I have a lot less room to cut and sew here which means I don't often take on very big projects.
Q: What steps do you have to take towards the completion of a piece?
It always starts with inspiration. I love scrolling through Instagram and Pinterest for ideas. Once I get an idea, I'll try and find a sewing pattern that could be used as a base or a draw up a plan of how something might be put together. Then I head out to buy fabric and thread. Finally, I wash my fabric, cut it out and then start sewing the pieces together. While I sew, I like to watch movies on Netflix or listen to podcasts. Wardrobe Crisis by Claire Press is one of my favs.
Q: On average, how much time does it take for you to finish an outfit?
It can take me anywhere from two hours to two days to finish a piece. I used to love ruffles and they took a while to make but it really depends on the project.
Q: Concerning getting materials, fabrics, buttons and all the things you'll need for a piece, where do you go to source materials in Japan? 
I usually get materials from Nippori Textile Town or other fabric stores around Tokyo but if I can't find what I'm looking for I'll shop online with The Fabric Store.
Q: Some people (like me) have a slight fear that DIYing my own clothes may be really expensive. What type of pricing should someone expect going the homemade route? How does it compare to already made clothing?
Sewing your own clothes is super rewarding but it is a bit of an investment at first. You have to buy a machine, good scissors, fabric, thread, and an UNPICKER! That's the thing that rips seams apart when you make a mistake. There are lots of great free tutorials on YouTube, too, which is great. When starting out, it's good to buy cheap fabric and practice and then when you have the hang of it you can start buying better quality fabric. Fabric starts anywhere from 400 yen per meter and can go up to 3000 yen per meter. I think it is totally worth it though, because you learn so much about what really goes into making clothes. I also find handmade pieces last a lot longer because you'll want to take better care of pieces you have created yourself. Also, in the long run, it's cheaper than constantly buying clothes.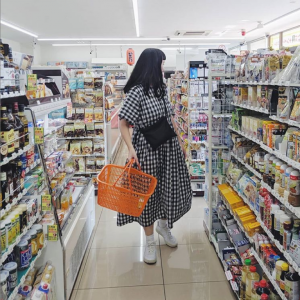 Hunting for Inspiration
Q: Your pieces are really cute, where do you find inspiration? Is it different compared to being in Australia? How so?
Everywhere! I always spot super cute and stylish people on the train and around Tokyo. I also like to window shop and visit flea markets from time to time to see what's new or find some cool vintage pieces.
Q: What designers, (Japanese or not) do you really like? Do they have shops in Japan?
I love a lot of local Aussie and Kiwi designers like Layplan, Sister Studios, Penny Sage, Twenty Seven Names plus Big Bud Press and Everybody World from the States. None of these brands have shops in Japan, mostly I just admire them from afar and dream about the day I can add pieces from their collections to my wardrobe.
Q: So, who else do you look at for inspiration, but on social media? What's their handle?
I always look back through my Instagram saved images. It's full of all sorts of things, not just fashion inspo. There are a couple of super colourful stylish people that I love to follow for outfit inspo. They are: @michellenorrisphoto @mirandamakaroff @_chicadeoro.
Q: Would you ever consider making your own range to sell?
I have definitely considered making my own range one day but I think it would be more fun to teach others how to make their own clothes.
Q: Japan has a very unique style depending on the city, or even the district within a city! Where in Japan can someone find fashion gems?
I love going to the flea markets to find fashion gems. The Ohi Racecourse Market in Shinagawa is my fav.
This slideshow requires JavaScript.
A Sewist and her Craft
Q: What would you like to accomplish using your clothing as a medium (besides looking great!)?
I hope it encourages people to think about where their clothing comes from and how it was made. The fashion industry is one of the biggest polluters in the world and I think if more people knew how to make, mend, and care for their clothes it could really make a change.
Q: What is your favorite piece of clothing?
My favourite make is my Kochi Jacket Dress. I made it on the living room floor of my old flat in Auckland and it was my first ever pattern hack! I sewed it up in a beautiful Liberty Tana Lawn and a pattern by Papercut Patterns. This dress reminds me of my time living in Auckland and holds a bunch of great memories from when I wore it to special events and karaoke nights with my friends.
Q: What would you tell someone who'd love to get started in sewing? 
Be patient! You aren't going to be making runway-ready garments straight away but if you take your time and practice with lots of little projects you'll build up your skills in no time. Also, jump online and join the sewing community! There are so many fab blogs and YouTube tutorials to teach, inspire and encourage new sewists.
Sewn together community
Q: Making the move from Australia to Japan, how did you keep in touch with your sewist friends back home while forging a new group in Japan? 
Instagram has helped me make friends with other creative people in Japan. There have also been a bunch of lovely sewists that have reached out to me to hang out while they visit Tokyo.
Q: Instagram seems to be a staple for you when it comes to finding inspiration and connecting with other makers. Do you have any tips or resources for curating a one of a kind aesthetic looking IG like yours? 
Oh, thanks! I used to take it more seriously but I realised that the people who like my work don't really care about aesthetic. They just want to see what I'm making. My advice would be just to be yourself, there's no need to worry about how your Instagram looks if you're having fun and like what you're posting!
Q: And, last question: Favorite place for a photo? 
There's an awesome red wall next to the 7/11 by my house but recently I've really been loving snapping outfit photos in conbinis!
Daisy Braid is a Tokyo-based sewist who taught herself to sew on her grandmother's sewing machine, and now makes her own street style inspired pieces. You can follow her on Instagram @_diydaisy and her blog diydaisy.blog