This article originally featured in the November 2019 issue of Connect.
Hoong Shao Ting (Nagano)
Autumn's finally here, and as the temperatures drop, what better way to fight the cold than a steaming hot bath? This month, we check out recommendations for some of the 'hottest' (pun absolutely intended) onsen spots across Japan, as well as the CONNECT team's personal picks! Before we delve into that, let's pick up some vocabulary you'll need to know in the land of hot springs that sits right on the Ring of Fire:
Our Reader's Picks
Gero Onsen (Gifu)
Allison Lee (Gifu)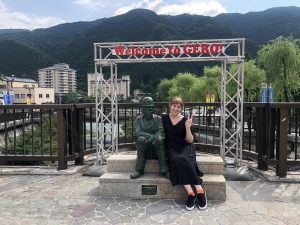 What's special?
A famous Edo-period philosopher named Gero as one of the top three onsens in Japan, praising it for its high-quality water. Although Gero is well-known by Japanese people, it's not visited as often by foreign tourists.
Even when the hotels are full, it never feels crowded. A crystal-clear river runs through the town which is nestled in the Japanese Alps, making it a refreshing escape from city life.
Best time to visit?
Winter is a great time to visit Gero Onsen, especially if you bathe in an outdoor rotemburo. Being able to watch the snowfall from a warm bath is fantastic. Additionally, Gero has a fireworks show every Saturday night in winter (11 Jan. to 28 Mar. 2020).
Tips?
Gero is situated in the Hida region of Gifu Prefecture, which is famous for Hida beef that is on par with Kobe beef. Be sure to try it on a skewer or in sushi!
Yumeguri deals?
A 'Yumeguri Tegata' wooden pass that can be purchased at most hotels for just 1300 yen is good for entrance to three different onsens. It's a great deal, and you'll be able to bathe at some of the most expensive ryokans in central Japan!
Fun fact!
"Gero" sounds like the noise frogs make in Japanese, so the town is filled with frog murals and decorations—we even have a frog shrine!
Tsuru no Yu (Nyuto Onsen, Akita)
Phyllis Chua (former Sendai JET)
What's special?
Tsuru no Yu is rated number one among foreign travelers to Japan, and it's really popular among locals too!
It's famous for its mixed-gender outdoor bath! It was really nice to see that the ryokan took the privacy of its female customers into extra consideration. Women enter the bath via a sheltered path by the side and can slowly wade their way to the center. With the extremely milky water, even the shy would be able to have a relaxing and stress-free bath.
Best time to visit?
Winter!
Tips?
I recommend staying overnight because the dinner spread features Akita's local dishes like kiritanpo! Also, to get to Nyuto Onsen, you'd probably get a bus from Tazawako Station. There are bus tours from the station to the deepest lake in Japan and the Statue of Tatsuko. The view is so beautiful, there's no reason not to do the bus tour before/after heading to the onsen!
Yumeguri deals?
There is a 'Yumeguri Pass' available for 1800 yen, which includes admission to the seven onsens in the area and a one-day bus.
Any interesting episodes?
It was my first time to a mixed onsen and I wasn't sure if I was up for the challenge. However, I decided to do it anyway and, surprisingly, two women whom I spoke with earlier in the women-only outdoor bath came in one after the other! I guess seeing other women enter gave them the courage to do it too!
Check it out!
I made this video on my visit to Tsuru no Yu!
Hakone Onsen (Kanagawa)
Sonali Dutta (Tokushima)
What's special?
Hakone is near Mount Fuji. It is a popular onsen area about an hour away from Tokyo. People have been visiting Hakone to soak in the hot springs for centuries.
Visit Hakone Kowaki-en Yunessun. This is an all-ages onsen theme park where you can bathe in swimming costumes. It also has coffee, green tea and red wine baths.
Best time to visit?
April to June is best as it's not too hot nor crowded then.
Tips?
Take a trip on the "pirate ship" that sails across Lake Ashi. You get an amazing view of the trees, the lake and the mountains. See if you can spot the pirate onboard! Check out Hakone Shrine, an ancient Shinto shrine that was popular with the samurai. Walk through the ancient cedar forest. Get the ropeway up the mountain for stunning views you can't see any other way. Maybe you'll get lucky and see Fujisan! Eat a black egg—Hakone's famous black eggs are cooked in the hot springs. They are said to add seven years to your life.
Any interesting episodes?
While holidaying in Hakone, I ate at the restaurant Leonardo DiCaprio had visited and sat where he sat. So I technically had lunch with him!
Dogo Onsen (Ehime)
Caitrina Caira (Miyagi)
What's special?
Dogo Onsen, an Important National Cultural Asset, has a number of baths housed in a historic building. You can purchase tickets for different packages, with the cheapest being less than 500 yen, but I recommend spending the money to try them all. There is also a small museum on the second floor. This onsen is most famous for being the inspiration for the Ghibli movie Spirited Away.
Best time to visit?
Any time.
Tips?
You will need to bring your own soap or buy it separately before you go into the baths as they do not provide amenities in some of them. You can buy whatever you need at the small gift shop.
It is all about the building and historic baths. I cannot recommend this experience enough—the baths were amazing.
Unfortunately, the onsen is currently undergoing restoration works and only the first floor baths are open at the moment.
Arima Onsen (Hyogo)
Sophie McCarthy (Hyogo)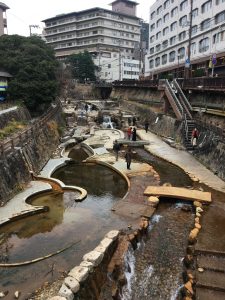 What's special?
Located deep in the Rokko Mountains and boasting a 1000-year old history, Arima Onsen is considered one of the top three onsens in Japan. Unlike other onsens, the spring water rises out of cracks in the underground bedrock from the active Earth's mantle and is said to have many healing properties, including helping joint and skin disease. It is also the only hot-spring town in Hyogo where geisha still work actively. Only a 30-minute train ride from Kobe-Sannomiya, a stay at one of the 20 inns or ryokans in Arima makes the perfect day trip or weekend get-away.
Best time to visit?
With a plethora of events all year round, any time is the best time to visit Arima. In spring, come see the sakura and take part in the Arima Cherry Blossom Festival. In summer, dip your feet in the river and watch the performances on floating stages at the Arima Ryofu Kawazashiki and Summer Festival. Or perhaps visit in autumn, when you can see the lion dance parade at the Autumn Festival. Finally, in winter, perhaps you can see snow blanket Arima while you watch Setsubun-e, a day when men dress as geisha and walk around the town.
Tips?
A popular food to eat while strolling the streets of Arima is the minced meat cutlet from the Takenaka meat shop. They are made from 100% black-haired wagyu and are only around 250 yen per piece. If you want to try local Arima craft beer or sake, make sure to stop at Sake Ichiba or Cinq Bar du Sake. For the best burger or hotdog in town, try Flowers which is located near the Gosho Hot Spring Source. If you're looking for a great restaurant, café, or bar, head over to Brücke hostel & café. Finally, the most popular omiyage from Arima Onsen is carbonated rice crackers made with carbonated water from its springs.
Many ryokans in Arima have their own onsen. However, there are two public onsens that are must-visits—Kin no Yu (金の湯) and Gin no Yu (銀の湯). The two public baths feature the two types of hot spring water found in Arima—the first being kinsen (金泉, "gold spring"), which has yellow-brown colored water from iron and salt and the other being ginsen (銀泉, "silver spring"), which is clear and contains radium and carbonate. You can buy a ticket to visit both onsens for a discounted price of 850 yen (650 and 550 yen respectively if you pay separately). They are also tattoo-friendly! If onsens are maybe not your style, there is a free outdoor public foot bath at Kin no Yu. Even if you do not particularly enjoy bathing in onsens, Arima Onsen is a beautiful and historic resort town with a plethora of activities to enjoy.
Kinosaki Onsen (Hyogo)
Elaine Ho (Tottori)
What's special?
There are seven onsens across this quaint little town. They all have individual charms and are supposed to grant various kinds of wishes, like hopes for luck in love, fertility, and etc. But if you're talking about health benefits, Kinosaki Onsen is said to be rich in sodium, calcium and chloride, which can alleviate fatigue, digestive pains, nerve and muscular pains. My absolute personal favourite is Gosho no Yu, solely because its interior is absolutely grandeur, and gives off the vibe of a luxurious cabin with indoor and outdoor baths facing a waterfall.
Best time to visit?
Like all onsens, the best time to go, in my opinion, is in the fall and winter.
Tips?
There are cafes that sell soy sauce ice cream (pictured) and, although it may sound weird, it totally works and gives you the perfect sweet and salty blend. If you're looking for an affordable eatery, check out Kana, a cute and tiny mom and pop which sells okonomiyaki, yakisoba, and delicious yakiudon.
Yumeguri deals?
If you stay at any of the ryokans, you get a pass to visit all seven of the onsens included in your stay. Alternatively, if you are not staying, you can buy a "yumepa" day pass to visit the onsens for the price of 1200 yen. It's important to note that the onsens have different hours of operation and not all of them are open on the same days.
Any interesting episodes?
It was here at Kinosaki Onsen that I learned how to wear a yukata properly. The first time I arrived in Japan back in 2014, I didn't know how to wear a yukata so naturally, I made the mistake of wrapping the right side over the left and even happily asked the ryokan ladies to snap a photo of me. When I went into one of the onsens' changing room, a group of older Japanese ladies laughed at me and said that I looked like a "dead person". Thankfully they helped to resurrect this silly foreigner by wrapping the left side over the right. In addition, there are stamps outside each of the onsens to help commemorate your visit to this magical place.
Akan Onsen (Hokkaido)
Catrina Caira (Miyagi)
What's special?
Akan-Mashu National Park boasts a number of onsens. The main onsen by Lake Akan, Akan Tsuruga Yuku no Sato, has a rooftop rotemboro overlooking the lake.
The onsens over at Lake Kussharo are much more famous, though. Lake Kussharo is actually a hot spring-fed lake, so you can go to the beach and dig yourself a foot bath (pictured) if you want. Be careful as the water is quite hot!
Best time to visit?
Any time. But the Ainu festival (pictured) in October dedicated to the marimo (a kind of algae that grows in balls) is a great opportunity to mix onsen-ing with cultural experiences.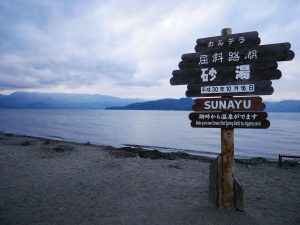 Tips?
This entire national park is amazing. There is an Ainu village with dance shows and a short hiking path through the woods to see boiling mud pits. You can try Ainu foods at some of the local restaurants, and the area is famous for marimo which is only found in two places in the world.
There is also Lake Mashu nearby, which is famous for its beauty, as well as Lake Onneto, where a hot waterfall generates manganese (the only one of its kind in the world), and Kaminoko Pond, one of the most beautiful water bodies in Japan.
This area is a bit hard to get to by public transit—a car is recommended.
Connect Team's Picks
These might not be the most famous spots, but they are our personal faves! Who knows? Maybe you'll bump into one of us bare in the baths.
Ofuro Cafe Hakuju Hot Spring (Saitama)
Alice Ridley, Head Editor
What's special?
The baths themselves are fairly standard for an onsen. There is one large indoor bath and a smaller open-air bath. However, the relaxation area is why this onsen is my favourite. To list a few things available in this area: a nap room, free massage chairs, free coffee, vast bookshelves of Japanese books and manga, study pods and even hammocks! (Pictures are the best way to show this area). I not only go to the onsen to bathe but also then spend additional time unwinding in this communal area.
Best time to visit?
Any time of year is great for onsen! Though, winter is prime time. Nothing is better than walking out of an onsen radiating warmth. The best time of day is to visit after 9 p.m. as it is discounted at half price to 450 yen! (This is when I usually go.) It should also be noted that the closing time is 11 p.m., so be prompt arriving at 9 p.m. as you will want to spend a good amount of time in the relaxing area!
Tips?
For ladies, they provide mud masks for you to try out! This makes the experience a little more special. You can find the mud to put on your face outside, usually by a mirror. I would recommend doing this about 10 to 15 minutes before you leave. I loved the feeling of lounging looking up at the night sky with my mud mask on.
Takaragawa Onsen (Gunma)
Clare Braganza, Community Section Editor
What's special?
The resort offers four unique outdoor baths, positioned on either side of a mountain river with crystal-clear water. The surroundings are the beautiful mountain forests of Gunma, and maple trees hang over the onsen, shading you from the sunlight. The baths are made from boulders, so it looks like a part of the landscape, and a wooden bridge connects them across the river. There is a private female-only onsen and three other mixed onsen, but you wear a brown shift for the mixed onsen so there's nothing to worry about. By far the best onsen I've ever been to!
Best time to visit?
I went in late summer/early autumn when the trees were beginning to turn gold. In the winter would also be lovely, because everything would be blanketed in snow.
Tips?
The hotel is famous for its "Dam Curry", where rice shaped like a dam separates the curry sauce from the rest of the dish.
Any interesting episodes?
I think we were meant to wear flip flops on the forest paths between the onsen, but us foreigners just went barefoot. We thought nothing of it until every Japanese person that passed us commented on our bare feet!
Yamanaka Onsen (Ishikawa)
Megan Luedtke, Assistant Designer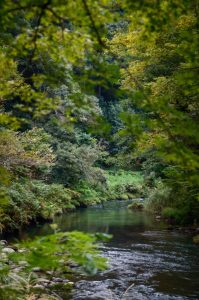 What's special?
Yamanaka Onsen, a small resort along Kakusenkei Gorge (pictured), is one of four hot spring towns that make up the larger Kaga Onsen. In addition to the hot springs, Yamanaka Onsen is full of beautiful traditional architecture (pictured) and is home to many different shops, many of which boast hand-crafted items.
Yamanaka Onsen is said to have healing waters, which help ease muscle and joint pain, speed up recovery from disease and improve one's health in general. The town is also home to many wonderful hotels and ryokans for travelers coming from farther away who hope to soak in Yamanaka Onsen's waters.
Best time to visit?
Late October/early November—you can see the gorge with fall colors at this time).
Tips?
Kakusenki Gorge is a must. It is right in the area and has an absolutely gorgeous walkway by the river with a stunning view. Visitors can follow the path, which winds through the trees, crosses the river via cute stepping stones, and passes by small waterfalls.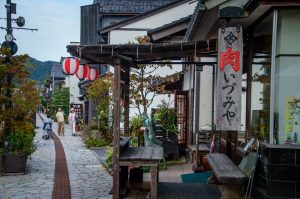 Along the path, you may find Kawadoko iverside café (open from April to October), a simple platformed space along the river. It's a perfect spot to stop for some refreshing tea while you sit under the shade of the umbrella and trees, and watch the river as it flows by right next to you.
Any interesting episodes?
I originally traveled to the small town on the outskirts of Kaga City to see Kakusenkei Gorge. Little did I know that I would end up in what was probably one of the most beautiful towns I ever set foot in. My first time there, I spent almost twice as long as I planned! I was thoroughly enjoying myself and ended up taking my time as I walked through various stores and explored all the different back alleyways. I didn't count but I'm pretty sure I said "wow" more than a hundred times.
Keywords

Onsen 温泉: Hot spring
Rotemburo 露天風呂: Outdoor bath
Yumeguri 湯巡り: Onsen-hopping
Ashiyu 足湯: Foot bath
Higaeri onsen 日帰り温泉: Day-return onsen
Konyokuburo 混浴風呂: Mixed-gender bath
Kashikiriburo 貸切風呂: Private baths you can rent out
Sentou 銭湯: Public bath with heated, regular water
Ryokan 旅館: Traditional Japanese inn often found in onsen towns
Yukata 浴衣: Lightweight cotton robe for wear in the summer, commonly provided at ryokans—you can often stroll around onsen towns in these paired with geta (下駄, wooden clogs) while onsen-hopping!