This article originally featured in the November 2019 issue of Connect.
A year of hope and heartbreak following F.C Tokyo, the J-League and Leeds United
Niall Devine (Tokyo)
I get very romantic when I talk about football. It's pretty much been all I've talked or cared about since I was four years old. Nothing makes you more ecstatic, but nothing quite breaks your heart like it. I come from a family where following Leeds United could be described as cult-like, even through almost two decades of watching batshit insane owners run wild, driving an infamous club into obscurity. Every even-numbered year was spent soundtracked by Los Campesinos!, Three Lions, and World In Motion on repeat with the foolish optimism that this is the summer England finally does it . . . before seeing them lose to Iceland or go out in the group stages. Football often hurts a lot, but I'm forever a pig chasing a carrot on a stick.
When I found out that I got on the JET Programme and I was moving to Tokyo, the first thing I did was to look for somewhere to watch football. I booted up FIFA on the Xbox and chose F.C Tokyo, and that's where it all started. When I finally got to Japan, I started going to games at Ajinomoto Stadium in September, and fuuuuuck—it was dreadful: 4 games played, 4 games lost, 0 goals scored.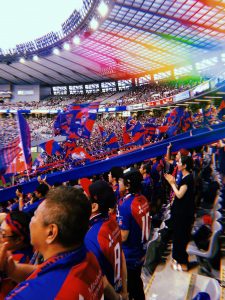 Fantastic. Great. Nice one.
The Japanese season finished in December. Then came a winter of staying up way past midnight to watch a magical Argentine transform the disappointing club I grew up watching into world-beaters overnight, making me giddy like a 4-year-old over football again. All the while, I waited for the J-League to start again the following spring.
March came around and I started going to the football again. F.C Tokyo were suddenly . . . good. Really good. Top-of-the-table good. An 18-year-old named Kubo was playing out of his skin, tearing apart defences like an overly excited labrador on a new couch. The opening home game of the season was against Sagan Tosu, which we won 2-0. Granted, we were fortunate that Tosu had a man sent off, but they still had Fernando Torres (although he actually played like shite).
My dad and our friend visited from Leeds in April and I took them to a game. One of the Tokyo fans clocked that we were a group of gaikokujin, and gave us each a sheet of paper that told us about the club, who the players were, what the songs were, and even how to ask for a pint from one of the beer ladies roaming the stands. I think I actually saw my dad's heart swell when he was given the sheet. Kubo was on fire, the Tokyo ultras were screaming for the whole game and F.C. Tokyo put away a poor Matsumoto Yamaga side easily. We stood up and clapped the players as they made a lap around the pitch after the game had finished. For the first time, I got it—F.C Tokyo had me hooked. I wanted in properly.
Some fans launched an English Twitter account for the club, and I asked for some advice about watching the game in the stand with the ultras for first time. In a top-of-the-table clash, F.C. Tokyo came from behind to smash Yokohama F. Marinos 4-2, but the result was secondary. I bounced, got drenched in rain and sang about Diego Oliveira for all 90 minutes. And after the final whistle, I got to see the club send off Kubo as he moved away to Spain to become the Japanese Messi (if he's not great in 10 years, this is probably gonna come back to bite me on the arse).
Tobitakyu Station always gets stupidly congested after a game but it does also have a 7-Eleven outside it, so I did the sensible thing and hung outside with a Premium Malts whilst waiting for the crowds to die down. As luck would have it, I bumped into the crew behind the F.C Tokyo Twitter account—who come from England, Canada and the USA. We talked exclusively about football—about F.C Tokyo and clubs from our home countries. After swapping LINE details, I finally got on the train home.
The following week was the Tamagawa Classico: F.C. Tokyo vs Kawasaki Frontale. Kawasaki are F.C. Tokyo's bogey team and a tough team to beat—defensively strong and decent on the counterattack. I asked the folks I met the week previously if they wanted to go for a beer beforehand (Ajinomoto Stadium has a fan park that is open for a few hours before each game which serves decent beer and food). They introduced me to the people they stand with each game, and I tried (and failed badly) to converse with them in Japanese. They're honest-to-God the sweetest, nicest people though. And decent drinkers, too.
After drinking for what seemed to be ages, my bladder gave in and I needed to use the gents' room. On the way there, we were stopped by a Kawasaki fan and he interviewed us for his YouTube channel. I was very drunk, talked about my love of Leeds United and Diego Olivera and taught the very kind gentleman a new swear word.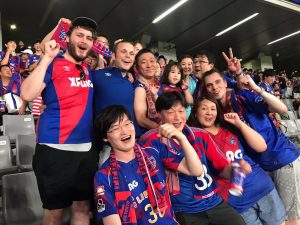 This is the best thing about the J-League: there is no aggression between opposing fans. You can waltz between stands and fan groups easily, have a chat, and nothing will happen. Do it in England and you'd probably be glassed or at least punched.
I met back up with my new group of friends, and we went into the stadium. They snuck me in to the area where they were standing, and we got even more drunk and even rowdier. Kawasaki beat us 3-0. I didn't care though as I still bounced and sung for the best part of two hours. I almost spewed on the train too, but I didn't.
If choosing F.C. Tokyo on FIFA was akin to swiping right on Tinder and the first four losses were like stumbling through awkward dates at cheap cocktail bars, then the games against Matsumoto and Yokohama were accepting that you actually loved them. And the game against Kawasaki was knowing that they're the one.
Because of the Rugby World Cup, F.C Tokyo's scheduled was heavily adjusted as their home stadium was going to be occupied for the better part of three months, which meant that Tokyo had to play eight straight away games. I was distraught as that meant three months without a home game. It didn't mean I had to go without football, though.
The club arranged for a public screening of their game at Kashima Antlers, which was the biggest of the season as it pitted the top two teams in the league. If Tokyo won, they would have a 7-point lead ahead of second place Kashima. But if Kashima won, that lead would shrink to 1 point. I met the people I had gone drinking with before the Kawasaki game at Sunshine City in Ikebukuro, and they suggested we run away at half-time to somewhere we could get beer and food. F.C Tokyo should have come away with at least a point for all the attacking they did, but a goal conceded from a corner two minutes into the game and a sucker punch towards the end of the game meant that Kashima took all three points.
I had watched Leeds bottle promotion to the Premier League four months prior, England get knocked out in the semis of the last World Cup, and now it felt as if the season was about to run away from us. Never have I seen my team win a trophy, and now it feels as if that carrot is being pulled away ever so slightly.
My parents had me christened when I was a baby but in hindsight, there's a possibility that it may have been Bela Guttmann cursing me to a life of trophyless football.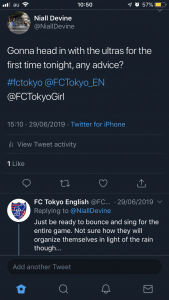 I slumped back into my chair of the izakaya we were in, fearful of watching another team slip towards the business end of the season. But the people I was with plied me with more food and beer and (slowly) cheered me up. It was probably the beer, mind you.
A couple of weeks later, I was on a shinkansen to Matsumoto for my first away game with Tokyo. Matsumoto's stadium is in the middle of nowhere, surrounded by mountains and an endless sea of greenery. It abuts the airport, so you have planes passing over the stadium quite loudly every hour or so. The club is also famous for its green beer, which went down like water on a very humid September afternoon.
Tokyo's fans travelled down in significant numbers, taking up almost a quarter of the ground. The club placed flags in every seat of our section, turning a corner of the Sunpro Alwin into a sea of red and blue. The game was nothing special—a toothless nil-nil draw between the two sides with the referee making some absolute howlers, but Kashima also drew which meant Tokyo still ended the weekend at the top of the table.
I've had a few people ask me why I decided to start following F.C. Tokyo in particular, and thinking back on the reason becomes messier than a Jackson Pollock painting. It's some parts "they're my local club," a little bit of "I can get a ticket from Stubhub which is easier than other clubs," other parts "because Urawa play in the exact same colours of Manchester United, so fuck that," and a tiny bit of "they're on FIFA." But honestly, I didn't expect to care as much about or be as enamoured by F.C. Tokyo and the J-League as I have been.
I think about the 2018 World Cup and Marcelo Bielsa's first season at Leeds United as the strongest my love for football has ever been, and compared to that, this F.C. Tokyo season is up there with it. For all the heartbreak, bottlejobs, and sadness, football is fucking great.
If there's one thing you should add to your bucket list before leaving Japan, it's to go to a J-League game.
Niall is a second-year ALT in Tokyo from Leeds, UK. He's into sports (not rugby), weird music, vegetarian food and making niche Simpsons references. Follow him on Twitter @NiallDevine #screwflanders
All photos provided by Niall Devine