This article originally featured in the November 2019 issue of Connect.
Damien Levi (Tokyo)
Walking into a room that holds one of Chiharu Shiota's installation pieces is like stepping into another world. Known for her extravagant work using thread, Shiota is one of the premiere performance and installation artists to come out of Japan. I was lucky enough to experience her room-sized installation pieces first-hand and was obsessed with trying to unravel their sophisticated construction. Each step further into the exhibition posed another question—How is this constructed? Where does it begin? How many hours of dedication were put in for me to experience this today?
With the conclusion of "The Soul Trembles" at the Mori Art Museum in Tokyo on October 22, her largest-ever solo exhibition to date, I thought it would be the perfect time to take a dive into Chiharu Shiota's history and her artistry.
Originally born in Osaka, Shiota studied at various universities worldwide in pursuit of honing her artistic abilities. Starting off at Kyoto Seika University where she studied painting, she then embarked on a study-abroad programme at the Canberra School of Art in Australia. It was during her time in Canberra that she began to blur the lines between painting and performance, culminating in her first performance piece, "Becoming Painting" (1994), in which she used her body as a canvas.
In an interview with Designboom, Shiota explained why she transitioned from a 2D medium, detailing how painting began to lose its meaning for her and became, "just colour on the canvas." It is at this time that she began experimenting with other mediums. "Drawing on a two-dimensional canvas was still too limited so I began exploring with thread. Weaving gave me the opportunity to expand and I feel as if I am drawing in the air on a limitless space." (1)
Moving on from Australia, Shiota studied in Braunschweig as well as the Berlin University of the Arts in Germany, where she lives to this day. It was here in the 90s that she met and began studying with internationally acclaimed performance artist Marina Abramovic.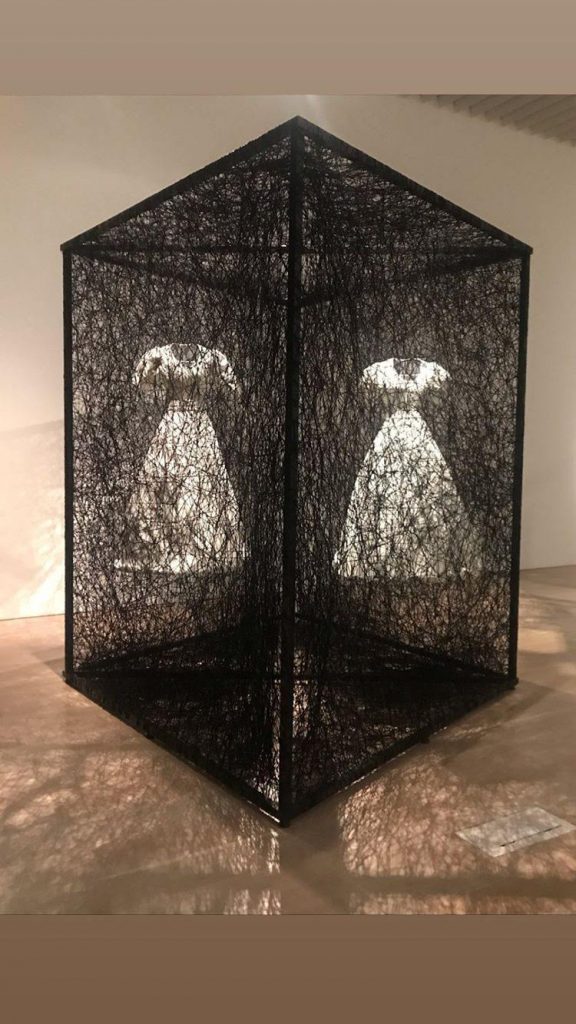 Abramovic's influence on Shiota is plain to see in her earlier work, with similar abstract themes and performances. For one piece, Shiota collected cow jawbones from different butchers in Berlin, transporting them home on the train and scraping the leftover meat and sinew off of them. For another early performance-based piece, she stripped naked and repeatedly tried to climb out of a dirt hole in an attempt to return to Japan.
It was during her time studying at the Berlin University of Arts that she came to see Germany as her home, and decided to settle there, becoming a fixture in the local arts scene. Speaking to Nasty Magazine's Sara Dal Zotto, Shiota discussed how being based in Berlin affected her art. "Living abroad helps me to see myself clearer and see my own identity because I am different. In Japan, I don't differ as much from other people and this makes it harder to see myself." (2)
Although it was performance-based pieces that originally gained Shiota some attention from the arts community, it would be her installation works that would capture the hearts of the world. An important point in her career would be the Yokohama Triennale in 2001, where she unveiled a thought-provoking installation piece. Five, handsewn, mud-stained dresses reaching from floor to ceiling were barraged with a stream of water in a futile attempt to clean the dirt from the garments.
Picking up traction from this point, Shiota enjoyed success in art circles over the next decade and gained enough notoriety to be asked to represent Japan at the 56th Venice Biennale, a world-renowned contemporary visual arts showcase, in 2015. It is here that her installation, The Key in the Hand, caught the attention of attendees. The piece utilised 400 km of red yarn, 180,000 keys and two boats and sprawled out across the entirety of a large room.
Upon entering the room, attendees were confronted with thousands of hanging red keys, tied with the red yarn that is synonymous with Shiota. Her use of colour in this, and every other piece, instantly draws the individual's attention, removing distractions. It allows her work to be experienced rather than simply observed.
When asked whether she feels the need to explain her art to audiences Shiota said, "I think my big scale installations are actually easier to understand and faster to grasp emotionally . . . I don't want to explain my art beforehand." (3)
In what could be considered an unconventional pivot, Shiota has also seen success in creating set designs and offering artistic direction for various opera and theatre productions. Using her core colours of red, black and white alongside large, abstract set pieces, she has worked on Shakespeare's "The Winter's Tale" (2016) and Wagner's "Siegfried" (2017) for Theater Kiel in Germany.
As a culmination of the last 25 years of her career, the Mori Museum of Art in Tokyo held the largest exhibition of Shiota's work to date. Running from June 20 until October 27, it primarily featured large-scale thread-based installations but also included sculptural works, video footage of performances, photographs and materials from her theatre work.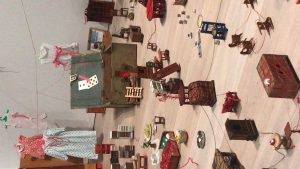 A landmark exhibition for Shiota—in her home country no less—the theme was "presence in absence," a core element that can be felt in all of her previous work. Although she has removed herself physically from her artwork, where she was once a prominent feature, her intention can still be felt in each new piece she creates.
I went into the "The Soul Trembles" with little previous knowledge about the artist and was pleasantly surprised by how easy it was to engage with her work. A little eccentric, with many visually and mentally stimulating pieces, Shiota's exhibition was a delight to wander through. A particular favourite was "Reflection of Time and Space," a puzzling piece using mirrors to fool the eyes. I spent more time than I'd like to admit trying to decipher how many dresses were present in the piece.
If you're interested in finding out more about this fantastic artist, you can find her personal website here. The website also hosts a catalogue of books written by, or about Shiota with ISBN reference numbers so you can find them at your local library or bookstore.
Damien is a person who exists in the world. He wrote this article in his bed in Tokyo during Typhoon 19, Hagibis, and it was not a fantastic experience. Follow him on Instagram @damienlevi to make him feel better.
Sources:
1. Designboom
2. Nasty Magazine
Additional sources:
– Blain Southern Museums
– Chiharu Shiota Artist Website
– Mori Art Museum
– The Culture Trip
– Style Zeitgeist
– Arndt Fine Art
– Nieves Fernandez Galeria