This article originally featured in the November 2019 issue of Connect.
Madeline Yochum (Kyoto)
Fall is arguably the most beautiful season in Japan. With autumn foliage, festivals, and crisp weather alike, it's the perfect occasion to step outside the box and play with a variety of styles that accompany this seasonal change.
And in Kyoto, you'll find a wide range of street looks that vary from minimalist to modern to norm-core. In the spotlight are three JETs who live and work in Kyoto, with an interview featuring their takes on fall fashion for every occasion.
Alys Grey: Group Gathering
Born in NYC, this is Alys's first time in Asia. She tends to embrace a simple look but pairs it with more colorful, ornate accessories. She's lived everywhere in NYC and happily embraces a mix of Japanese and Western styles. Her dress and cardigan are both from H&M. She got her boots from AEON and her handbag from Alice On Wednesday in Tokyo.
How would you describe Japanese fashion?
Eclectic people who are really high fashion, very sleek, but on the other hand you have people that are very cute, and then there are the people who are kinda funky. So you see some sorts of combinations that you typically wouldn't see in other places.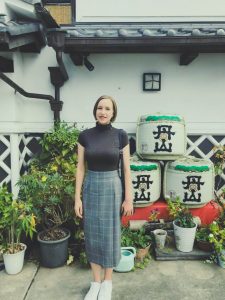 How does that compare to fashion back in New York City?
It's actually pretty similar, but we don't gear as much towards cute. We don't have as much cute. You're more likely to see more sexy in New York. I think fashion in Kyoto is a bit more reserved. Or, maybe refined is the better word for it. You still see a lot of cute styles, you also see the occasional funky ones. But, when you are in Tokyo you definitely see a lot more outgoing styles than in Kyoto. People try out things that I don't think they try out in Kyoto.
Fall go-to accessory or look?
I really like wearing leggings with dresses or shorts. It lets me give my summer wardrobe an extended lifespan. I like to pair my leggings with cute ankle boots whenever possible. I have some really cute clothes I picked up while I was in Tokyo. Since I love nautical themes, I've always been a fan of sailor fuku-based designs but have never had a chance to try them.
Christin Cook: Dinner Party
Pittsburgh native Christin Cook is in her third year in Kyoto. Over time she's slowly added a mix of styles to her wardrobe that range from UNIQLO deals to forgotten second-hand jackets. Her bag is from a thrift store in Kameoka, Kyoto called 創庫生活館 亀岡店 (Sōkoseikatsukan Kameoka-ten).
How would you describe your personal fashion?
My personal fashion is a gradual mixture of components from all the places I've traveled to. I like to incorporate different bits and my own flair. I like to focus on functionality and comfort, not just physical comfort but what makes you "feel" yourself.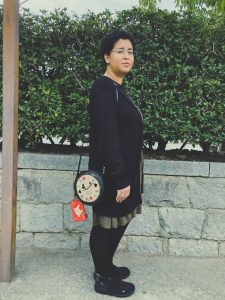 How has your style evolved since you first came to Japan?
I experiment more with different silhouettes. In America, there's only one type of silhouette that's seen as attractive, but in Japan it's very different. So, I'm having fun melding the two. For example, high-waisted, wide-legged pants are really popular. And often, oversized shirts. So, I might do something like a more form-fitting, high-neck top with wider pants. Maybe one item form-fitting, one item loose and flowy. Combining the two.
What makes Kyoto fashion unique?
You can find a style that matches how you feel, and if not, you can create your own. There's a little bit more freedom. People won't call you out for being more out there.
Oh really, in Kyoto?
Yeah. Maybe they will feel it, but they won't say it.
What's your go-to fall accessory?
Waterproof leather boots and a scarf. Boots are useful because autumn is the perfect time for spontaneous adventures.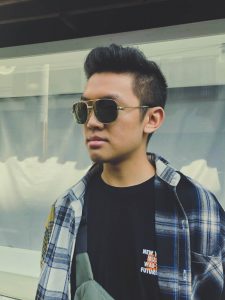 Matthew Li: Daytime Date
Although this is Matt's first job abroad, he's no stranger to Japanese style or culture. This is his fifth time in Japan and over the years he has visited nearly 20 prefectures. He has developed a unique relationship with Japanese fashion. Originally from NYC, Matt's fashion taste leans towards urban streetwear but incorporates elements of casualwear as well.
What are some differences you've noticed among different cities in Japan?
Tokyo fashion is a lot more daring. In Kyoto, there is this conservatism in clothing, especially with men's clothing. Even with women's clothing. I don't see as many niches as I would in Tokyo or Osaka, or even Kobe. Clothing here reminds me of American clothing.
What are your favorite places to shop in Japan?
I like Shimokitazawa in Tokyo and also Omotesando in Tokyo. Other really good places across Japan are Immelimoola in Osaka's America Village. Hiroshima is known to be the home of fashion trends.
What do you like best/least about Japanese fashion?
You can look casual while also looking like you're dressing up. There's a really nice mix between looking unique and appearing casual. Especially with their oversized clothing. And a lot of the designs mix streetwear with formal wear. It's really interesting to see that here. Depending on what you're into, Japan's a good place to find anything. Especially if you're in Tokyo.
Fall go-to accessories?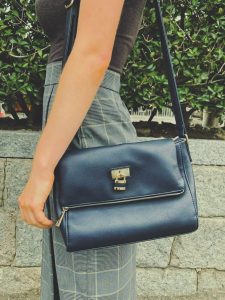 In fall, a light jacket. Places with really good jackets are Rage Blue, Bathing Ape, and A.P.C also has really good jackets. I think colored jean jackets and camel is a good design for fall. Surprisingly, orange is a good color if you're wearing a black top, and oversized sweaters are great.
What are you wearing now?
My camel pants are from an underground shop in Seoul, Korea (which also has a location in Shimokitazawa), specializing in oversized clothing. This shirt under it is from WEGO, a fast-fashion brand in Japan. It's really good if you're just trying to find cheap stuff. It's the Forever 21 of Japan. And this bag is from Bershka New York. My go-to fall accessory is a Junred bomber jacket I got from Ragtag.
Last thoughts?
I guess clothes can describe my personality, or at least my interests and the kind of lifestyle I want to pretend I have. In Japan, I think keeping up your appearance is a way to gauge how much you care about yourself. But that's probably everywhere in the world.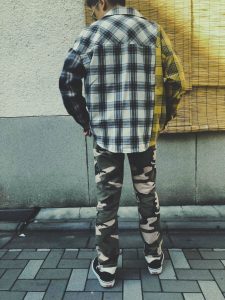 Midwest native Madeline Yochum graduated from Washington University with a bachelor's degree in journalism. Before coming to Japan as an AET, she worked as a journalist in Missouri and South Korea. She developed a passion for writing and service in Madagascar, where she documented her experiences teaching in a rural community. Madeline resides in Kameoka, Kyoto near her favorite hideaway: Nango Park.
All photos provided by Madeline Yochum