This article originally featured in the November 2019 issue of Connect.
Hello, [CONNECT] readers! I'm happy to introduce the language section. As a 5th year ALT, I have spent a lot of time looking for information about teaching English and learning Japanese. Every year, I've seen questions like, "What textbook do I really want for JLPT N4?" and "My JTE wants me to teach phonics, how do I do that?" and "I'm frustrated because I don't know how to do this basic adult thing in Japanese, what do I say?"
Whether you are studying Japanese, researching language acquisition or language teaching, trying to get by in the staffroom, or just not certain what magic words will get your car filled with all the right fluids before that road trip, this section is for you. If you have a packed schedule, information from this section might make your life easier. If you have a lot of time at your desk, the language section will have tips on how to be a rockstar ALT. If you have a teaching or research background, the language section will aim to show you new information and opportunities to level up your skills and resume—and would also very much like to hear from you!
I hope to share useful and entertaining information that makes us better teachers, makes living in Japan easier and puts goals like passing the Japanese Language Proficiency Test (JLPT) a little more comfortably within reach. I'll be sourcing articles from people who have academic qualifications, experience, and opportunities for the English-speaking community in Japan. If you have something to say, please reach out to me at connect.language@ajet.net.
Best wishes,
Rebecca Ruth
Meet the Editor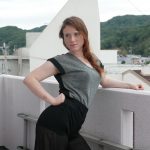 Rebecca Ruth is a member of Hyogo AJET and the 2019-2020 National AJET Vice Chair, so you might have seen her at a welcoming party or at Tokyo Orientation. If her speeches bored you, she's sorry, but she's just not a very interesting person. She is currently preparing to take the JLPT N2, has a degree in English, and has experience teaching English to refugees and immigrants back in the USA, as well as teaching creative writing at a junior high school.