Exploring Sakaiminato
Rachel Fagundes (Okayama)
You didn't come here for the monsters?" he asked, puzzled. His head cocked slightly, eyebrows raised. "No one comes here—except for the monsters."
This was, I must confess, a somewhat disconcerting thing to hear as I was checking into my hostel, in rural Japan, alone.
I blinked.
"Ahh . . . what now?"
I had, in fact, come to the small coastal town of Sakaiminato because it was close to Daikonshima Garden, where I planned to meet a friend for a peony festival the following day. I knew little about the area, right on the border between Tottori and Shimane, but had decided to take advantage of a long weekend and do some exploring. My brief research had found a nice castle in Matsue I could visit, Izumo Teisha shrine further down the coast, and a few lovely onsen scattered about the area.
No one had said anything about monsters.
But my hostel owner informed me that I could view yokai—spirits, fairies, demons, and monsters of Japanese folklore—all through Sakaiminato, and who am I to turn down the call to adventure?
As it turned out, I had stumbled upon one of Japan's odd little anime towns. Sakaiminato had been the childhood home of Shigeru Mizuki, one of Japan's most beloved, respected, and influential manga artists.
Among his many works, he penned the popular series GeGeGe no Kitarō, which is credited with bringing yokai and traditional folklore to pop culture prominence after World War II, and has apparently influenced everything from Pokémon, to My Neighbor Totoro, to Pacific Rim. Sakaiminato, clearly looking to draw in some tourism, leaned into this connection—and Japan does not do anything by halves.
Walking through downtown Sakaiminato is a surreal experience. One hundred bronze statues line the streets, each depicting a creature or character from Mizuki's work. Some are small enough to fit in your hand, others large enough you could sit in their lap. Some look like twisty dragons; disembodied horse heads; woven sandals with long, licking tongues; spindly little men with blank faces and thin, reaching arms. Some have—less recognizable shapes. All of them are incredibly detailed, lively, and wonderfully weird. But the monsters don't stop there. There are paintings and murals and cut-outs! They've got monsters on the trains, monsters on the vending machines, monsters on the police station, on the cabs, in the restrooms, on manhole covers! The street lamps all look like eyeballs, rising in clusters on long stalks. Souvenir shops and candy stores sell all manner of creepy treats. Children skip down the street snacking on monstrous snacks and trailing clouds of eyeball balloons floating weirdly behind them. An enormous, red-eyed skeleton looms over a children's playground where toddlers, or eh—twenty something year old JETs—ahem—can slide down the back of a wriggling ghost.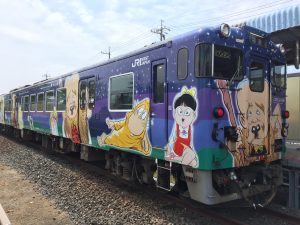 And then there's the museum. Dedicated to educating the public about Shigeru Mizuki's life, art, and the yokai he so dearly loved, the Mizuki Shigeru Museum is worth a visit. I was able to get an English audio tour, which I would highly recommend. Mizuki had an interesting life: he grew up learning all about the secrets of the Unseen World from his governess. He lost an arm in World War II, which affected his drawing style and left him with very distinctive linework. He was politically outspoken and an advocate for peace. He won two Eisner awards. Settings from his life are depicted in large dioramas in one section of the museum—with various yokai lurking in the backgrounds throughout. The museum contains some of Mizuki original art and illustrations, and a chance to learn about his more political or biographical work. And of course, there are plenty of monster murals, figures, and photo opportunities. Outside the museum various monstrous mascots, characters from the comics, appear to entertain the crowds and take pictures with the tourists.
As I trotted back to my car at the end of the day, past a (family friendly) haunted house, clutching my various omiyage and souvenirs, I couldn't believe my luck at stumbling across this little town. Even without being previously familiar with the GeGeGe no Kitarō manga or its creator, I was completely taken in by the town's pervading sense of fun. The yokai depicted throughout the Sakaminato are authentic enough to be of interest to anyone keen on Japanese folklore, mythology, or horror, but cartoony enough that they are accessible to young children. They really just committed completely to the monster theme and went all out with it, creating a whimsical, macabre, and totally immersive experience that you would only ever find in Japan. As the town is gearing up for Halloween, which they apparently celebrate with great gusto, I would definitely recommend a visit.
Rachel Fagundes is a third-year ALT in Okayama Prefecture. She likes cats, naps, cat naps, Japanese festivals, and good books.
Photos: Rachel Fagundes