Talisha Vernon (Gunma)
This article originally featured in the December 2018 issue of Connect.
Christmas time is here.
Happiness and cheer.
Fun for all the children call.
Their favorite time of the year.
I always think of "Christmas Time Is Here" by Vince Guaraldi around Christmas time, carols everywhere and sleigh bells in the air. This song reminds me of everything Christmas in Japan is not. At least that is what I thought after my first Christmas here in Japan.
For my first Christmas in Japan I wanted to experience a "typical" Japanese Christmas where I would passively let Christmas happen to me. That year, Christmas day fell on a weekday, so I went to work like everyone else. Students were already out of school for winter vacation, so all I did was sit at my desk listening to a podcast and browsing the Internet. Around lunchtime, I had had enough and took the rest of the day off. I met up with a couple of friends who had also stayed in Japan for the holidays, we bought some KFC, a strawberry shortcake (which later became known as a Christmas cake), and just set up camp in a friend's apartment, watching our favorite Christmas movies. To be honest, it was the most unusual Christmas I had ever experienced, but I really feel that everyone should try it at least once. However, I wanted to do more for Christmas, to embrace the Christmas spirit talked about in all the festive songs blasting in every Starbucks, department and grocery store.
Fast-forward to Christmas 2017. I'm now married with children. My husband is from Nepal and never really celebrated Christmas before, and my children's first Christmas was in Taiwan, so they were very little help when it came to Christmas spirit. I decided it was my mission to spread Christmas cheer throughout my community in order to outdo the past few years of Christmases in Japan.
Here are the steps I took:
STEP ONE: Decoration is a MUST.
If you need decorations (and a lot of them) but you don't want to spend a crazy amount of money, Daiso or any 100-yen store is the place to shop. Don't just decorate the inside of your house – decorate the outside as well. With a ribbon and a bow, my front door became a beautiful Christmas present. Add a small Christmas tree out front, and tada: Christmas cheer is spread throughout your whole apartment. (Literally my whole apartment. I live right at the entrance to my apartment complex, so everyone has to see my front door.) I bought two Christmas trees: one for the inside of my house and another mini tree for my desk at work. I also made my own chimney out of all the boxes I forgot to recycle and hung lights and stockings from it.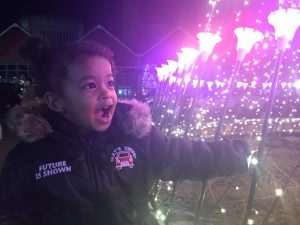 STEP TWO: Go see the lights. ILLUMINATION.
They are probably already up and hanging around your local train stations or shopping malls, but the many illuminations this time of year really get me ready for Christmas. Where I live there are illuminations up in the mountains where a little holiday scene and a train ride is set up with lights. These illuminations usually start around the beginning of November and some even continue until February. I make sure to go out and really experience the views at least once. My city has an event called "The Festival of Lights" where local nursery schools design boards of lights to hang up around the station. Last year, Santa showed up with a guitar and played Christmas tunes. Even though it's usually downright freezing outside, being out and about with couples on dates or families with small children with wide eyes of amazement is just so special.
STEP THREE: Colonel Sander is not Santa Claus. I AM SANTA CLAUS.
Did I arrive in Japan with a few Christmas sweaters and on top of that order two more Christmas sweaters and an "ugly" Christmas sweater off Amazon? You bet your gumdrops I did. Did I wear those sweaters everywhere I went for the weeks leading up to Christmas? Yes, of course! I even found two Santa costumes at a second-hand store for my twins to wear to their nursery school. After checking if it was okay with my school, I handed out candy and stickers to my students after each class dressed as Santa.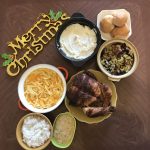 STEP FOUR: No more KFC – Let's have a "real" Christmas Dinner.
Okay, I know I may have lost some people. Believe me, I can't cook. My kitchen is only equipped with the basics, so preparing a real meal is impossible. However, I tried. I bought a rotisserie chicken from Costco and followed some basic cooking instructions from my mom over the phone. The whole processed reminded me of times back home when I would help in the kitchen for Christmas dinner.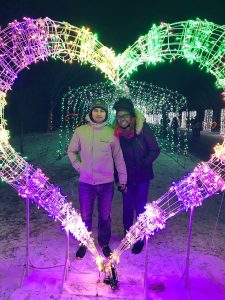 STEP FIVE: Christmas spirit can cross oceans.
The most important step for me is to think of friends and family nearby. I know that especially if this is your first year in Japan away from your family, this season can be difficult. However, don't just Skype with your family back home or go out with friends. Invite Japanese people or other ALT friends over for a Friendsmas (Friend Christmas) Party. Connect with people around you and introduce them to how you celebrate the holidays at home.
At the end of it all, that Christmas was actually one of the best I've had during my time in Japan. Once I began to bring in the Christmas spirit from home, that feeling of being alone during the holidays decreased.
This specific example is about Christmas, but with a little modification, these steps can work with whatever holiday you celebrate.
Christmas time is here.
We'll be drawing near.
Oh, that we could always see.
Such spirit through the year.
Talisha is a fifth-year prefectural JET in Gunma. As a child of parents in the U.S. Army, Talisha has only lived in capital cities in the countries her parents were stationed. Gunma Prefecture is the first time she has lived out in the countryside. Through this new, slower lifestyle, Talisha has been introduced to many adventures she simply wouldn't have had if she lived in a big city.