Gareth Naylor (Oita)
I came to Japan because I wanted adventure. My head was filled with images of traveling to a foreign land and experiencing a completely different culture. Some of these images were very naive. I thought, for instance, that I would be living in a traditional Japanese house in the middle of a rice field. The imagination can be so dangerous. In reality, I lived in a 3 storey apartment in a small city called Oita — it's on the island of Kyushu.
It was in Japan, though, that another journey began — painting.
As a JET, I had a lot of free time and so I enrolled in watercolor and oil painting classes. At first, it was just a hobby and a very enjoyable one. I had done art before but then stopped for a number of years. But once again, art had came back into my life. Fairly quickly I became more and more passionate and serious about it. I went outside a lot, sketching and painting the streets. I only have a few of these paintings left, such as the one below. They are interesting to me because many of these places have changed a lot.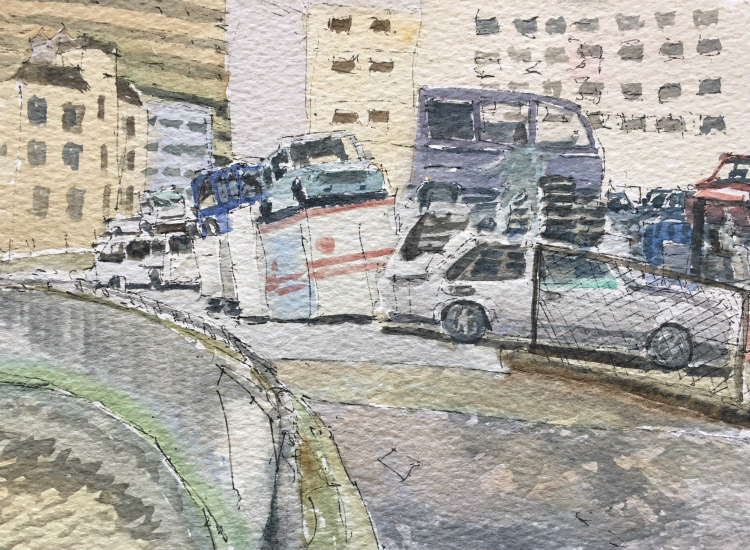 Then the painting adventure really began to take off when I moved house and came to live near Oita river. I could quickly cycle into the countryside by the river path. My bicycle became a mobile studio. It was a wonderful, adventurous period that I call my wilderness years. It was a period in which I was learning to paint and find subjects to paint.
There were many frustrations during this period, such as cycling up a mountain with all my painting equipment, and after one hour of going up the same mountain, realizing I should give up, and spending the whole day searching for a beautiful scene and finding nothing, or worse, a big eye-sore like a concrete plant or gravel pit at the end of my trip. And, of course, there was the weather. I got quite ill one time from painting too much in the middle of summer without sunglasses. I'd never heard of natsubate (summer fatigue) until I actually got it.
But there were also some lovely surprises, such as the gifts I received. Sometimes I would come home with my bicycle basket full of vegetables from a farmer's field, or a cold drink that was given to me as I was painting outside on a hot day, and perhaps, the best gift was a large jar of homemade honey.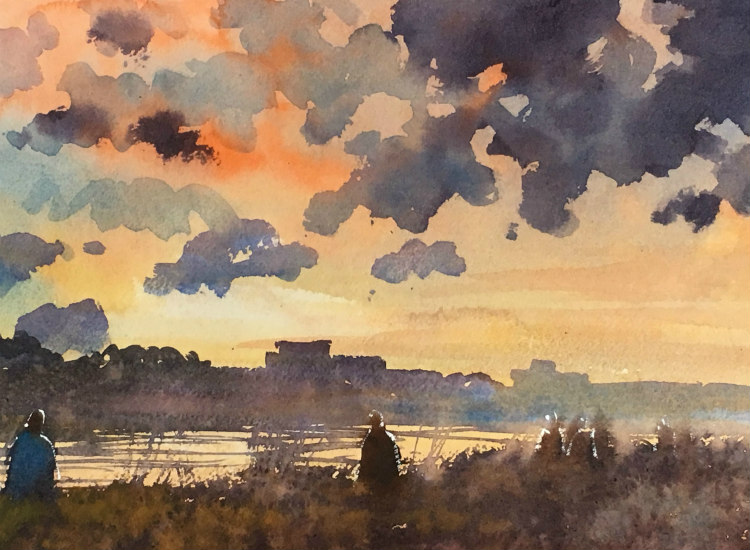 And then I got even more mobile by having the use of my wife's car. I could travel deeper into the Japanese countryside. By this time, I had trained my eye to find places that would make for a good painting and this often meant that I would not reach my intended destination. One year, for example, I wanted to go to a tourist town called Yufuin. I was going to do an exhibition there and wanted some paintings of that area, but it took about 10 trips before I actually arrived there because I always stopped on the way as I found interesting scenes to paint. On my bicycle trips, I sometimes cycled all day without painting a single picture because I thought that there would be a better scene just around the corner. The many frustrations of not finding that imagined-better-scene had trained me to be more of an opportunist so if I saw anything that looked paint-able, I would stop and paint it. In other words, a bird in the hand is worth infinitely more than another bird that "might" be in the bush.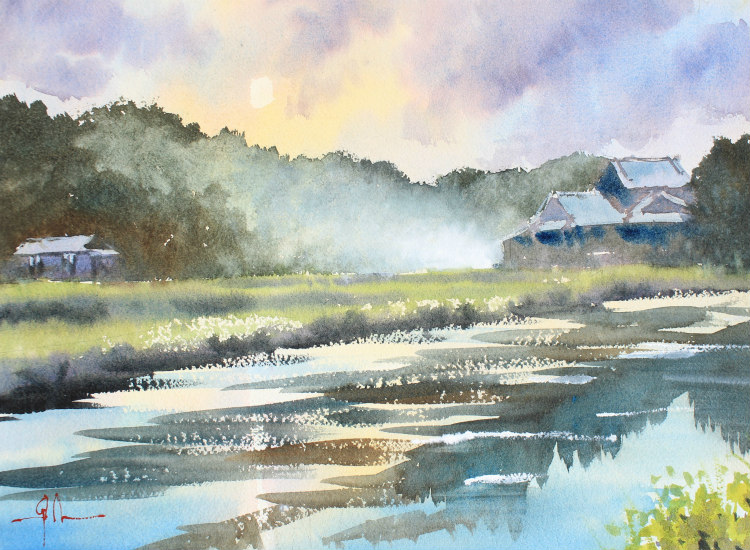 Despite all these travels, I found my favorite place simply through a trip with the family — in fact, I've found many lovely places this way. In 2015, we went to Sasebo in Nagasaki prefecture. This place has over 200 islands and we took a one hour boat trip around some of them. It was a wonderful experience. Later that day, we traveled to a viewing spot and saw the sun setting over the islands — it was exceptionally beautiful. Afterwards, I spent many weeks trying to paint something worthy of what I had seen. I was inspired and worked very hard, which led to a series of paintings of Sasebo.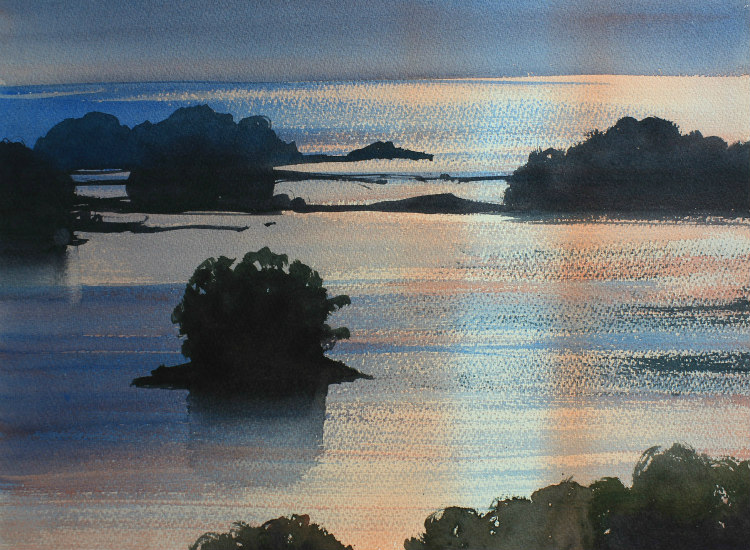 From this experience, I learnt how painting in a series massively improves your work so I started to do more. One reason why working in a series improves your work is because you focus more and give more time to a smaller issue. For example, in the painting above, I spent an enormous amount of time trying to get the sea right. I painted this particular scene probably 30 times or more, and each time I understood a little more about what was working and what I could achieve. Then, when I painted another similar scene, I strengthened what I had learnt; in educational jargon, each new piece in a series consolidates what you have learnt and each time you get a bit more mastery at that particular technique. A series also allows you to experiment and take a painting much further than you might normally, and thus you make new discoveries and learn more.
For example, with the rickshaw painting below, I did a variety of different skies; such as a moody sky, a midnight sky, a sky at dusk and also a sky with intense light. By doing these experiments you challenge yourself rather than just lazily copying a scene — and that gives you artistic muscle. I've done quite a few series now on subjects I like — below are a few examples: beaches, rickshaws in Yufuin, a water-jet feature in the city center, and city scenes — this last series is intended to be 100 paintings of city streets, but to date I've only done about 20. I see it as an adventure that has been postponed but not cancelled — not yet anyway.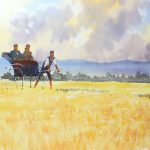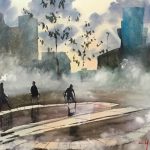 Slowly — very slowly — I started to sell my work. Sometimes I would sell while I was painting outside and other times I would sell when I exhibited my work. With the exhibitions I had a stroke of luck — which you always need. A few years ago, a man who saw me outside painting talked to me (I still can't remember his face and have not met him since; although, I have met his wife) and had a friend who owned a cafe-cum-gallery in Kuju, a beautiful national park. I don't know exactly how it happened, but he contacted my wife and then arranged for me to meet the owner of the cafe. This owner has been one of the best people to come into my life. A real supporter. And for the last several years I have been exhibiting at his beautiful cafe. On the last occasion, I sold five works and a lot of calendars.
More recently, I have started entering a few contests. One was the Oita City Art Museum Contest or "大分市美術展" in Japanese. Every year they have an art contest and display all kinds of artwork from sculpture and Japanese calligraphy, to Western painting. I was delighted when I won a prize from the museum itself, and even more delighted when I went to collect my work and prize to find that I had won a second prize. The audience (viewers) had voted my artwork as their 3rd favorite. My prizes were not quite what I was expecting: two cups with the logo of the art museum. However, the recognition, although not able to support me as an artist or help me with buying materials, was very nice.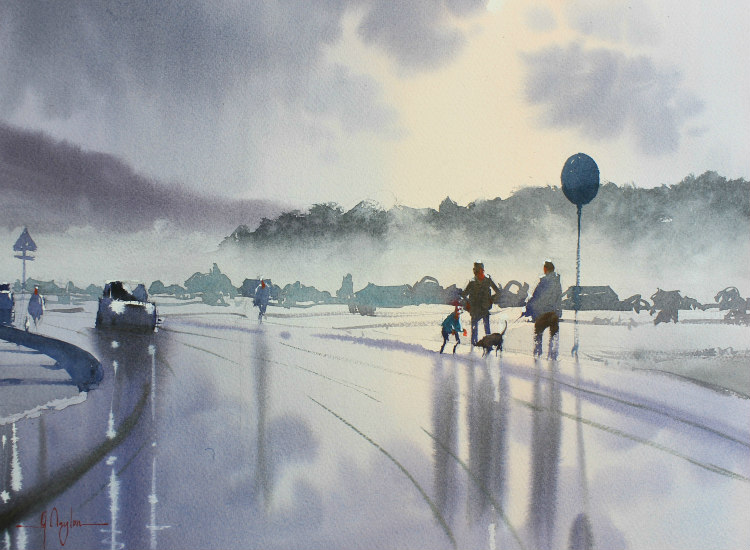 This year another lucky thing happened. I was invited to put my work in a gift shop. A lovely woman, called Joanne Tomooka, who sells work made by foreigners living in Japan, had seen my work in a local FB group and contacted me. This led me to start making prints of my work for gift shops. I've wanted to make prints for a long time. Nowadays, professional artists make super high quality prints called giclee. I tried to get a giclee print in Japan. I went to a printing company and said giclee; the boss nodded confidently and 20 minutes later I left with a laminated print. Then I found a company in Osaka who actually did giclee but one of their prints was the same price as one of my originals. Thereafter, a friend from Hawaii told me about a company there that did giclee prints that were really beautiful but also reasonably priced. Now, at last I am able to offer these giclee prints and to sell them at Joanne's gift shop.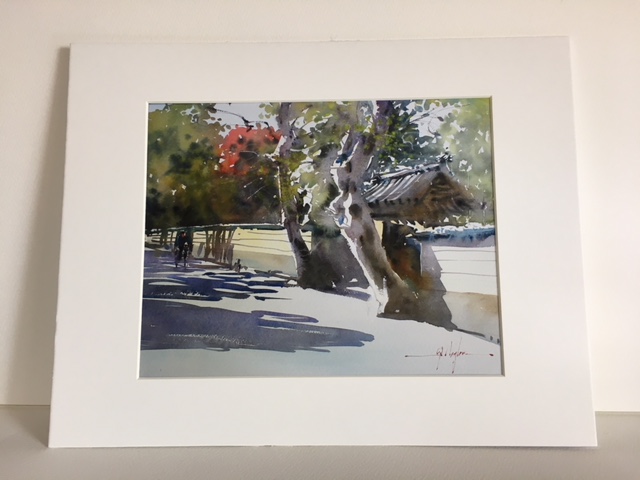 My most recent art adventure is making art videos and video lessons. It has taken a while to learn about video editing but I think I'm starting to get half-decent. There are still problems and some of them are so ridiculous I'm almost embarrassed to mention them. For instance, audio is the most important thing in making videos and I was annoyed that after much trial and error, my videos still had a clicking sound in them — even after trying noise reduction, levelling and anything else I could do. Later on, I realized that it was coming from my ears, or perhaps my eustachian tube, which was clicking or popping when I moved my jaw. It was only a tiny sound but the mic picked it up. Very strange and frustrating. I've partially solved the problem, but not completely — but I will persevere! Life is problems and when you overcome them it is very satisfying. The trick is not to run away from the problem, but stick with it, even though sometimes it takes time — a lot…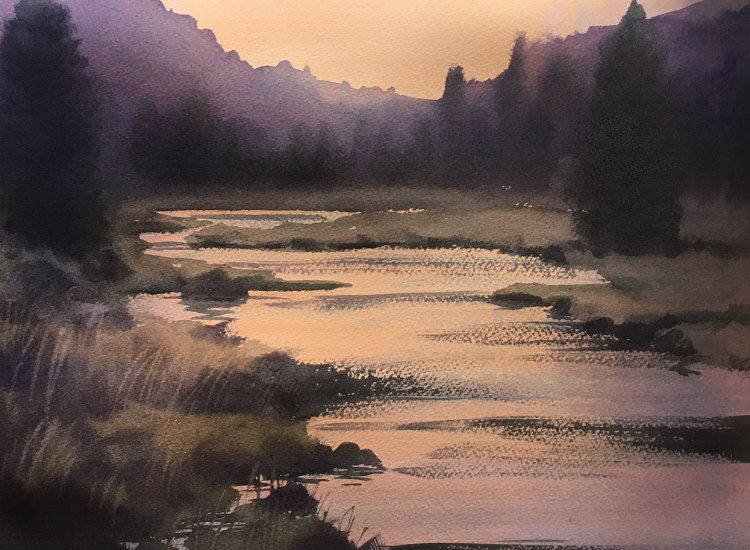 So one adventure has led to many others, and I'm still a person who likes adventures. If you know a beautiful place in Japan, please let me know. One day, hopefully, I can get there and paint it. I hope you also find your life full of adventures. Adventures are invariably hard going (at least it has been so in my own case and art is maybe not the easiest of ventures) but they make life fresh and interesting. Finally, if you know a gift shop or gallery owner that might be interested in showing my work, I would really appreciate you letting me know.
Gareth Naylor is an Englishman living and painting in Japan. He has been here for over 17 years and has been painting for all that time. He loves to travel around the Japanese countryside and find beautiful places to paint. You can see his online gallery on his website and even participate in one of his online lessons — no experience necessary!