This article originally featured in the March 2020 issue of Connect.
Abbie Philpott, Nagasaki
I'm very lucky to live in vibrant Nagasaki, where the locals are as warm as the weather. Apart from the snowmageddon that hit Nagasaki my first winter here in 2015, I have rarely seen snow since. It gets cold enough here to make getting out of bed in the morning a tortuous endeavour, but not quite cold enough to make up for it with snow to play in. So, when my friend Charlie asked me if I wanted to join her in taking an adventure north to see a snow festival, I leaped at the chance.
We planned our trip around the Uesugi Snow Lantern Festival in Yamagata and visiting my friend Zoë in Fukushima (a much overdue visit). We booked our flights, worked out the train and bus schedules, looked up some of the area's must eat foods and sights, (I say "we", but it was mostly all Charlie!) and then half-forgot about the trip as life got in the way. It wasn't until January with the trip less than a month away that we started talking about our plans again. Zoë then delivered the bad news that they still hadn't had any snow and that many snow festivals might be cancelled, or at least altered heavily. You can't have a snow festival without snow, right?
We were worried, but our flights were already paid for and our paid holiday approved, so we resolved to still go. After travelling to Tokyo via Fukuoka (thanks for letting us crash Diana!), we met up with Zoë, ate a huge yummy lunch, and then caught the shinkansen to travel a further two hours north to Fukushima City. It was while rushing through the countryside that we saw snow for the first time! Zoë had told us over lunch that Fukushima had gotten snow a few days earlier, and seeing fields and houses dusted in white had further lifted our hopes that we would experience a proper snow festival.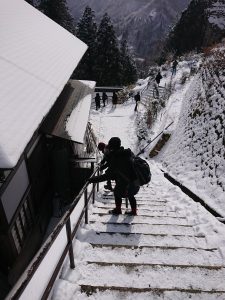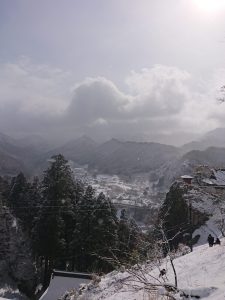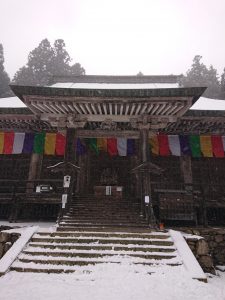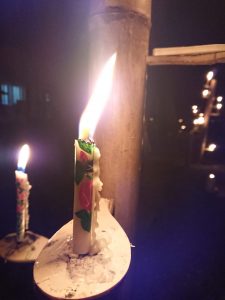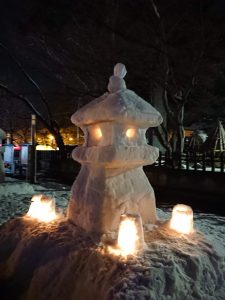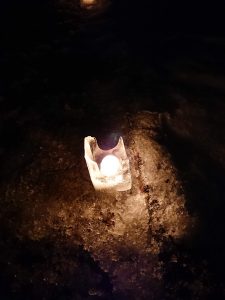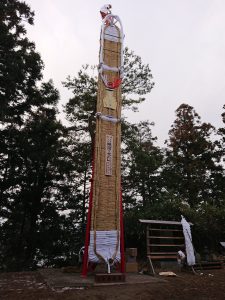 We arrived around 5pm and then headed straight to the lightly snow dusted city of Aizu Wakamatsu to see the Aizu Erousoku (Painted Candle) Festival. Tsurugajo Castle and its grounds lit up by thousands of candles made for a gorgeous ethereal scene. It was a little sad to watch the beautiful painstakingly hand-painted candles burn down, but it did make it extra special to see this fleeting beauty.
The next day, we headed out early to enjoy a day in Yamagata prefecture. Our first stop was Yamadera to visit Risshakuji Temple, an ancient temple complex that sprawls high up the steep mountainside. It's famous for offering breath-taking views of the surrounding forest covered mountains and the valley at its base. It did not disappoint. The arduous climb up the 1,015 snow covered stone steps (it was −3 but we all started sweating!) and the more than a little terrifying descent down, were a cheap price to pay for the spectacular winter views. Queen Elsa, eat your heart out.
Feeling satisfied we got to see a picture-perfect winter wonderland, and having met our snow quota for the time being, we headed to the picturesque town of Ginzan Onsen to warm up and get refreshed in one of its famous onsens. Unfortunately, all the ryokan were closed to day-bathers when we got there, but luckily the public onsen was open. It was small and the custodian was a little grumpy, but being able to watch the snow gently drift down over the river below while soaking in steamy, natural hot water was bliss.
After soaking we got lunch and then headed to Yonezawa city, home to the Uesugi Snow Lantern Festival. We were a little apprehensive at first. Would this festival live up to our expectations? Due to the lack of snow this year, there were only 42 lanterns, made using imported snow, instead of the usual 300. There might have been a lot fewer lanterns this year, but they were still a magical sight! Lining the path to the main shrine, walking between the lanterns made you feel as if you were in a Studio Ghibli film. Adding to the mystical Ghibli vibes were snow bonbori lanterns and little ice lanterns. Usually there are around a thousand of the snow bonbori lanterns, but because of the lack of snow, there were a lot fewer. I honestly didn't mind however! It was because they didn't have enough snow to make many bonbori lanterns that they had the idea to make these very pretty ice lanterns from used milk cartons.
Adding to the festival atmosphere were colourful stalls lining the old castle moat, where you could enjoy the usual festival fare and some local specialities. There were also various light art displays dotted about to stop and admire, and earlier in the evening, there were a few performances to enjoy. Even though the Uesugi Snow Lantern Festival this year was distinctly different from what it's normally like, and a sombre reminder of the effects of climate change, we still enjoyed it thoroughly and I would recommend anyone to go!
We spent our last day in Fukushima City. After filling our stomachs and emptying our wallets at the import store Jupiter (10/10 best import store ever!) Charlie and I hustled up the steep slopes of Mt. Shinobu. Hot and sweating, we finally managed to catch up to the Mt. Shinobu Dawn Procession, a very special festival held every year in Fukushima on February 10th. This 400-year-old festival revolves around a gigantic two tonne, 12 meter long and 1.4 meter wide straw sandal, or waraji, being carried by a team of over 80 people through the city and up the mountain to Haguro Shrine at the top. We had a lot of fun encouraging the carriers and chatting with the locals, learning more about the festival and politely declining when they asked if we wanted to carry the huge sandal!
After descending the mountain, we did some omiyage shopping before meeting up with Zoë and her husband Toby for dinner, where they shared delicious Fukushima specialities such as crispy Enban gyoza and silky-smooth sake. We finished our journey with one more trip to an onsen, where we were again lucky to have it start snowing gently while we bathed outside. It was a perfect end to an amazing adventure with fantastic friends, and I can safely say I got my fill of snow for the year.
Abbie is a fifth-year ALT in Minami Shimabara, Nagasaki. She enjoys shuji, collecting goshuin and baking. She is currently posting a photo a day to commemorate her last year on JET, you can see her posts on Instagram at @kazusagirl.