This article originally featured in the December 2019 issue of Connect.
Kelly Carr (Saitama)
Recently, the conversation about climate change and the way our lifestyles contribute to it has become much more widespread. Everywhere, people are talking about what we can do to help. A lot of these suggestions involve different ways to eliminate waste, particularly plastic waste.
Out of curiosity, I read a book titled 101 Ways To Go Zero Waste by Kathryn Kellog. It was an interesting read, and afterwards, a friend challenged me to try going Zero Waste for an entire week. This meant using nothing that couldn't be recycled or composted.
It was an interesting week. I learned that one of the primary obstacles to going Zero Waste is finding beauty products and toiletries that come in recyclable containers, or better yet, no containers at all. This isn't a particularly easy thing to accomplish in Japan, where everything seems to come wrapped in at least one layer of cellophane or shrink-wrap.
The search for waste-free beauty products took me to Tokyo. There, I went on something of a scavenger hunt. I looked at some pharmacies, but as expected, they were wastelands of superfluous plastic packaging. Next, I poked my head in at John Masters Organics, which a friend had recommended to me. The shop was very sleek and polished, and the packaging looked like it would be recyclable, but when I took a look at the prices, I backed off in a hurry! ¥2000 for a bottle of shampoo? No, thank you.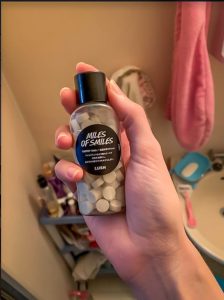 I hit the jackpot when I stumbled across the biggest LUSH store, not only in Japan, but in all of Asia! It just happened to be right outside Shinjuku Station, and it was four whole floors of amazing. As far as I could tell, all their packaging is 100% recyclable, and they have an entire line of 'naked' products that come without any packaging at all. I piled my basket with package-free deodorant, shampoo, conditioner, and lotion. I even grabbed some intriguing looking 'toothpaste tabs' that came in a recyclable bottle.
I was thrilled with my purchases and I saw many other products I'd like to try another time. However, I did note a couple of downsides. One is the price; LUSH is a bit on the expensive side, though not as expensive as John Masters Organics. The other is that, for anyone who finds strong scents off-putting, the products are probably much too fragrant. Personally, I like scented stuff, so I was thrilled.
I eagerly took my new bath products home to test them out. I found that all of them were a bit more work than the liquid products I was used to. The shampoo worked quite well once I got used to it, but I couldn't for the life of me get enough conditioner off of the bar to cover my hair (which is not only long, but extremely thick). I did come to enjoy the solid lotion bar, and the toothpaste tabs were all kinds of fun. They look just like little pills, but once you bite down on them and stick a wet toothbrush in your mouth, they foam up like you wouldn't believe!
Of course, due to budgetary restraints, it's impractical to buy all your toiletries in one place. Luckily, there are also plenty of easy do it yourself guides out there for how to make your own . . . well, just about anything, really! I decided to try out a recipe that would yield both body butter and shaving soap. All I needed was some cocoa butter, safflower oil (I suspect olive oil or coconut oil would also work), and castile soap. I found all three on Amazon. The recipe involved me improvising a double boiler, but somehow I managed it. I ended up with a tin of decent quality body butter and another of surprisingly effective shaving soap.
Buoyed by my success, I looked over some more recipes. I discovered that, if you want to go the DIY route for your personal care products, it wouldn't be that difficult. Most recipes have fewer than five ingredients, and many of them overlap. By buying the ingredients for just a few projects, you could do just about all of them. Common ingredients I saw were bentonite clay, baking soda, beeswax, cocoa butter, and olive oil. Most of the recipes make a fair amount and are shelf-stable for at least six months (maybe less in the summer).
Going Zero Waste isn't an easy thing to do, but the personal hygiene aspect of it turned out to be fairly straightforward. I encountered no insurmountable obstacles. In other areas of life, it's more difficult to achieve Zero Waste. However, if I can get rid of my personal hygiene waste, I still believe that's a victory and a small step towards making the world a cleaner place.
Kelly is a 4th year American ALT. She teaches at two schools in Satte,Saitama. In her free time, she enjoys reading,novel writing, and travel.
Photos by Kelly Carr