This article originally featured in the November 2019 issue of Connect.
Laura Kirby (Tokyo)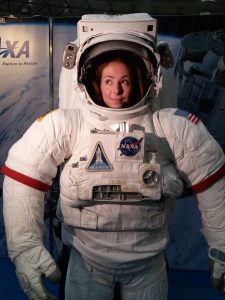 Whether or not you're into anime, an avid manga reader, or addicted to consoles, you've probably heard of Comic-Con. It's an annual event where fans from across the pop culture community come together to celebrate the new and reminisce on the old. Comic-Con has everything from art exhibitions, panel discussions, the latest news on comic and game releases and even celebrity photo sessions and signings. Here, I will tell you about my experience at Tokyo Comic-Con 2018 to give you an insight into what Comic-Con in Japan is like (spoiler alert: it's fabulous).
After my experience in 2018, there was no question that I will be returning again this year for another round. Last year, the event did not disappoint with video games available for testing, irresistible merchandise and of course, world-class cosplayers. Upon arrival, crowds of excited smiles welcomed me. Immediately, I could see the grand stage where later guests, such as James and Oliver Phelps, would address fans—but you probably know them better as Fred and George Wesley from "Harry Potter". Ezra Miller (Credence) from "Fantastic Beasts and Where to Find Them", also made an appearance. However, perhaps the most highly anticipated star was Tom Hiddleston (Marvel Cinematic Universe's Loki), who was joined by his co-star Jeremy Renner (Hawkeye). Hiddleston may be making an appearance this year as well. You can see why there was no debate on whether I should go again.
The cosplayers at Comic-Con 2018 were terrific, with one of my personal favourites being the conga line of Deadpools—a treasure I thankfully caught on video. I also found a small group of cosplayers that called themselves the "NEET Army". One of the things that stuck out to me was how friendly everyone was, and how safe the environment felt despite the massive crowds. Another thing that surprised me was the amount of effort that went into the cosplay costumes; it was astonishing how many were handmade. I was convinced it would be too hard to decide on just one winner for the cosplay contest, but eventually, a man dressed as Bumblebee won, and it looked like the prize was well worth his effort. Many of my favourite superheroes were also there, including many Spider-men and some "Harry Potter characters"—it was at that point I wish I'd brought my Hogwarts robes.
There was truly something for everyone, but I especially recommend anime and manga fans to attend at least one Comic-Con in Tokyo as this is Japan, after all. I particularly like Marvel and Star Wars, so I made a point to see all the Marvel art and the Star Wars Exhibition. My only regret was not purchasing a ticket to enter the exclusive Marvel store. Around the convention centre, there were many stalls selling a variety of merchandise. An example of one of the unique things that caught my eye were the lightsaber chopsticks that were available for purchase. I was also fortunate enough to buy Newt Scamander's wand for a fraction of the price it usually is. In between stalls there were also great exhibitions set up for perfect photo opportunities. Outside, there was a massive robot statue that was so big they had to sound an alarm (much like a truck reversing) when it was being set up. It is not an over-exaggeration to say that there was always something going on. However, perhaps one of the greatest things about this Comic-Con was the Stan Lee memorial where fans could write their own messages to Stan Lee and pay their respects. It was a nice touch that brought fans even closer together as we remembered the man who left a legacy.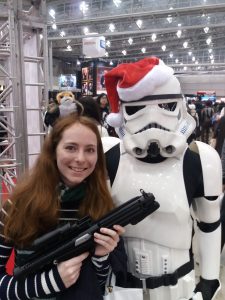 This year Tokyo Comic-Con will be held at Makuhari Messe International Exhibition Halls 9-11 (Mihama-ku, Chiba-ken) over three days from Friday Nov. 22 to Sunday 24. Tickets for Friday and Sunday are ¥3,200 each and ¥3,500 for Saturday. For this Comic-Con, organisers are also offering a complimentary official backpack with the purchase of a 3-day pass at ¥7500—if only I could attend all three days! This year you can expect to see celebrities such as Zachary Levi and Rupert Grint. In total, the event organisers are expecting 80,000 people to turn up to what is one of the biggest pop culture events in the world. To get to the venue from Tokyo station, it's just a 30-minute train ride on the JR Keiyo Line to Kaihin Makuhari Station. From there it's an 8-minute walk to the exhibition halls.
Without a doubt, I strongly recommend experiencing Comic-Con in Japan. You'll get all the latest scoop about comic book and game releases, plus if you're quick (before they sell out) you can get a ticket for a meet and greet. You'll be sure to see me there this year, flaunting my Slytherin colours.
Laura Kirby is a second-year ALT working in Tokyo. In her free time, she enjoys travelling, experiencing new cultures and eating delicious food. Catch up with her latest adventures at lauratheexplorerinjapan.com.