This article originally featured in the November 2019 issue of Connect.
Rhema Baquero (Kobe)
This past July, I took the Japanese Proficiency Language Test (JLPT), and admittedly, I was unprepared. Brand new to Japanese, I spent too much time sorting through online and physical resources, trying to determine which was best for my learning style. Aside from seeing a weekly tutor, I studied alone and without a clear direction. I often found myself in the library jumping from grammar practice to making vocabulary flashcards to listening practices, and not doing enough reading practice. Ultimately, I let myself get overwhelmed with the material and did not hit my stride until a month before the test. Unfortunately, I did not score as high as I wanted on the N5, which tests for only the most basic of Japanese.
I was a little upset about the results. I honestly felt burnt out at that point. But がんばれ (fight), right? With the September registration date looming closer, I had to make a choice. Retaking the N5 in December would give me plenty of time to restudy, but I thrive on a deadline. Having experienced the structure of the test, I decided to push on and sit for the N4 in December and N3 in July of 2020.
To pass the N4, you must learn roughly 1,500 vocabulary words, about 300 kanji, and be able to understand both written and verbal conversations encountered in daily life. With this in mind, I sat down with my textbooks and calendar to chart out the grammar points, vocabulary and kanji for each chapter. I also mapped reading and listening practice sessions for my weekends. With the scaffold of my study plan in mind, I could focus on only what I needed. I joined a study (read: support) group of ALTs in my city, I reupped for another six months with a free private tutor, and this time, I limited the textbooks I use.
If you are interested in taking the test, you can avoid my initial mistakes with these steps:
STEP ONE: THINK ABOUT YOUR LEVEL AND END GOAL
The current version of JLPT consists of five levels, starting at N5 for beginner's Japanese, and N1 for near-fluency. Many Japanese companies require at least N2 for employment. You can choose to work your way up the ranks by starting with N5 or start where your skills lie. As a newbie to Japanese, I am taking the test as benchmarks for my own learning. I did not have the benefit of a college professor guiding me through, and I want to challenge myself to move past passive learning. Before you decide on which level you are going to take, consider a few things.
– Time: The test is only administered in Japan in July and December, and the window in which you can register for the test online or through the mail is small—check that out early in the year. Outside of Japan, the test is generally administered once a year. You will need to figure out how much time you realistically have to study. Be mindful of the content for each level!
– Location: Do you live in a region with a testing center? If not, taking this test just got a lot more expensive. If you only have a few shots to take this test, make N3 or higher your first test.
– Goal: Do you want to work in Japan or for a Japanese company? Are you applying to study at a Japanese university or language program? Do you want a benchmark of personal learning? Are you trying to get a raise at your Japanese job? Need points towards permanent resident status? Knowing your end goal will help you decide how far you want to go.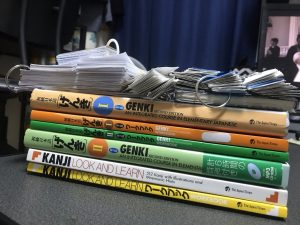 STEP TWO: NARROW YOUR RESOURCES
The JLPT has been administered since 1984, so there are many FREE resources online to help you towards your goals. As of 2010, JLPT no longer issues an official list of vocabulary or kanji to learn, so many current lists are working off of earlier tests. It also helps to read through the accounts of people who have taken the test to get a feel for what you might need. Reddit and Quora both have good forums on the subject. At the early stages of learning, you can get by with these community sources and a textbook.
As you advance, you will want to invest more heavily in the textbooks and maybe even private lessons. Two of the most common beginner books are GENKI and Minno no Nihongo. I was fortunate to get brand new copies of GENKI 1 and 2 and their work books for 500 yen from a departing JET! Many of my friends at the N3-N2 level use Nihongo So-Matome for vocabulary and grammar practice.
Also, think about what works best for you study wise. I remember information a lot better when I write it down, so I keep a notebook and make flashcards that I can whip out to study whenever I get a chance. I compiled the GENKI vocab audio into a playlist to listen and repeat to myself as I walk to the station. I also like to review vocabulary with the Memrise flashcard app and Wanikani app while commuting on the train.
STEP THREE: MAKE A (REALISTIC) STUDY PLAN
Having a plan will keep you from getting overwhelmed with the material. With a clear goal you can keep track of your progress over time. But understand that YOUR PLAN WILL CHANGE. Life is always going to get in the way. A few days into week one, I was already adjusting my plan to make it more realistic to my schedule. Quite often, I added, subtracted, and shifted things along. I made my plan with a calendar in Word and printed it to write on, but there are also plenty of task management apps available on both the iPhone and Android.
STEP FOUR: DON'T STUDY ALONE
If really helps to enlist an accountability buddy who will study with you or cheer you on from the sidelines. My husband chose not to take the test at this time, but it helps that he is also learning Japanese through a tutor, self-study, and practicing with his coworkers. We drop our native language when we can and practice speaking with each other. I also joined a study group with my friends who have various levels of Japanese ability. During our sessions, we bounce questions and advice off of each other. Our timed study-blast really helps me to stay focused on what I want to learn.
STEP FIVE: TAKE CARE OF YOURSELF
If you have been out of school for a minute like I have, it is going to take a bit to get back in that study mindset. Just keep your goal in mind and push forward. Give yourself benchmarks for your learning and set up a reward system when you hit those points. If your plans get derailed or you find yourself stuck, try not to beat yourself up over it. All you can do is try your best to pass the test! がんばれ!
I fully recognize that I will need to do more than study towards the JLPT to learn Japanese. Language is organic, and I will not be able to effectively use it if everything I learn comes from a textbook.
The test measures your ability to read and listen to Japanese, but it does not test your writing and speaking skills. I will have to work on these myself. We are fortunate to be living in Japan while we study. Every day at work, I listen to my Japanese coworkers talk. Regularly, I converse with Japanese convenience store workers and waiters in a mix of English and 日本語. Soon, I will improve and be able to ask questions of those who want to speak with me.
The ultimate goal of the test is "to evaluate and certify proficiency in Japanese of non-native speakers." A month after I take this next test, I will be able to hold a document in my hands that says, "Good job kid. Move on to the next one!" or "GET BACK IN THOSE BOOKS AND TRY AGAIN." Either way, at least I'll know where I stand.
STUDY RESOURCES — choose some, not all!

TEXTBOOKS

Genki I & II
Minna No Nihongo I & II
Nihongo Sō-Matome (multiple levels)
New Kanzen Master (multiple levels)
Try! Japanese Language Proficiency Test (multiple levels)
Japanese-Language Proficiency Test Official Practice Workbook (multiple levels)

APPS

Duolingo
Memorize
Wanikani

ONLINE RESOURCES
jisho.org
Memrise flashcards
JLPT Sensei
learnjapanesedaily.com
Tofugu
Japanese Talk 101
JTALKOnline
Genki Self Study Room
Study Kanji