Highlights of the Fall Colours from across Japan
with Jón Solmundson (Hokkaido)
This article originally appeared in the October 2023 issue of Connect.
Many foreigners living in Japan have likely encountered some variation on the phrase; "do you know Japan has four seasons?" It's a point of national pride that the landscape experiences an enormous diversity of textures and colours throughout the year, and while the pink sakura blooms of spring are perhaps most internationally famous, the rich reds of autumn are no less worth venturing out for. Known as 紅葉 (kouyou), the trees' gradual change over to autumnal hues can be seen all throughout the country from September to October, but we asked around for some of the very best viewing spots so you can find the most spectacular scenery near you.
Iwaya, Kagoshima
Raluca Veres (Kagoshima)
Kagoshima Prefecture in the southern part of Kyushu provides a myriad of stunning places to explore in autumn. If you find yourself in the Kawanabe vicinity, just north of Minamikyushu, and not too far from the city of Kagoshima, you could delight in the beauty that Iwaya Park has to offer. Experiencing the picturesque autumn foliage of the so-called momiji (red maples), or the delicate rainfall of sakura, along with the traditional architecture of the bridge, and stunning cafe surrounded by a koi pond, you could easily feel as if you are in Kyoto. The locals here relish in a variety of activities year round. In the summer, families gather around the river, splashing and waddling in the refreshing clear waters.
Last fall, I had the pleasure of strolling down the many paths winding through an array of foliage textures and colors, while taking in the soothing sounds of the surrounding flowing waters, and breathing in the crisp, fresh air. The scenery here is unmatched, but the cafe at the center of the koi pond is equally delightful, and offers a seasonal menu as well. Elegantly crafted, the drinks and treats beautifully compliment the captivating views, enhancing the cozy fall vibes. Iwaya Park is a natural treasure that can recharge my battery and refill my cup anytime I need to refocus and become grounded. I wholeheartedly recommend exploring the park and its various lovely amenities.
Raluca was born and raised in Romania, then lived in the US from the age of seventeen. As of last year, she's made Japan her third country of residence.
Yufuin, Oita

Kalista Pattison (Oita)
From late October to mid-November, Oita sheds its shades of green and adopts a symphony of rich reds and brilliant yellows. Fall rolls through slowly and sporadically due to Oita's wide range of altitudes, but the town of Yufuin brings the best of Oita's literal highs and lows with its rolling hills and freshwater onsens. When I came to Japan, one of my first trips out of my small inaka town was to Yufuin. I was beginning to feel the sadness of being away from my friends and family when this cozy town stepped in to comfort me as an unexpected yet perfect backdrop to my favorite season.
At the edge of the city and nestled at the base of Mt. Yufu is Kinrin Lake. Not only is this lake surrounded by maple and other color-changing trees, but Mt. Yufu looms overhead with its own patchwork of fiery colors. I first visited on a chilly fall morning, and to my surprise was met with a mysterious fog rolling across the lake's surface. As the day warmed and the fog dissipated, reflections of the looming and colorful trees started to shimmer across the water's surface. A walk across wooden bridges and around the lake brought me to Tenso Shrine and a maple leaf shrouded view of a lone torii gate standing partially submerged in the lake. A morning spent relaxing at the nearby waterfront cafe and peering into the reflective water puts Yufuin and Kinrin Lake at the top of my list for viewing fall colors in Oita.
Kalista Pattison is a second-year JET in Oita prefecture. She is currently studying for the JLPT like her life depends on it and can be found in an onsen or hunched over a pottery wheel in her free time.
Tenkawa Village, Nara

Jenny Chang (Nara)
Although there are countless places around Nara Prefecture where one can enjoy fall foliage—such as Nara Park, Hasedera, Tanzan Shrine, and more, my personal favorite has to be Mitarai Valley in Tenkawa Village. When I first arrived in Nara in 2021, I was lucky to have had a Japanese friend, whom I met through a departing Nara JET, take me around Tenkawa Village to experience the autumn leaves and a local onsen in the area. As someone who grew up in Southern California, where there are basically no distinct seasons, I was in awe of the vibrant warm colors before me. That was the moment when I decided that autumn is my favorite season.
Tenkawa Village is located in Yoshino-gun, the southern part of Nara, which covers a total area of 2,055 km². Getting to the village without a car can be challenging, because even though there are public transportation options, they are quite limited. From Nara City, the journey can take up to 3 hours. Nevertheless, I still believe that the trip will be worthwhile. In fact, it gives you a good reason to stay a night or two in the area, to fully immerse yourself in the experience.
Jenny is a third year ALT in Nara Prefecture, beer and coffee enjoyist, and professional napper. Despite constantly going through an identity/existential crisis, she tries her best to fight it by travelling and finding the little joys in life. Overall, she's a bit odd.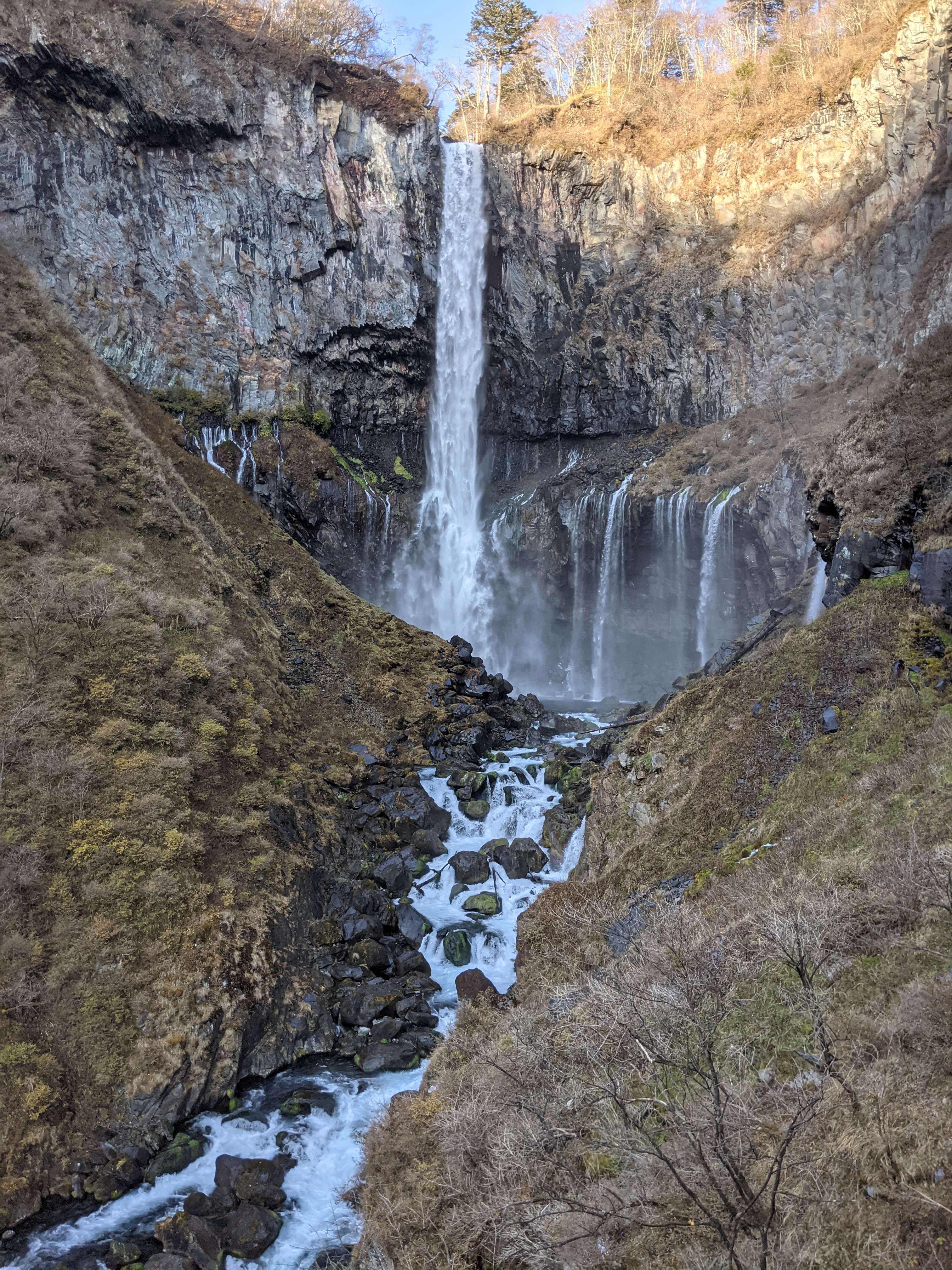 Nikko, Tochigi
Maya McDonald (Tokyo)
There are plenty of places to take in the beautiful fall colors of Japan, but none combine natural beauty with history like Nikko, Tochigi. With beautiful mountain views and the gravesite of the famous Tokugawa Ieyasu, it is a must-visit for anyone wanting a deeper appreciation of Japan.
Tokugawa Ieyasu was the first shogun (military ruler) of the Edo Period, arguably Japan's most famous historical period. He and his descendants governed Japan for over 250 years of isolated peace. In his decadent mausoleum in Nikko, you'll see famous wooden reliefs using the local style of carving called Nikko-bori, which you can even try for yourself at the right shop.
Just outside Nikko, you'll also find scenic Chuzenji Lake on the slopes of Mount Nantai, one of the peaks catalogued among Kyuya Fukada's prestigious 100 Famous Japanese Mountains. With gorgeous views, a ferry across the lake, and plenty of hiking in the area, including visits to several waterfalls like Kegon Falls (often regarded as one of Japan's most famous waterfalls[[https://www.env.go.jp/nature/ari_kata/shiryou/031208-4-3.pdf]]), you'll definitely get a taste of the natural beauty here.
And these are only the top spots in the Nikko area. If you spend more than a little time here, you'll also discover yuba, imperial homes, art museums, old embassy villas, history museums, and of course the picturesque shrines and bridges. If you're a fan of gorgeous views, stunning traditional art, or history, then you need to put Nikko on your list.
Maya (she/her) is a writer, actor, and ALT living just outside Tokyo. When she isn't consuming/participating in pop culture, she loves exploring, especially in the outdoors.
Takinoue, Hokkaido
Ashlee Marrell (Hokkaido)
A short drive out of Yubari city is the not-so-hidden valley of Takinoue Park. The park has two evocative names; the Japanese Takinoue which translates to "above the waterfall" and, in the language of Hokkaido's indigenous Ainu people, Ponsa Kamui Kotan, which means "where the gods of the north live".
Takinoue is a popular destination to view cherry blossoms in spring, but the area is especially stunning later in the year when the rich colours of autumn overtake the valley. Distinctive red bridges allow visitors to cross over the rapids that flow from the park's waterfall, which locals say is famous for "flowing horizontally"—water cascading over the surface of the tiered stone slopes rather than dropping straight down. The falls are visible from the bridge and, for the budding photographer, the bridges themselves make for a great shot when surrounded by the dense autumn foliage.
Despite the park being quite well known, the crowds never get too big. Most visitors to the area are the town's elderly residents or young couples on dates, which enhances the area's quaint and peaceful atmosphere. The park is open and spacious, and thanks to the small amount of foot traffic, you can often find yourself alone, surrounded by nature's vibrant oranges, yellows and reds. Entrance is free and there is a large parking area, so there is never any need to feel rushed whilst walking through the enchanting forest. And, of course, you can always walk across the road and buy some of Yubari's famous melons to truly treat yourself on your autumnal adventure. So, pack yourself a picnic blanket and find yourself a spot to lose track of time in Takinoue.
Ashlee is a third year ALT in Hokkaido. She is from sunny Australia and is just trying to survive the northern winters every year. When she isn't dissociating into a book, she is going on roadtrips, doing stamp rallies and playing Taiko.
Having grown up in Australia, Jón is literally entranced by any tree with leaves that aren't a shade of khaki brown. You'll find him outside in the Hokkaido autumn, camera in hand, looking for a place to pitch a tent. . . then promptly retreating back home to his board games after one night sharing space with the bugs. You can find more of his work at jonsolmundson.com[[https://jonsolmundson.com/]].