An Interview with Mr. Yamashita Seido
This article originally appeared in the May 2023 issue of CONNECT.
Yamashita Saido interviewed by Nabeela Basa (Kagoshima) 
Growing up in a city as big and rich in culture as Johannesburg, post-apartheid, I was blessed to watch creativity become the heart of my city, with colorful expressions of history and culture telling a story at every corner. I, myself, am not an artist. I consider myself more of an aesthete—one who admires the work of artists. Up until I came to Japan, I was unaware of just how much creativity ran through the streets of Johannesburg. 
While I am well aware that I live in a homogenous society, there is no place that could emphasize this more than a school in Japan. Everything has a time and place in Japan. Even art. This was one of my biggest cultural lessons, living here. Walking through the hallways of my high school, perfectly aligned cream desks and light blue chairs are found in every classroom. In the hallways the side cabinets are stacked with black leather school bags, only told apart by a keychain of a student's favorite character or brand and of course, uniforms ensure uniformity. 
But then, at the foot of the staircase of each floor, pieces of art almost as long as the cream wall behind them, would stop anyone in their tracks with their beauty. I found myself taking a minute to pause every time I walked down the stairs, mesmerized by the use of colors, textures and the distinct protagonist; a blue whale emerging from clouds. 
Each piece reveals a new story with every new viewing. When I found out that it was our very own art teacher who created these, I felt like I was the whale amongst the clouds. It was a fantastic opportunity to be with the artist himself and discuss his pieces with him. Yamshita Saido, who is the art teacher at Meiokan High School, and the artist of these pieces, which fall under the collection "SORA",  is one of the kindest, friendliest and most humble people I have ever met. He would often invite me to his exhibitions, two of which I was able to attend in Kagoshima. 
Last year, he gifted me with a ticket to his exhibition in Tokyo. The 89th Independent (Dokuritsu) Exhibition is a national independent competition which has been held every October since the 1930's. The competition has since seen the works of painters such as Kunitaro Suda and Seiji Chokai. 
Shortly after the exhibition, Yamashita shared the news with me that his piece SORA '22-philosophy- won 1st prize at the 89th Independent (Dokuritsu) Exhibition. Yamashita was kind enough to agree to an interview for this article. The interview was conducted in English and Japanese. A fellow colleague, Tsuneyama Miwa, assisted with interpreting. The following interview is based on the translation and transcription of a recorded interview, conducted on March 8th 2023 at Meiokan High School.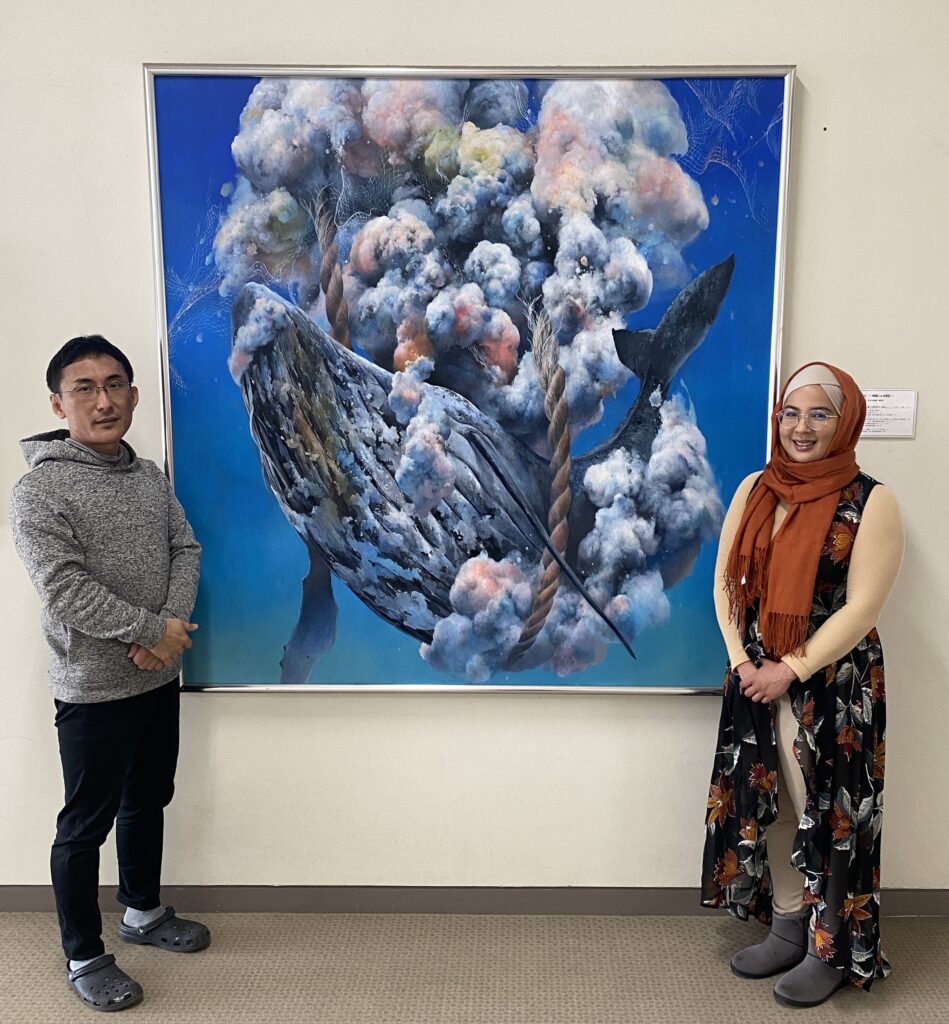 Where is your hometown?
Y: I was born in Kagoshima and grew up in Kagoshima. 
How long have you been painting?
Y: I've been painting since I was 2 years old. When I was 10, an elementary school student, I entered a competition at school and drew a ship. The judges said that they were not able to score me because it was like an adult drew the picture. In high school, I joined the art club and entered a prefectural competition in Kagoshima. 
When did you start having exhibitions?
Y: From the age of twenty-five. Up until now I've had around 100 exhibitions. 
Why have you chosen to use the clouds and blue whale in so many of your pieces?
Y: The clouds and the whale symbolize life for me. I first decided to use clouds because I used to look at clouds and see different shapes in them, and animals. The movement of the clouds represents life. Ten years ago when I started painting clouds, the whale was not yet a part of it. I just started with clouds. 
The whale is a big animal, it is the biggest animal in the world. It also represents life for me and its importance. If I used a small animal or "cute" animal, it would not add as much importance to the picture. I chose it because of its spectacular size.
Yamshita went on to explain that in a piece he created in 2021. In which the whale can be seen to crash into a fighter jet. His inspiration came from feeling sadness around current events at the time, especially war and struggles around the world. The whale and clouds in this piece are used to emphasize his message that life is more important than man-made objects and it will always be of greater value. 
What inspired the winning piece SORA '22 -philosophy- ?
Y: I always try to add a new element to the picture. In this picture I added a new element to the blue whale, Koinobori. Koinobori is a symbol for children. I look at my daughter and think about other children around the world suffering. I used this to symbolize the hope for peace around the world, especially for children. 
What does winning this award mean to you?
Y: I feel more confident after winning 1st prize. I feel motivated for my next challenge. As an artist I feel like I am progressing and moving up in my career. 
What advice would you give young artists?
Y: Keep drawing, everyday, all the time.
Do you think young people should pursue art as a career?
Y: I think everyone is an artist. For example, if you see a beautiful sunset and appreciate it, that is art. Art makes others happy, just like other jobs bring people happiness, such as being a doctor or teacher. They all add value. 
An artist is not just someone who creates something beautiful but feels something beautiful.
Yamashita is currently working on a collection of smaller pieces for a children's hospital in Kagoshima. He explained that he chose to use brighter colors, in hope of making them smile and adding happiness to their time there. 
Conducting this interview was an absolute honor. I would like to thank Mr. Yamashita for agreeing to this and Tsuneyama Miwa for help interpreting. 
Nabeela is a third-year JET living in Kagoshima. She is an aspiring writer when she's not procrastinating writing. She enjoys traveling, dancing, and Sunday lunches with her friends.
Yamashita Saido is the art teacher at Meiokan High School. He enjoys spending time with his family and challenging himself with his art.