A look at the Kyushu National Museum and surrounding aesthetic
This article originally appeared in the May 2023 issue of CONNECT.
Sophia Maas (Saga) 
As much as I make a point to travel when possible, I still don't leave Kyushu or even the general area around my prefecture (Saga) very often. I prefer to stay close to home and not worry too much about exorbitant travel costs or hotels. There's plenty to do on Kyushu, and plenty I still haven't done, and as a result I've felt much more connected to my region and its culture. That's a piece of unsolicited advice for you that you've undoubtedly heard before—if you're able, try to connect to the little piece of Japan you're in, in whatever way you can. 
I
'm particularly lucky in terms of readily accessible information about my region, since one of Japan's four national museums is practically right on my doorstep. The Kyushu National Museum is an imposing structure in a smaller area called Dazaifu, just outside of Fukuoka City. The building was designed by Kiyonori Kikutake, a name you might recognize if you're interested in Japanese architecture. Kikutake is known for his contribution to the founding of Metabolism, a style of architecture that incorporates organic elements and concepts into large megastructres. 
The design of the Kyushu National Museum has distinctly organic shapes—a sweeping structure with a blue roof and mirrored glass sides. The intention is to make the building blend in with its surroundings. When approaching the museum, I was impressed by how the building didn't disturb the flow of the landscape and instead integrated into it without being an eyesore. Dazaifu is a very lush area, and the museum's design only compliments that biodiversity. 
Immediately inside the museum is a huge, vaulted entrance hall that plays host to a multitude of events and special displays. Though this was not the case during my visit, the Kyushu National Museum will occasionally host concerts or lectures in this area. Also on the first floor is something called the Ajippa, an interactive gallery exhibit geared towards patrons of all ages featuring a multitude of Asian cultural artifacts such as costumes, instruments, and games. The main gallery on their fourth floor also has a heavy emphasis on Asian cultures and their histories. But wait . . . if this is a Japanese national museum, why is there so much focus on other countries?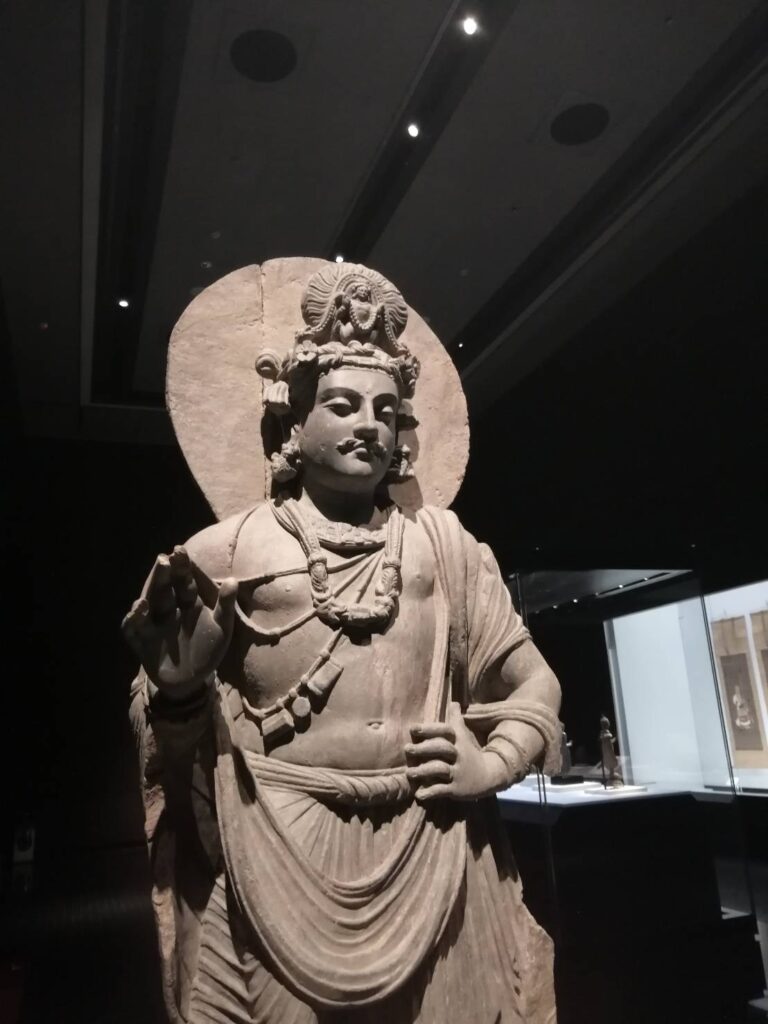 This brings me to one of my favorite things about Kyushu's history and is, relatedly, why I loved this museum so much. Kyushu is known for being a historical point of contact with the Korean peninsula, mainland China, and other Asian countries, as well as some European countries. Because of this important history, the Kyushu National Museum goes out of its way to discuss and highlight the ways Kyushu specifically, and Japan in general, has been impacted by its close proximity and continued exchanges with other countries. Though the focus is largely on the cultural and historical aspects, these things cannot be expressed without heavily touching on and displaying the various artworks from the prehistoric era to the modern era. 
The main exhibition floor of the museum is, at least in my opinion, one of the best designed and most interesting museums I've been to in Japan. The large, open areas with lots of historical artifacts on display guide you through Japan's history as it relates to the world at large smoothly and effectively, depositing you at times in adjacent wings that detail more specific cultural, historical, or artistic topics. One of my favorite wings—called "Image of Ideal Asians"—showed the differences in beauty standards as viewed through the depictions of deities and other religious artworks throughout time. Art and beauty, subjective things that are as malleable as any other part of society, can provide a unique window into the influences and cultural milieu of the past, which this wing pays particular attention to. 
I won't walk you through every aspect of the main exhibit, but know that, as long as you're interested in art, history, or culture you will find more than enough displays to keep your attention. Below the main gallery, on the third floor, there are rotating exhibitions that change every few months. The current exhibition—scheduled to change after June 11—is a collection of Art Nouveau glassware created by Émile Gallé and the Daum brothers in the late 19th and early 20th centuries. With a separate admission price from the main exhibition—1,700 yen for the former and 700 yen for the latter—it's up to you to decide if the allure of intricate glass art compensates for the price. Unfortunately, I didn't have time to visit this gallery, so I cannot give my own opinion on it.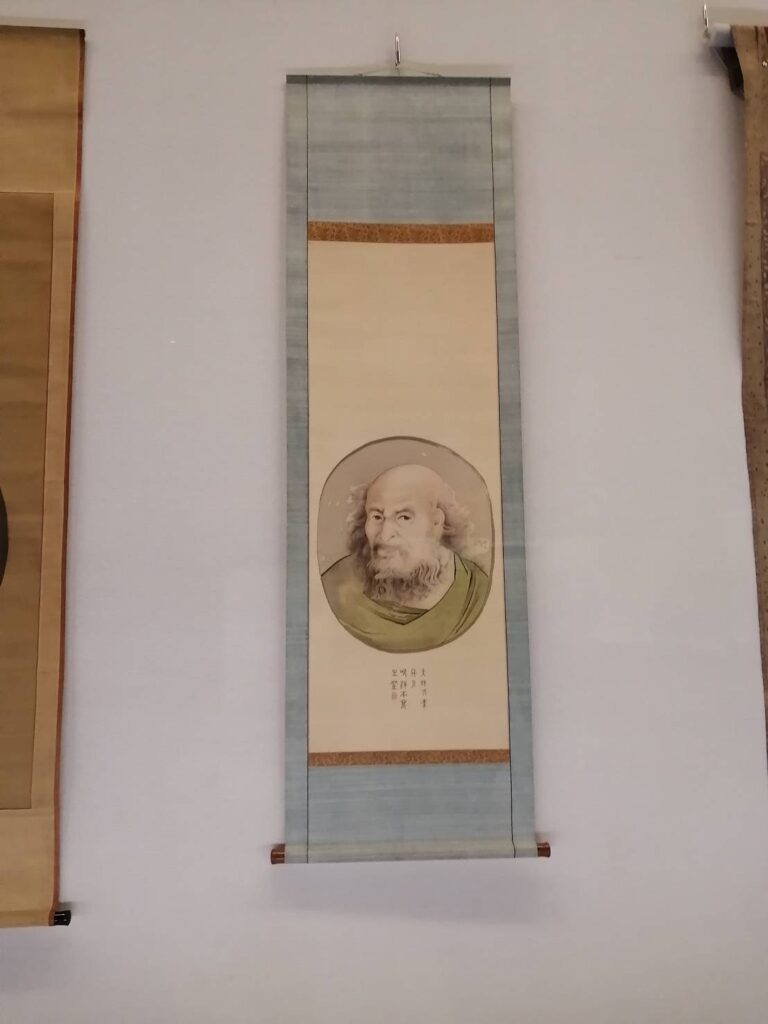 If you find yourself planning on visiting Fukuoka, I would highly recommend looking into what they're showing for the rotating exhibition whenever you'll be there. You can find their exhibition schedule easily on their website. You can also find their event schedule on their website. Who knows, maybe you'll be able to listen to some smooth jazz before you embark on a journey through Japan's history. 
But, before I let you go, I also wanted to touch on the area around the museum. If you have an affinity for anything related to arts, history, and culture, then I definitely recommend making an attempt to visit Dazaifu, not just the Kyushu National Museum. The location itself—at one time Japan's western capital—is an incredibly culturally rich area, with many shrines and historical landmarks to keep you occupied for an entire day. I highly recommend visiting Dazaifu Tenmangu Shrine, a beautiful shrine complex with hundreds of plum trees that are a sight to behold during their blooming season. As someone who is easily captivated by the beauty of nature, I absolutely adored walking around the area and discovering several footpaths that led to, among other things, an Inari shrine in the hills above Dazaifu Tenmangu. 
After a long day trudging around the northern part of Kyushu, I was exhausted but happy. My corner of the world in a corner of Japan has a lot to offer, and exploring those offerings and the history and legacy of its artwork and culture never fails to inspire me to be creative in return. I hope that, if you visit, you can take something meaningful or inspiring from the historic gateway to Japan back home with you. 
Sophia Maas is a first-year ALT living in Saga Prefecture. One of their premier hobbies is exploring new places and writing about them later.