This article originally featured in the October 2021 issue of Connect.
Cameron Peagler (Yamaguchi) interviewed by Jessica Craven (Saitama)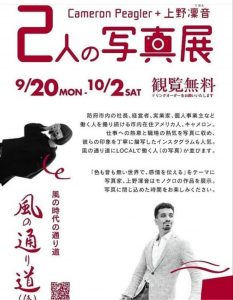 The working class has been a subject of portrait and street photographers since the first camera was invented. In the U.S., Lewis Hine captured the heart of the working-class Americans of the early twentieth century. In the U.K., one of the key figures of this practice was Chris Killip. During the pandemic, the importance of the working class is once again at the forefront, and photographer Cameron Peagler is helping to capture the stories of Japan's essential workers. He has an upcoming exhibition of this body of work at The Wind Passage Gallery in Yamaguchi prefecture, so I thought I would ask him some questions about his background and his work. I hope you enjoy reading our interview!
J: What brought you to Japan?
C: I came here because I aspired to be a foreign service officer, but first I thought I should get some international experience outside of my former nursing career.
J: What is your interest in photography? What got you into it?
C: I've always been interested in photography since high school. I went to an art school in Ohio, so I had the chance to take my first class there. 
J: How often do you take photos, and what is your process like?
C: Outside of fencing for my team in Japan, teaching English, and volunteering, I try to shoot as much as possible. When shooting for businesses, I like to take time to get to know the owner. In doing so, I help them relax for the shoot, open up an opportunity to exchange cultures, and learn what qualities they have that I want to show through my photos. Of course, I will help them pose for the portrait shots but I like getting a natural picture by shooting candid shots while they are working.
J: What inspires you as a photographer?
C: There are two things I love about photography that inspire me. It's somewhat cheesy, but I just love taking a good shot. In regards to shooting business owners, I like exposing the effort they put into their work. Like, these businesses are their babies and the blood and sweat they put into them often goes unnoticed.
"Photography also gives me the opportunity to explore different environments and societies that I wouldn't otherwise have access to. Being able to get a glimpse into these different worlds is exciting for me and brings out my childlike sense of wonder."
This slideshow requires JavaScript.
J: What have your experiences in Japan been like during the pandemic?
C: In regards to photography, the pandemic has limited how far I can travel and required me to consider precautions when shooting.
J: What are your thoughts on essential workers and why did you choose to document them?
C: Taking pictures of workers started off as an opportunity to photograph my friend, who is a barber, for practice. After that shoot, I developed an interest in taking these kinds of pictures with others around town. I became interested in hearing their stories and enjoyed providing pictures of their work. Eventually, I saw an opportunity to help do good for these owners by introducing their businesses through photography. This is how my body of work for my upcoming art exhibition was created.
Cameron's upcoming exhibition will be displayed alongside the work of photographer Rion Ueno from September 20 to  October 2, at The Wind Passage Gallery in Hofu, Yamaguchi. Most of his photos have a timeless feel, but other portraits capture a vibrant sense of the life of the worker, in spite of the difficulties they are facing today. Their stories are inspiring moments of dedication and perseverance! Rion Ueno's work leaves a different impression and is made up of black-and-white photographs that "express emotions in a world without color or sound." While quite different, together I think both of their bodies of work provide different ways of humanizing and coping with the pandemic world. Please check out the exhibition if you are in the area!
Cameron Peagler was the Community Section Editor for [CONNECT] during the 2020-2021 JET Programme year. He is a third-year JET in Yamaguchi. Prior to this, he worked as a Registered Nurse, traveled as a Gilman Ambassador, and was a national saber fencer in America (2018-2019). When he's not exploring Japan, you can find him brewing pour over coffee and experimenting with different beans, teaching fencing in his community, and taking photographs. You can follow his adventures on Instagram @truhiro.
Jessica is a fifth-year American JET living in Saitama. On weekends she enjoys hiking in remote areas of Saitama or taking day-trips to Tokyo. When not adventuring, she can be found reading or creating her own artwork, which can be seen on her Instagram @jessica_craven_art.