Latest Edition, matsuri, Out Now!
This article originally featured in the March 2021 issue of Connect.
Jessica Craven (Saitama)
"The Tokyo Collective" (ToCo) is an artist collective that combines experiences of Tōkyō into anthology zines. Since their fourth edition, matsuri, (festival), became available for purchase just last month, now is a great time to learn more about their publications, the project history, and a bit about the participating artists!
The Beginning: hajime
"The Tokyo Collective" is a project that illustrators Erica Ward and Julia Nascimento launched in 2018. They say it emerged out of an irrepressible desire to work with other local creatives in Tōkyō: particularly, to join forces, to share ideas and experiences, and to tell stories together. The words of Erica Ward in the foreword of their first edition, hajime, particularly shed light on some of the ideas and inspiration that motivated the duo to undertake this new creative endeavor:
"To a hundred different people, Tōkyō is a hundred different cities. Here we introduce you to seven of those different cities through the illustrations, comics, and writings of seven non-Tōkyō-native artists. Each has submitted a four-page artwork with no other guidelines than the theme: "First Impressions of Tōkyō."
Our title, hajime, represents the memories of the start of our new lives in Tōkyō, but also represents the start of this new endeavor to create a collaborative zine.
Like those first memories of Tōkyō, hajime is the excitement and the uncertainty of jumping into something new. . . ."
hajime features five additional artists: Tania Vicedo, "Kittyzilla," Erina Suzuki, Michele Laudig, and Natalie Bleakly. A public exhibition was held along with the release of the book to showcase the participating artists' work at Tokyo Chapter Ninetytwo 13 Gallery.
"monogatari"
In the words of Julia Nascimento, their second edition, monogatari(story), assembles "twice the number of contributors telling stories in a completely different way, giving the anthology a strength born from diversity." This anthology was also published in 2018.
In the monogatari anthology, the artists depict the overwhelming number of inanimate objects in Tōkyō in various ways. Personally, when I think of Tōkyō, I am often reminded of Japanese architect Toshiko Mori's quote describing the city: "More than any other city, Tōkyō demonstrates that 'city' is a verb and not a noun." In a city full of so many people always on the move . . . in a city that is likewise always being changed by them and packed with consumerism of the ever-changing trends, it only makes sense that every corner is somehow packed with some sort of object. Erica Ward puts it more poetically in the foreword of this second edition:
Tōkyō is known to be one of the most populous cities in the world. However, it is not just crowded with people. Everywhere you look you will find them: objects . . . items . . . things.
Though Tōkyō is, of course, abundant in vibrant human stories, it surely also holds countless stories of its unspeaking objects.
For ToCo's second issue, we've compiled short tales of Tōkyō's things.
From a tiny key to giant skyscrapers, 14 artists and writers have brought the inanimate to life through diverse narrative and visual styles.
"Monogatari," the Japanese word for tale or story, means literally "to tell of things."
We hope you enjoy this collection as our artists do just that."
The 14 artists featured in this second edition are:
Carin Ogawa,
Chizuko Tanaka,
Craig Atkinson,
Erica Ward,
Felipe Kolb Bernardes,
Jessica Whitfield,
Julia Nascimento,
Kaori Noda,
Lori Ono,
Louis-Etienne Vallee,
Mariko Jesse,
"Odding,"
Shingo Nagasaki,
and Tania Vicedo.
As with the first issue, a public exhibition that coincided with the issue's release to showcase the participating artists' work was held at Tokyo Chapter Ninetytwo 13 Gallery.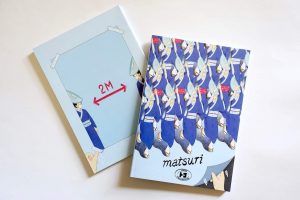 himitsu
ToCo's third edition, himitsu was published in 2019, featured 11 artists, and centers around the numerous secrets that the colossal population of Tōkyō must keep hidden.
Despite the sheer number of people in Japan, the generally reserved nature of Japanese people in public places often makes everyone seem orderly, anonymous, and indecipherable. Something about seeing what's behind the stoic facades of people in Japan or peering behind their closed doors is sure to pique many readers' interest.
Erica Ward describes Tōkyō as a "city overflowing with secrets: happenings behind closed doors, down quiet alleyways, and even simply in our imaginations . . . Imagination paints possibilities from secret hobbies of Tōkyō residents to unknown forces at work behind the city itself."
The 13 artists featured in himitsu (secret) are: Jessica Whitfield, "Majico," Julia Nascimento, Takao Yoshida, Lori Ono, Mariko Jesse, "Odding," Erica Ward, Natalie Bleakly, Qiraat Cunningham, Natalie Andrewson, Rebecca Niita, and Felipe Kolb Bernardes. A public reception featuring these artists' work, along with the release of the issue, was held at August Moon Cafe 2F Gallery.
The New Edition: matsuri
ToCo's fourth and latest edition, matsuri, was published in December of 2020 and became available for purchase just last month.
The topic of matsuri, or Japanese festivals, was decided upon in early February of 2020, just before the coronavirus pandemic altered any sense of normalcy around the world. Although the vast majority of festivals have been cancelled in Japan throughout the past year, Erica Ward notes that the situation ended up giving the issue even more meaning as it has become a means to experience a variety of Tōkyō festivals when doing so in-person is not an option. Overall, the anthology is a way to remember and relive better times and imagine the matsuri to come in the future.
This fourth edition has also served as a means of bringing artists and readers together during a time when most exhibitions and gatherings are not possible. It features their largest group of participating artists to date, consisting of: "Odding," "Majico," Jas Carpenter, Mariko Jesse, Lori Ono, Maira M. Moura, Erica Ward, Monica, Kaori Noda, BigFatDog Comics, Janay Baade, Carlos Sulpizio, Julia Nascimento, Candace Fujii, and J. Scuderi.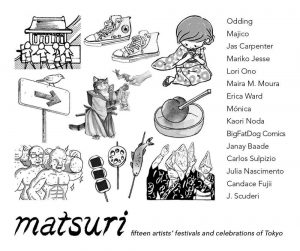 Although the pandemic has made it impossible to hold a public exhibition of the featured artists' as has been held for every other issue, hopefully the general uneventfulness of the times will permit more readers the downtime to pick up this latest issue and connect with the artists and their stories through the page. Since it is likely that people have turned to more and more screen-time as we are isolated in our own homes, I think it makes the physical presence of a printed and beautifully-designed self-published comic book all the more comforting. There is something about a tangible work of art that you can view directly and touch that the Internet and webcomics cannot replace, especially when we are probably receiving less visual stimulation and experiences from the outside world than usual. I am hopeful that the state of this world will improve with the vaccine beginning to be distributed in Japan, but until then, matsuri is filled with elaborate and charming other worlds to escape to!
This latest issue can be purchased through their website here for only $9.50 USD (about 1000 yen). The second and third issues can also be purchased for the same price, and the first issue, hajime, is only $7.50 USD.
Jessica is a fourth-year American JET from Arkansas state now living in Saitama. She is the Art Section Editor for CONNECT. On weekends, she enjoys hiking in remote areas of Saitama or taking day-trips to Tōkyō. When not adventuring, she can be found reading or creating her own artwork, which can be seen on her Instagram @jessica_craven_art.