This article originally featured in the April 2020 issue of Connect.
Ross McSwiney (Hokkaido)
Japan is blessed with so many natural features, climates and people passionate about sport and the outdoors. The country has many stunning mountainous regions, world-famous Japow (legendary powder snow), and hundreds of ski resorts scattered across Hokkaido and Honshu—but they've largely been overlooked by the international skiing and snowboarding community.
I first discovered the opportunities that existed whilst on a ski holiday to Hokkaido 17 years ago. I had made the trip with four fellow ski patrollers to experience the Japow we had heard rumors about. Little did I know at the time that it would become not only my passion but my business and such a large part of my life.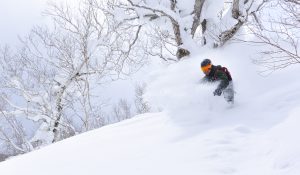 So after a number of years as an avid holidaying ski enthusiast, I made the lifestyle decision to make an annual winter migration to Hokkaido. I had sold a business in Australia and decided it was the perfect time to make a career change and follow my true passion, which would become my new business venture.
Evolution or Reinvention?
Turning one's passion into a career is the dream of many. As a wise person once said to me, "If you make your passion your job, you'll never work a day in your life."
When I sold my small business, we were at a point as a family where we had achieved a form of financial stability. My wife and I had discussed the future and my desire to reinvent my career. It was something she has always supported me in, so we were able to take a new direction in life, for our family.
The opportunity to work as a ski guide in Japan came about through an associate I was introduced to. I guided for his company for a number of winters and as part of that process, I was subcontracted to work on some of Whiteroom Tours' planned excursions in Japan. After meeting the company's owner, Paul Ellis, and being impressed with his business model and desire to start his own guiding operation, we established Whiteroom Japan. Whiteroom Japan now encompasses Whiteroom Guides, with bases in Niseko, Furano and the Tohoku region. We also operate Pension Full Note and Half Note Bar & Café in Niseko Hirafu.
The skiing and snowboarding world has finally awoken to the fantastic offerings that exist in Asia. Initially, only a small number of Australians came to Japan at the start of the new millennium, but word spread quickly to other parts of the globe. Not only was it the reliability of Japow that excited potential visitors, but open spaces (Japanese skiers prefer not to ski off the main course, so that means a lot of pristine powder snow for others), unique culture, exceptional cuisine, animated nightlife, and beautiful onsen were major attractions as well.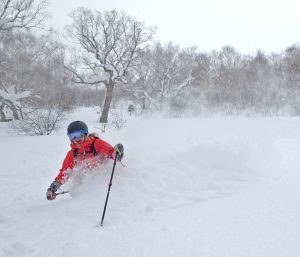 This coincided with a number of savvy entrepreneurs and snow sports enthusiasts seeing the potential for growth and business opportunities. So international travel operators and property developers are now a staple of a number of the larger, popular Japanese ski resort areas.
It has taken some time, but Japan is now at the forefront of international travel as a ski and snowboard destination. The internet and social media have played huge roles, along with ski magazines, movies and promotion by the ski industry in general. Coupled with the growth in the middle class in countries such as China, Singapore, Malaysia and Indonesia, skiing and snowboarding is becoming part of the social norm across Asia. This norm, however, is actually in its infancy and we will see the snowsports industry in Asia continue to grow. Unlike in Japan, the general Asian market has only discovered skiing and snowboarding in recent times. Combine this with major investment in Japanese ski resorts and the development of ski and snowboarding equipment over the past 20 years (allowing the average skier or boarder to venture further off-piste with ease) and you have the perfect recipe for sustainable growth in the marketplace.
Changing Landscape
Slowly, I have watched the changes wash over the ski regions of Japan—such as an influx of foreign skiers, the establishment of foreign-owned Japanese companies and businesses, mass development of certain major ski resort destinations, and a cultural change of the Japanese people towards doing business with foreigners and foreign companies. Some see the changes as being mostly positive—like increased employment opportunities and economic benefits from greater investment and rising popularity. But others view the changes, such as an increase in popularity and visitors many regions have experienced, as developments that haven't enhanced local cultures (The atmospheres of some small villages have changed as they have become internationally recognised resorts).
Life in the Whiteroom
After eleven phenomenal seasons, Whiteroom has grown from humble beginnings with a handful of employees to now employing full-time office staff both in Australia and Japan, as well as a large number of seasonal ski and snowboard guides, hospitality and lodge staff.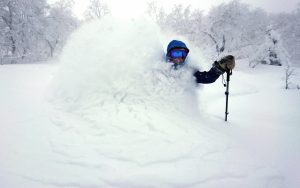 Whiteroom's services have grown with the skiing and boarding community and now include over 50 fully guided and hosted tours in Japan each winter. Additionally, we also offer private travel packages to Japan, guiding for all skill levels, ranging from powder clinics (transitioning from the course to off course and tree skiing), lift-accessed backcountry to full backcountry touring across some of Hokkaido's and Tohoku's renowned major mountain peaks. In all of this, I've never lost sight of my initial passion and the Whiteroom philosophy:
Our mission is to provide the best possible, most adventurous and deepest Japan powder experience for our guests
I continue to have what some friends call the perfect lifestyle: not only running a company in an industry that I love and have been involved with for over 25 years but continuing to guide my regular clients throughout Hokkaido and Tohoku while sharing the richness of experiences Japan has to offer.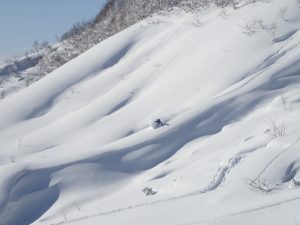 My family has made Hokkaido our second home, and we spend anywhere between five and nine months there each year. Besides the thrill of winter in Japan, we continue to experience the joys of the other seasons that exist here. Yes, wintertime is both business and pleasure, but the other seasons offer a wide variety of sporting activities. If you enjoy road cycling, mountain biking, golf, tennis, white water rafting, fishing, surfing, sea kayaking, stand up paddleboarding, windsurfing, trekking or climbing—then Japan is for you. These are just a few of the activities that make Hokkaido, and Japan, perfect for the sporting life.
All Photos: Greg Young, the media manager of Whiteroom Tours
Ross McSwiney has seen more winter than most people see in two lifetimes. He has over 25 years experience as a Ski Patroller, National Ski Patrol Trainer and Examiner—in addition to having skied 17 years in Hokkaido and spent 11 as a ski guide (Seven of which have been with Whiteroom). Ross is a part-owner of Whiteroom Japan and heads the Japan operations.