A local endeavour and a call for more rural adventures 
This article originally appeared in the May 2023 issue of CONNECT.
Thomas Coleman (Hyogo)
Photos Courtesy of Asago Travel & Stay
Quietly sitting in a small village hall deep in Japan's inaka, an old television played the echoes of a bygone era. We watched in mesmerised silence. Dancing on the screen before us were the fond memories of a tight-knit local community in rural Hyogo Prefecture who had kindly invited us into their private space. Through our peephole into the past, we saw families working, living, and having fun together as well as upholding their special local traditions. It was a beautiful and intimate experience. 
Yet, as my gaze drifted from the video and rested on the ageing faces and longing eyes of our warm hosts, I felt their deeper sadness. They were now both older and fewer. With the passage of time, their younger generations had been washed away with the tide of urbanisation, and now only a small nucleus remained. The contrast between the atmosphere in the video and the atmosphere in the room struck me deeply, moving me to tears.
It is no secret that the rural communities of Japan are shrinking. With bigger cities providing more opportunities, the slow bleed of people from the inaka is understandable but is becoming worryingly more evident. As a result of this creeping migration to urban centres and a declining birth rate, more than half of all municipalities have become classified as "depopulated" by the Japanese government. (1)
However, the deterioration of rural Japan is not a foregone conclusion. Our unique, emotionally moving adventure into this quaint rural village, filled with kind people willing to share their stories with us, was an eye-opening experience into the yet untapped value of the inaka. It was a small but impactful part of a greater initiative being pioneered by local tourist organisations who are looking to spread the word: Japan's countryside still has an abundance of stories to tell if only you would come and listen.
In fact, many local government-backed projects are once again shining a light on the inaka's hidden gems. Their goal? To stimulate interest, tourism, and investment in their rich histories and vibrant communities. Nowhere is this more prevalent than in Hyogo Prefecture.
With the popularity of nearby tourist hotspots like Himeji and Kobe further afield in the rural regions of Hyogo, local organisations have realised the need for creative solutions. As such, the local tourist industry in areas like Asago City in central Hyogo focuses on providing unique experiences through personal passions and novel thinking while remaining firmly rooted in local activities and traditions. 
Sanaka village will not give up on its Thousand-Year-Old House because they will not give up on themselves.
One such project, Asago Travel and Stay, promotes innovative tours of the wonderful rural area surrounding Asago and hopes to turn the tide for its communities. I, along with a lucky group, took the opportunity to join one of these guided tours in August 2022 and we became illuminated to the importance of rural Japan and the growing need to protect and rejuvenate it. 
The tour thrust us into the often overlooked heart of Hyogo. It allowed us to trace the excitement of the past via the routes of the iconic Ikuno Silver Carriage Roads, invited us to take part in local customs in both farming and cooking experiences with Asago residents, shared with us the area's brewing affinity for the modern with a trip around Tataragi open-air art village, and allowed us to become one with history through lodging offered by Ikuno Stay in one of Japan's oldest Meiji-era company housing complexes turned museum.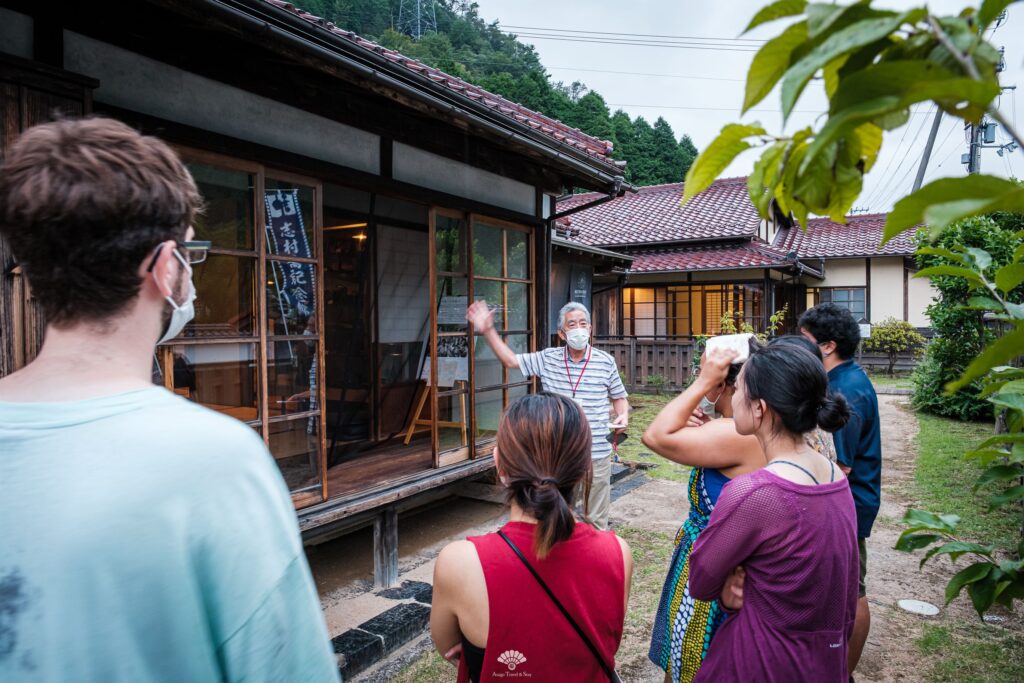 While these experiences are already enough to demonstrate the impressive variety and dynamism of the inaka, there was a further interesting twist: We would be travelling from adventure to adventure on e-bikes. One of the organisations comprising the project, Asago Cycling, has moulded their zeal for bicycle travel to their plentiful landscape in order to connect the spread-out but equally splendid locations of rural Asago. Providing us with locally-based guides and skilled photographers, they helped ensure our immersion into one of Japan's secret treasures. 
As a man who is not naturally athletic, I was initially sceptical at the idea of cycling around the countryside. But, after clear coaching from our guides and receiving adequate safety instructions, the e-bikes made for a comfortable and relaxing ride with their electrical propulsion and simplicity of design.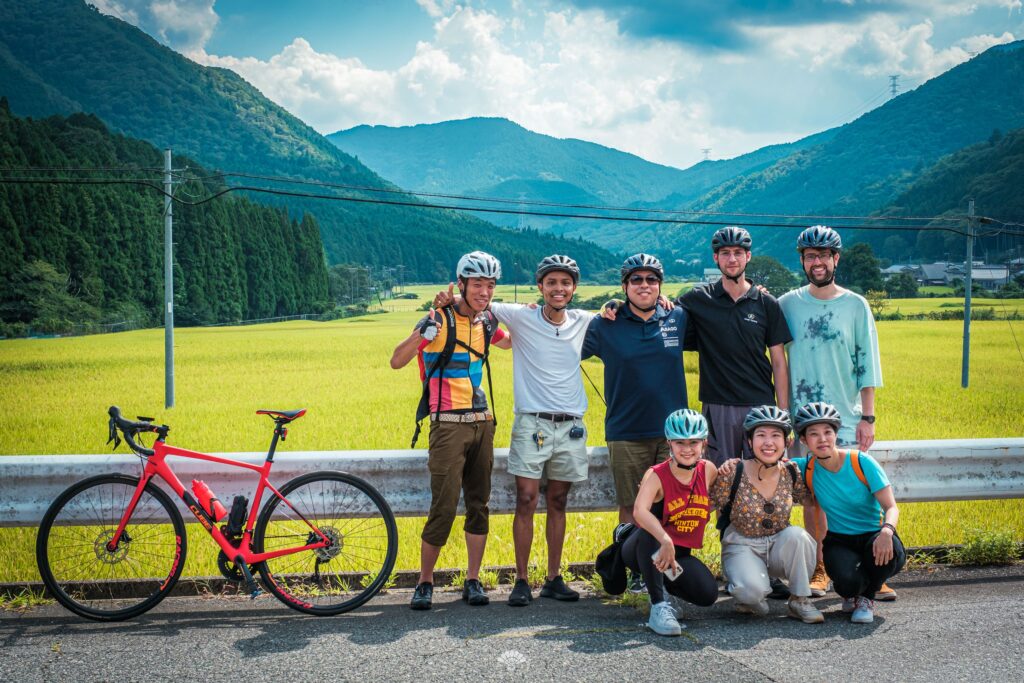 The e-bikes also deepened the tour group's relationship with our environment and with each other. Using e-bikes we could freely traverse Asago, feeling the warm sun and cool breeze as we passed through small villages and gentle inclines in the flourishing scenery. Not only this, but the ease with which we could stop and soak in the charming sights only heightened our interaction with the inaka. Further, sharing this unfamiliar yet exciting experience with others made the tour all the more energising and enjoyable.
The final stop of our trip, and the beginning of this article, brought us to the village of Sanaka to meet with local residents at their community hall and to hear their stories. This moment grounded our tour in the reality of this picturesque and welcoming environment. While we had discovered the attractions and joys of the inaka, we were reminded of the greater need for eyes on and interest in Japan's rural spaces; the countryside's hidden gems remain under threat without tourism and the investment in its communities that follows.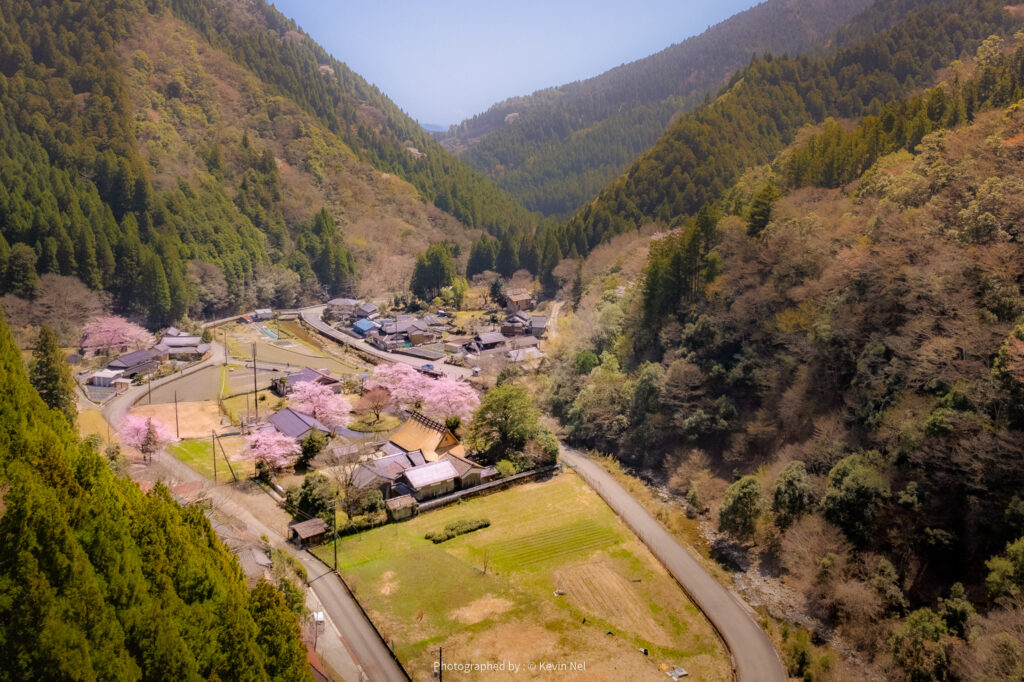 One moment in particular during our time in Sanaka village that highlighted this situation to me was our visit to the locally dubbed sennenya or "Thousand-Year-Old House". The large old building holds a special place in the hearts of the residents and sits symbolically in the middle of the settlement, next to the village hall.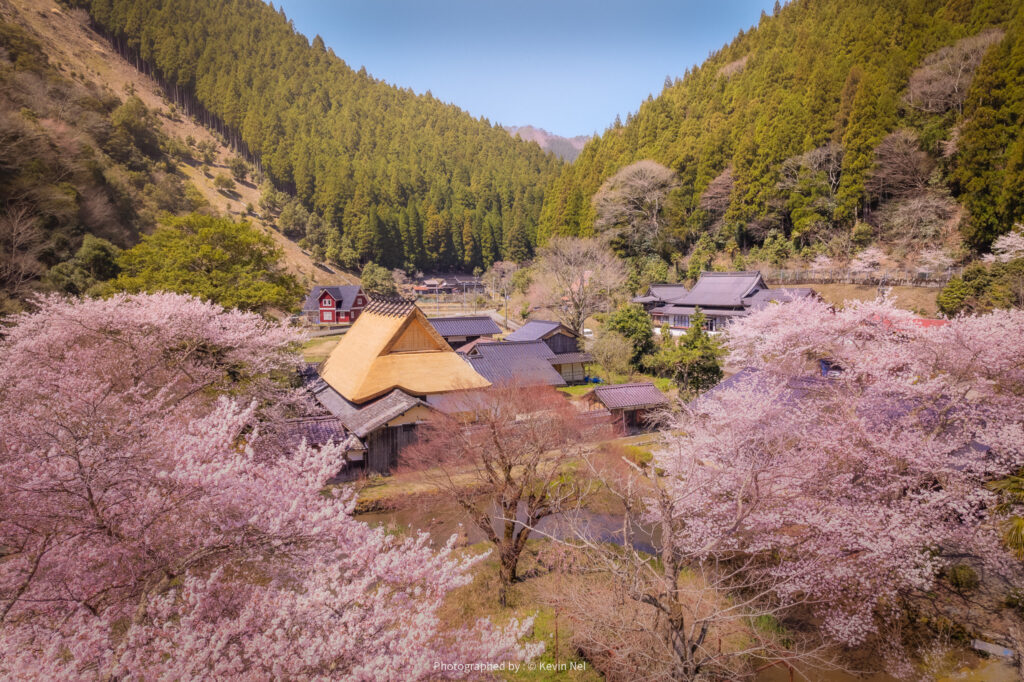 Blending pleasantly with the lush green vegetation, its mellow white walls, brown wooden panels and wavy grey roof tiling slot harmoniously into the pastoral landscape. After talking to residents at the hall, we were led by a few volunteers down a quaint path to see their pride and joy. We followed a narrow stream on our left and an old stone wall looping around the perimeter of the Thousand-Year-Old House on our right. The residents explained that while the house was old, it was not quite old as the name suggests, and it belonged even today to the family that built it all those years ago. The heir, however, now living in Tokyo and not knowing what to do with their charming inheritance, has left it be. 
In spite of this, a newly thatched, triangular roof poked saliently over the old walls. Curious about this detail we asked our guides and they explained to us that the local community, tired of seeing the building slowly falling apart, had come together to raise money for its rejuvenation. The gleaming new roof was a result of their collective efforts. After giving us an extensive tour of the interior, it became clear that the tired walls, beams and floors were all still in need of the same vital care. Yet, within the room, we could distinctly feel an energy of determination among Sanaka's residents and our guides from Asago Cycling.
For the residents of Sanaka, the fate of the house and the village itself now seems almost tied. Both geographically and socially, the sennenya is a central pillar of the local community. Not only does it represent their common history and circumstance in the face of modern challenges, but sennenya's desperate need for attention and care beckons to a common solution. Sanaka village will not give up on its Thousand-Year-Old House because they will not give up on themselves. Consequently, they have also recognised the need for more tourism, partnering with the Asago Travel and Stay project so that more people can share the value of their village. I found their resoluteness inspirational, which, in turn, motivated me to pen this article.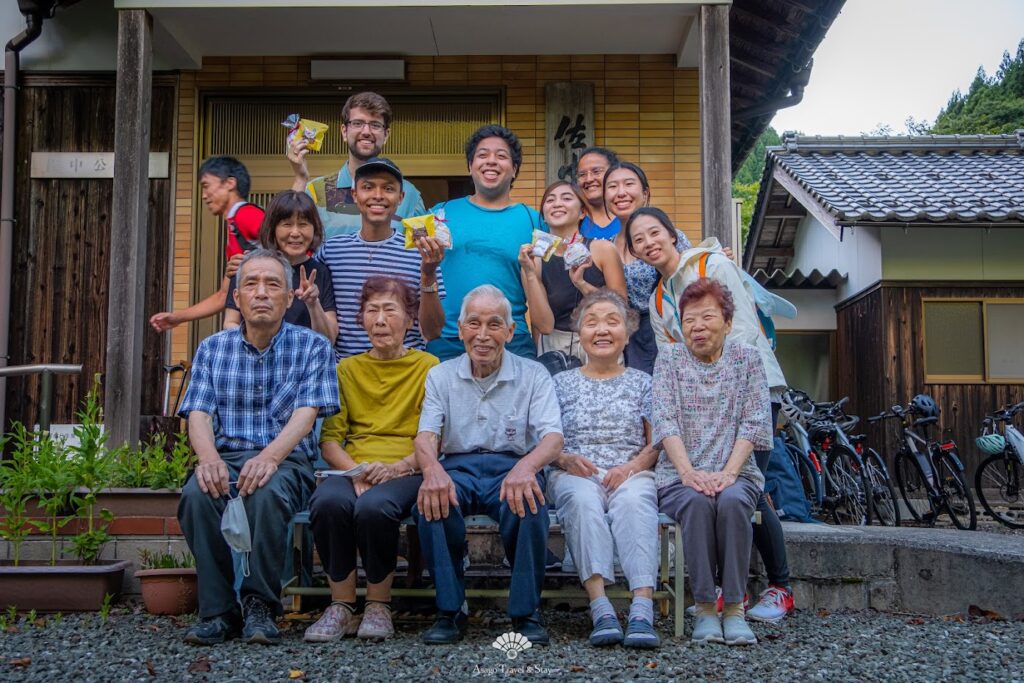 Since joining the tour in October, the success of Asago's tourist organisations has continued as their impressive works have broadened. For example, Asago Cycling now has an expansive list of tours and a new cycling station in operation. It has also been awarded additional funding and assistance from the local government via the Hyogo Field Pavilion Initiative. This expansion shows the growing recognition of the important role that tourism provides for the local economy and the wider community.
Ultimately, the local endeavour at Asago City demonstrates the potential of Japan's countryside. Its local communities' commitment to revitalising their areas to produce a more attractive destination for tourists and the distinctive creativity of local organisations to promote their unique environments infuses their mission with great energy. However, this must be matched by a willingness of us, the tourists, to heed the inaka's call to adventure. Because beyond tourist hotspots, there are equally as exciting experiences to be had, a variety of people to interact with, and an abundance of stories to listen to; in short, there is a rural world that's both in need of and worth saving. As the summer months approach, why not consider having your own adventure into Japan's stunning inaka?
Thomas Coleman is a second-year ALT from the U.K. who is currently working at two senior high schools in Himeji. As a humanities graduate, he has a keen interest in history and culture and can often be found exploring local historical sites. When he is not doing this, he will be at his local dojo practising kendo or at home playing video games
Sources
"More than half of all municipalities in Japan defined as 'depopulated'" (

The Asahi Shimbun)