This article originally appeared in the February 2023 issue of CONNECT.
Etienne Van Rooyen (Aomori Prefecture)
"Do you like hockey?" The physics teacher asked me at the opening ceremony for semester three. I turned to him, shivering in the school's gym, and was stunned (but warmed) by the question. 
"I don't mind it," I answered, "but I've only played a little bit of field hockey when I was a kid."
He sized me up and down. 
"Do you want to play real hockey, then?"
I smiled. 
"Yeah. Why not?" 
This introduction to hockey is not the team I am a part of today. In January 2020, I started with the Hachinohe High School Teacher's Tournament by invitation from my teachers. I mentioned to my supervisor my interest in ice-skating and had recently bought a fine pair of hockey skates. Encouraged by my friends and taking the opportunity to do something new, I took the plunge.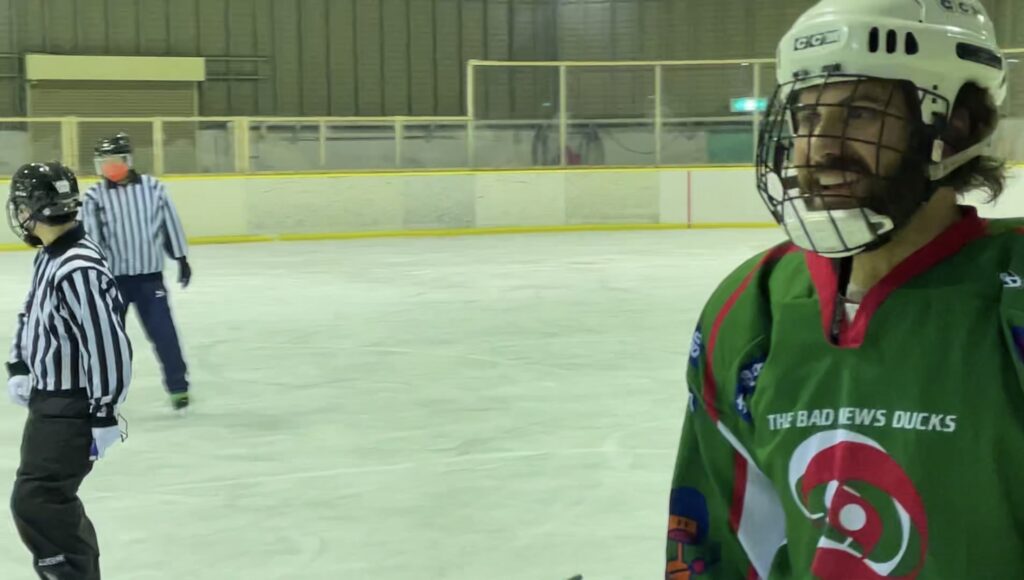 I had no real exposure to winter sports coming from the Gold Coast, Australia, a tourist coastal town known for pristine beaches and summer climate all year round. I heard about (and underestimated) the harsh, icy winters in Hachinohe, Aomori, so living here would be my first time seeing snow, and temperatures go below zero. I told my teachers I had experience with field hockey but was very unfamiliar with ice hockey. Forgive me if I call hockey "ice hockey." It's a force of habit growing up in Australia as the distinction was necessary. For that reason, I wanted to embrace the plethora of opportunities to participate in winter sports. Hachinohe was the place to be. It also made sense because Hachinohe is where the Tohoku Free Blades, an Asia League Ice Hockey team, is based. Hachinohe is hockey. I was in the right place. 
Ice Hockey Common Terms and Phrases
Wing – wingu – ウィング

Defence – difensu – ディフェンス
Right – righto – ライト
Left – lefto – レフト
Right wing – rightowingu – ライトウィング
Left wing – leftowingu – レフトウィング
Change – chanji – チェーンジ
Shoot – shuto – シュート
Pass – pasu – パース
Centre – centā – センター
Stick – stiku – スティック
Puck – pucku – パック
Hockey – hokke – ホッケー
Ice Hockey – aisu hokke – アイスホッケー
The Bad News Ducks
I officially started playing hockey three years ago, and joined "The Bad News Ducks" or simply "The Ducks." I was introduced to the team by two members of the same senior high school team as me, Anthony and Barry, who worked for the university's branch of my private high school. After our third or fourth match on the teachers' team, Anthony, was going to his regular team's practice at the same venue later that evening. Exhausted, but eager, I asked to stick around and try out. I got on the ice again (with sore legs) and never looked back.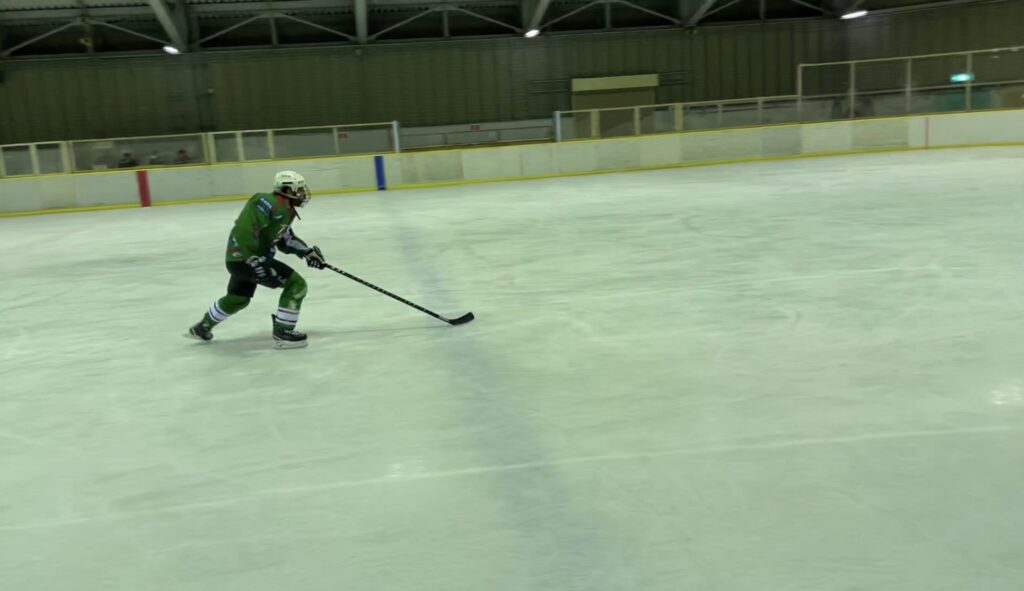 "The Ducks" was founded in September 1979 and has been playing ever since. That makes the team just over 43 years old. Coach Chida chose the name "The Bad News Ducks" after speaking to a friend who had just returned from the USA. The inspiration was the 1976 movie The Bad News Bears. 
When I asked Coach about his goals for the season and what he thinks makes for a good hockey player, he said:
"It's all about 'working up a good sweat' and being exhausted. The team's motto this season is, 'Have a Good Time!' The goal is to play freely, spontaneously, and go home injury-free! Also, watching and referring to other people's style of play through, 'Imitation, honesty, and enjoyment.'"
Hachinohe is Hockey
Between late August and May, The Ducks practice and participate in tournaments. This season's tournament was from Nov. 21 to Dec. 23, 2022. The coach, Chida, leads the team and the practice sessions. Sessions are open to any player. Sometimes, the sessions are packed with university students and players from other local hockey league teams alongside the regulars. Other times, especially during those freezing, late night sessions, numbers are lower, but it fluctuates.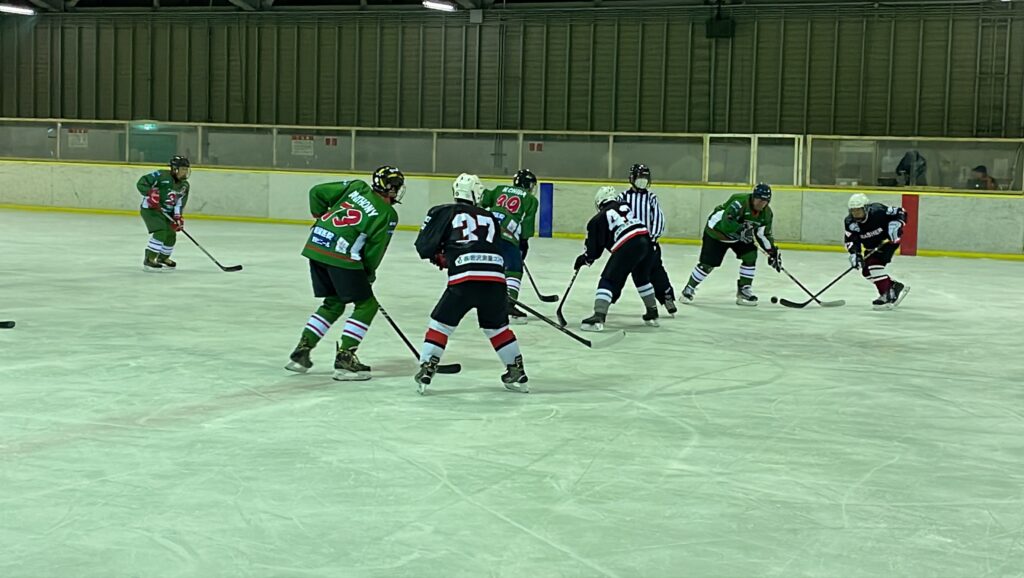 Practices go for one and a half hours each. On rare occasions, the practice is extended to three hours. Everyone struggles after the two-hour mark because it is dedicated to scrimmage. 
Here is a quick rundown of a practice session:
Arrive, change, and then hit the ice after the Zamboni resurfaces the rink. 

Do a few warm-up laps, then meet in the middle to get a briefing and do some stretches led by coach Chida.

Drills: moving the puck up and down the ice, turning and stopping with the puck. Then we break into halves and practice shooting and passing. 

Sometimes, before the main scrimmage, we split based on abilities to work on fundamentals like skating and stick/puck control. 

The main event is the scrimmage. We break into three teams to simulate the different levels for the tournament: beginner (D team), intermediate (B team), and advanced (A team). We'd rotate and play.  
Some locations where we practice and play include: 
Technol Ice Park, Hachinohe

Flat Arena, Hachinohe

Fukuchi Ice Arena (tournament games are held here), Nanbū

Misawa Ice Arena, Misawa
I won't lie: I have good days and bad days at practice. Personally, I want more lesson time. As a complete novice, I didn't know the routine or what was going on as the sessions started. I didn't know whom I was meant to pass to, where I was meant to go, or how to use a stick and pass and shoot, etc. It was (and still is) tough. I had no experience with ice-skating, let alone the rules of hockey. I sucked. Sucked and ate the hard ice a lot. It gave me great pride to go a whole match without falling over. However, I had to learn that it was okay to fall and get up. Fall again, and get up . . .  again. 
Compared to other sports I've played, this one required all my focus not only for the difficult learning curve but also for the language barrier.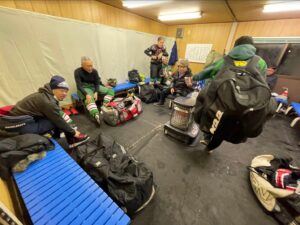 Everything is explained in rapid fire Japanese for practice, but you quickly learn that a lot of terms are English-related for positions, equipment, and actions on the ice. However, getting a goal, making a good play, or the goalkeeper making a brilliant save always gets a resounding cheer from both sides. 
Seeing my teammates, those who have played for their entire lives, just play the game they love showed me how it shaped them. These men, old and young (but mostly old) have been playing this game for a long time. They grew up with it. Thrived from it. It kept them going. I also liked to joke that this explains how indestructible the people up north are.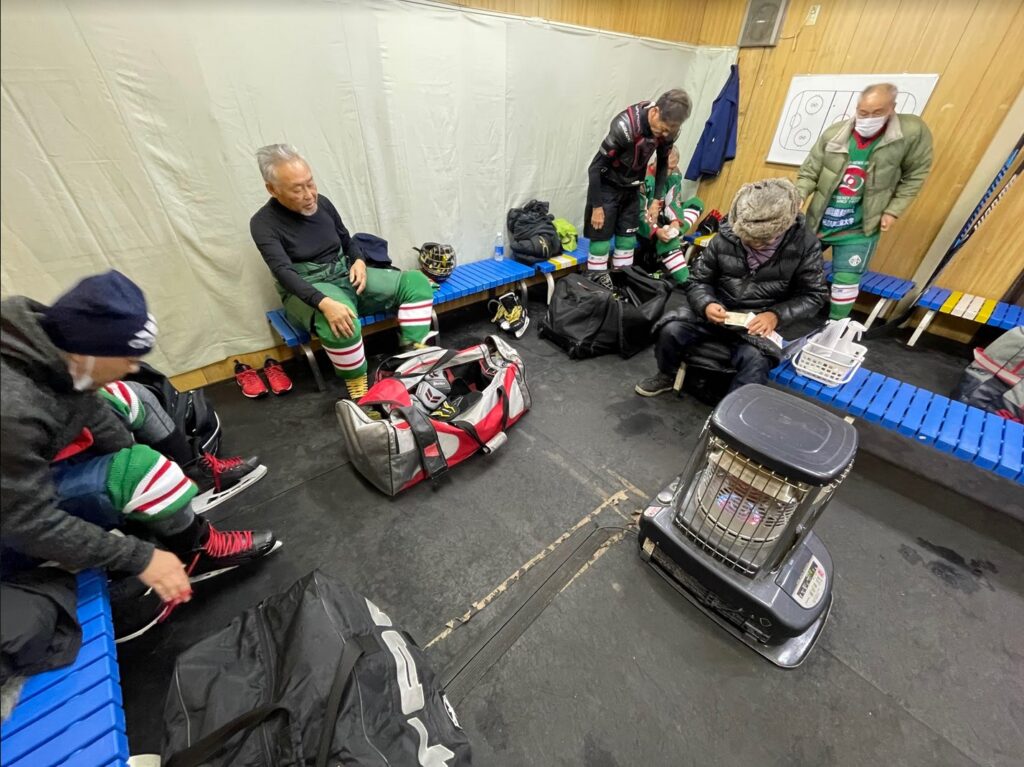 In this league, however, there is no checking. Checking involves a player driving his hip, shoulders, or arms into an opponent to separate them from possession of the puck. This is due to safety as most players are older. The umpires are strict about player safety and will penalise you. If you commit two serious fouls or demonstrate unsportsmanlike behaviour, you will be removed from the tournament until the end of the season. This news undoubtedly raised my anxiety. Even though I'd improved, I still lacked control on my skates, but I was reassured and just told not to do anything too crazy!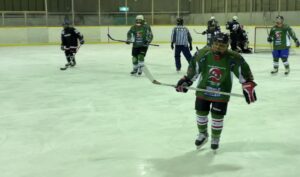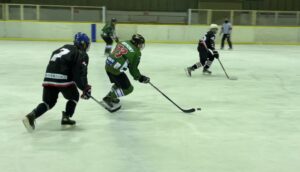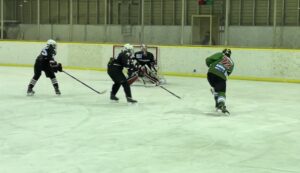 A match goes for about 45 minutes. There are three quarters of 15 minutes with no time stoppage between plays and two four-minute breaks between quarters. After the match, we'd go through the results. Who scored? How many shot attempts there were? Then we would give a speech, pack up, and head home with a resounding "otsukaresama desu!" regardless of winning or losing.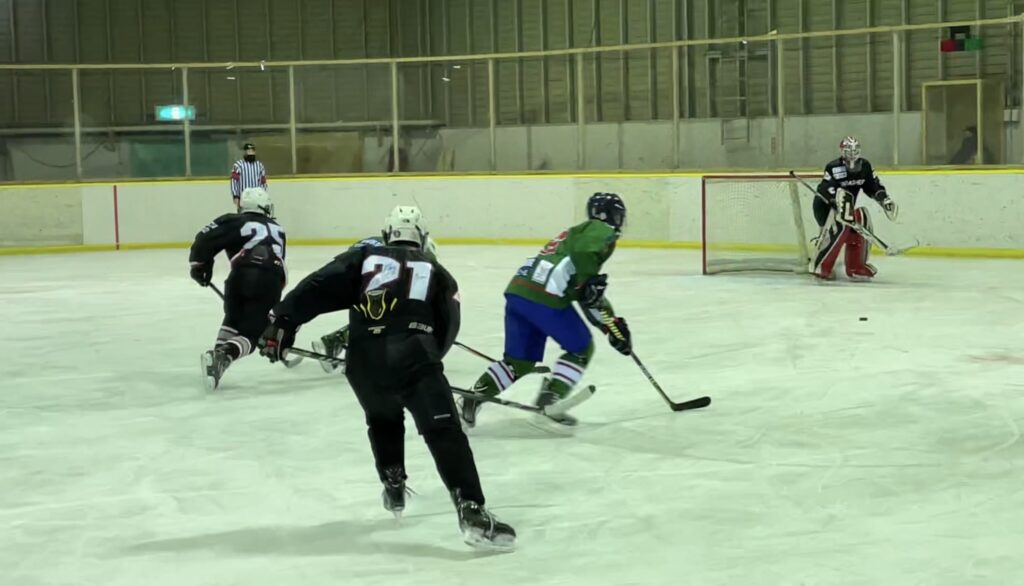 To me, hockey is about personal growth. After an exhausting practice or game, my legs burning and driving home on a freezing dark road, I think about the day I started playing. How I took the chance to do something completely different and thrilling and hard. I stepped out onto that ice and fell over immediately. I had the wind knocked right out of me and could easily have let my frustration take over.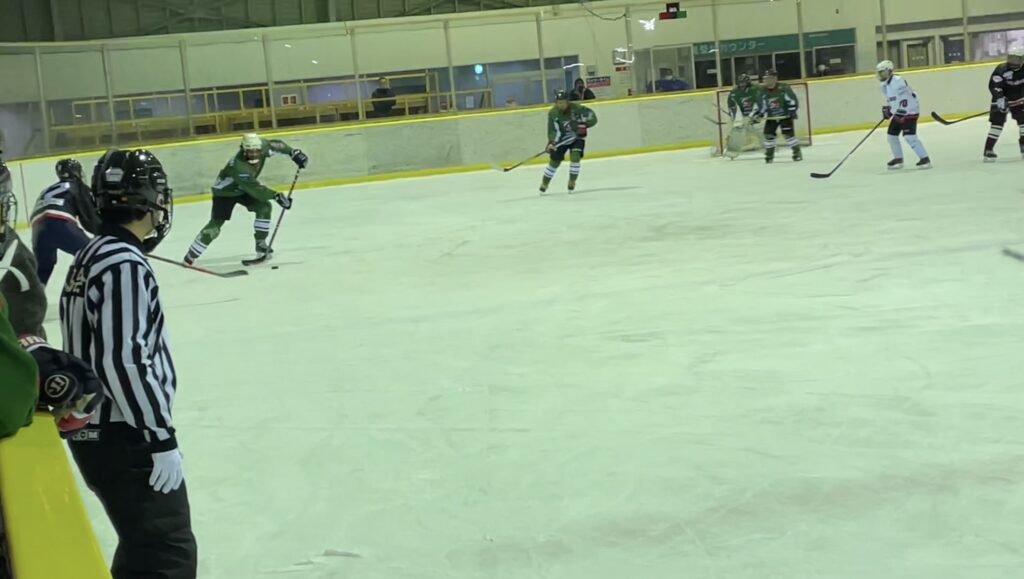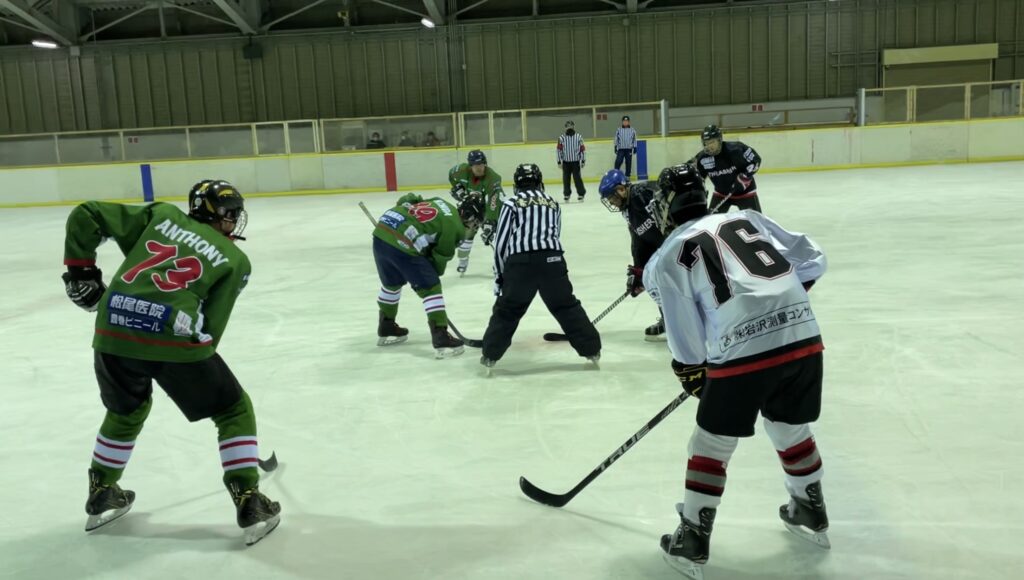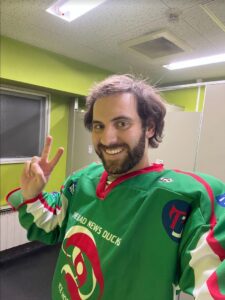 But I endured. I play for the sake of it and enjoy the sport even when I would prefer to hide under my kotatsu. I went from no ability to some ability to being promoted from the D team to the B team and getting my first tournament goal in the 2021 season. I must thank my friends and teammates (and YouTube!) for their help, encouragement, and enthusiasm. It's what keeps me going. It's why I play and why I will keep playing. Wish me luck for the tournament in February 2023!
Etienne van Rooyen is a fourth-year ALT living in Hachinohe City, Aomori. He is from the sunny Gold Coast, Australia. He is the 2022-2023 Regional Representative for the Sanpachi region and translates tofu recipes for the prefecture's online blog, "Good Morning Aomori," titled, "Miso Hungry." He stays busy practising the piano, zipping around on the ski fields or hockey rink, and travelling every chance he gets.