An Interview with Cinthia Gomez
This article originally appeared in the October 2022 issue of CONNECT.
Sierra Block Gorman (Gunma)
Cinthia Gomez (Gunma) interviewed by Jessica Craven (Saitama)
Cinthia Gomez is a Gunma-based artist who came to Japan from America as an Assistant Language Teacher (ALT) in 2018. She recently had a solo show at the Pensee Gallery in Kiryu. A self described "emulator" and "provocateur," her work aims to evoke reactions and perhaps connections from her audience. Her show, Distance, took a multimedia approach to deal with the themes of "home" and "contemplation." Her work, deeply influenced by the lived experience of the pandemic, asks what home means to you.
And that was also when I fell in love with painting. I mainly work with oils now but I'm always trying to expand my mediums to things like clay, ink, and even garbage on occasion.
J: Why did you decide to come to Japan? 
C: I decided to come to Japan because I studied Japanese in university, but I also studied art education, so it seemed like a good next step in my career to gain some life experience before pursuing a master's degree.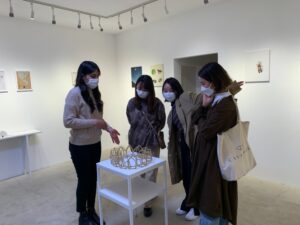 J: Tell us about your work. 
C: I would say that the main motif in my work is my mental health and how my life experiences have an effect on it. I feel like all artists are constantly trying to explain something incommunicable. In my case, it would be my feelings. I think my main objective is hoping I can reach others that can relate to those same emotions. My inspiration is experience. I feel like being an artist entails a lot of observation and overthinking, and a lot of trying to get people to pay attention to things they might not notice or otherwise consider. Sort of like, "did you ever think about how it feels to be the only foreigner in your office?"
J: When did you first become interested in art and how did you learn more about it?
C: Art is something I've been interested in since I became a conscious being but I didn't have the chance to formally study until high school. That was when I learned about it more analytically and in terms of history and that was also when I fell in love with painting. I mainly work with oils now but I'm always trying to expand my mediums to things like clay, ink, and even garbage on occasion.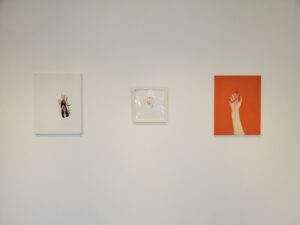 J: I read your artist statement from your Distance exhibition. How would you personally define the concept of "home," especially as a person who has long-term connections in more than one country? 
C: Thank you for reading that. My definition of a home has certainly changed since moving out of my home country. I feel like I'm still growing and learning about the true meaning of a home, but for now I think it's wherever your peace of mind exists. Whether you find peace within the people you love, within solitude, within complete strangers, or within nature.
It's comforting to know that I can connect with others despite any language or cultural barriers.
J: How was the turnout of your solo show? What did you gain from that experience?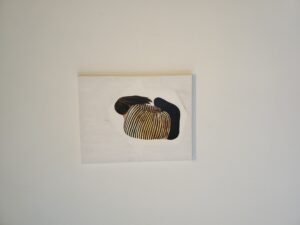 C: The turnout for the show was actually a lot higher than I'd expected. A lot of locals stopped in—there's a great sense of community in my town—and about ninety nine percent of them wanted to talk about the art, which was fantastic. I made a portion of my works based on the pandemic and it meant a lot to me when a guest would tell me that they felt the same way from having to be isolated for so long. I think it's nice that we can at least bond over something tragic—it's a universal sentiment.
The only results I had anticipated from holding this exhibition were bolstering my resume and gaining a few skills in curating but I couldn't have foreseen how gratifying it would be to share my viewpoint with others and listen to theirs. I mentioned earlier that this is one of my main objectives with my work but it's comforting to know that I can connect with others despite any language or cultural barriers.
J: How has the isolation during the pandemic affected you? Has it influenced your art practice in any way?
C: I believe the isolation during the pandemic has made me a bit more introverted, but in that same aspect, it's also made me more introspective. I feel like I've gotten some of my best ideas during this time. I've been given a very ample subject—the pandemic—but also much time to reflect on it.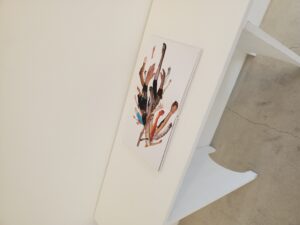 J: Has being in Japan influenced your art in any way?
C: Being in Japan has put me in a very conflicting situation in terms of creating. The complete change of scenery has given me so many revelations, which has resulted in so many ideas. Sadly, working full time as an English teacher has been very consuming, which means having to forge the time and energy to be creative. But I feel like the creative urges will always find their way. For me, it's been through joining the art club at my school. It gives me a small window of uninterrupted studio time but also an opportunity to bond with my students and share this very personal part of myself with them.
J: How did you come about the opportunity to have a solo show in Japan?
C: I discovered the local gallery by just walking around my town. I followed their Instagram page and I would visit occasionally until one day I was fortunate enough to catch the owner there. We had a chance to speak and he suggested that I put together the exhibition. I had a lot of things I'd been working on for a potential future thesis, and I always knew that consistent shows look best on a resume, but I never thought I'd have the chance to actually hold one in Japan. I guess I just got lucky that my town has those resources. I'm very grateful to the gallery owner and for the opportunity to share my work.
If you would like to see more of Cinthia's work, check out her Instagram!
Cinthia Gomez is a fourth-year ALT from Southern California living in Kiryu, Gunma. She is inspired by Rene Magritte, the Bauhaus movement, Michel Gondry, unrequited love, and the moon. She hopes to have more exhibitions in the near future.
Jessica Craven is a JET Program alumni of Saitama Prefecture (2017-2022) and originally from Arkansas in the United States. She previously served as the art section editor of CONNECT for two years and has an undergraduate degree in art. She currently lives in Tokyo, where she is continuing her writing career as an author for a global PR office and her hobby of ceramics.
Sierra Block Gorman is a second-year JET in Gunma Prefecture and the current art section editor for CONNECT. She has an undergraduate degree in Studio Art and East Asian Languages and Literature. Born and raised in New York City, she loves museums, musicals, and robust public transportation systems.