This article originally featured in the May 2020 issue of Connect.
A primer to combining tradition, creativity, and sustainability
By Emilia Bergoglio
Since I moved to Japan I've been fascinated by its rich cultural history. As a sewist, of course I was deeply interested in the kimono. The national dress of Japan is an unmistakable symbol of this nation, as well as being a technically interesting garment. Its shape has been mostly unchanged for centuries, whereas the patterns, either woven or painted on the fabric have changed dramatically depending on vogue and available resources.
Any person who's exploring Tokyo and interested in thrifting (or not!) cannot escape the seemingly endless number of secondhand kimono for sale, often for very little money. Sometimes these kimono are true antique treasures in wearable condition, but more often than not they are actually unwearable due to stains, mold, or moth holes. Having started sewing for ethical reasons, I was saddened by the exorbitant amount of beautiful kimono left unwanted in secondhand markets, forgotten inside tansu (traditional Japanese chest drawer), or shredded to make insulation, so I started accumulating quite a collection.
To my great pleasure—not to mention apartment space management—I found out that kimono remake is totally a thing, and it's an integral part of kimono culture too. From bags to haneri (decorative collar used on the nagajuban, a form of kimono underwear) to even nappies (once the kimono is too old to be used for literally anything else), there is no shortage of uses for—and ideas on how to use—vintage kimono. Today, I'd like to give you a primer on kimono remake, including where to source the kimono, how to prepare it, and some ideas for projects.
My recommended places to source secondhand kimono:
1 Setagaya Boroichi
This twice annual market is probably the golden standard when it comes to secondhand kimono. There's a bit for every taste and budget.
2 Nippori Textile Town
There are several shops which sell secondhand kimono here, but the majority are for wearing and not for remaking. Have a look around to find what best suits you.
3 Heiwajima Koutoichi
This is another secondhand market, held frequently in Ueno. See schedule here.
4 Kikuya in Asakusa
Another place where you can buy kimono for wearing, usually for 1000 yen apiece. (Since these kimono are in wearable condition, it may be better to use them as kimono and not as a fabric.)
5 Online on Yahoo! Auction and Mercari
Just type "kimono remake" or "kimono recycling" and you'll find plenty of options for different budgets.
6 Ohi Racecourse Flea Market and flea markets in general
Though not specialized in kimono, you can always find the odd stall selling vintage pieces.
Once you have acquired your kimono, it's time to unleash your creativity! For example, you can make bags and clutches out of obi (Fukuro Obi work best), or little pouches and coin purses out of kimono fabric.

I'm predominantly a garment sewist, and I approach my kimono refashioning with a zero-waste approach. However, this doesn't mean zero waste is the one and only way. I just happen to believe this is the best way to preserve the integrity of the kimono while also paying homage to the nature of the original garment, as kimono itself uses a zero-waste design. In some cases, like this one, it may be impossible to implement a zero-waste approach due to, for example, moth holes. If that's the case, you can treat your kimono as a piece of fabric and just lay your pattern pieces on top, trying to dodge the holes and the spots. Even in this case, I recommend taking the kimono apart, washing it, and reassembling it as it was when it was a bolt.
Here I'm going to show step by step how I take apart a kimono. I'm assuming that readers already have some preexisting sewing knowledge, but if you don't have any, this is the perfect occasion to start researching!
What you'll need:
• A large bucket or an ofuro (bath)
• Baking soda
• Thread snips and a seam ripper
• A sewing machine and/
or hand sewing equipment
• Lots of patience!
This slideshow requires JavaScript.
Taking apart a kimono is a slow process, so put on that program you were meaning to watch or play some music in the background. Carefully snip the thread and rip the stitches, being mindful not to poke a hole in the fabric. Start from the sleeves and collar and work your way down, until you end up with a bunch of rectangular strips of fabric.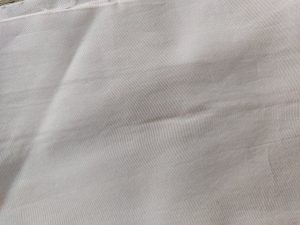 Please keep in mind that if your kimono is Awase (lined kimono), you must separate the lining from the outer fabric and treat them as two separate garments. This is particularly important if the colors are very different, for example, a light kimono with red beni (a type of vegetable dye which gives a vibrant scarlet) lining, as they may stain one another.
If you have glanced at a kimono store at least once you may have noticed there are different types of fabrics available, from soft habutai(plain weave silk which takes dyeing exceptionally well) to nubby tsumugi (silk originally woven from the waste of cocoons).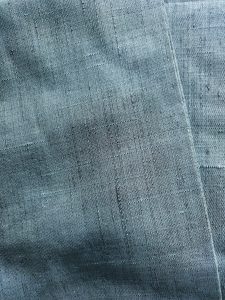 As with garment sewing in general, you'll have to match your project to your fabric. For example, soft linings make nice blouses, whereas Oshima Tsumugi (a type of tightly woven Tsumugi from Kyushu, resist-dyed in mud) is a good fit for a coat.
Now, on to washing. If you are making garments out of the kimono, I recommend measuring every piece before and after washing in order, to assess shrinkage. This is particularly relevant if you intend to implement a zero-waste approach, but important in any project which will be washed regularly, so be careful and plan accordingly if that's the case.
To wash, immerse the lot in the bucket of lukewarm water with baking soda (to prevent excessive color transfer) and a delicate laundry soap. I use all-natural Aleppo soap from Tokyu Hands, but Ecover, Pax, Naturon and Sarasa are good surfactant-free options available on Amazon. Leave for about 10 minutes and then rinse in water without twisting your fabric, as silk loses its strength when wet. I like to repeat the rinsing (with no soap this time) process a few times until the water runs clear.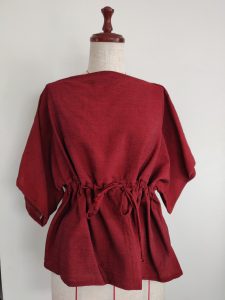 Please keep in mind that not all kimono fabrics take washing well. Any kimono painted in Yūzen, (a multicolored resist paint style) for example, will lose the paint or, worse, have the paint bleed on the surrounding area. An example of Yūzen kimono is this kurotomesode (the most formal kimono worn by married women, black with a motif painted on the bottom). Dry clean those instead. After washing, line dry and iron your pieces while still damp with no steam.
Because you end up with several long strips of fabric, one option is to reassemble them into a top or a jacket. Dresses are also another popular option, especially when you can use the entirety of the kimono, for example by adding rectangle after rectangle to your desired length. If you are not a fan of the loose look, you can easily add a casing to cinch the waist. If many stains are present and the kimono is light in color, you can use an oxygen cleaner, alcohol and a toothbrush to clean it by brushing not too vigorously, being careful to dry between attempts. Benzine works for oily stains such as makeup on every color, but it's mildly toxic so use a mask and ventilate your room while using it.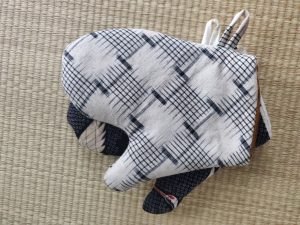 Now that your kimono is ready to be repurposed, use your imagination to create something new! There is no shortage of online resources on the matter, not to mention countless books such as the "New way of kimono remake" (新きものリメイク術), which I recommend mostly because it features an explanation of the different kimono weaves which can be very interesting and useful to the neophyte. One of my favorite ways to seek inspiration is to look on Pinterest, for example searching for 着物リメイク ("kimono remake"). You are not likely to be disappointed!
I hope this guide was useful to you all. I wish you a life filled with beautiful kimono.
Emilia is a trained scientist but enjoys making all the things in her free time. Despite her predominant hobby being sewing, she also likes to make furniture, play the shamisen, cook, and grow an out-of-control number of plants. If you want to know more about kimono remake, and sewing in general, you can follow her on Instagram @emilia_to_nuno and her blog emiliatonuno.blog