This article originally featured in the April 2020 issue of Connect.
Hana Kinoshita Thomson (Tokyo Alumnus)
From 2016 to 2019, I was an ALT in Tokyo at an all-girls senior high school. For three years, I had the pleasure of teaching English to around three hundred sweet girls, bonding with them over our mutual love of Arashi, and marvelling at how naturally talented all of them are at drawing. Highlights from my time there include playing tennis (terribly) with the tennis club, tricking unsuspecting students and teachers into trying Vegemite at the bunkasai (school festival), and having popular celebs Ikuta Toma and Hirose Suzu come to the school to prank the girls for a Japanese TV show. You know, the usual JET experience.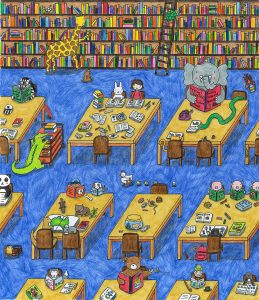 I was very lucky at my school not only for these weird and wonderful experiences, but also for the amount of freedom I was afforded as an ALT, to create any kind of activities and teaching resources I wanted, and to teach classes in the ways that I believed would best engage the students. The teachers I team-taught with were open-minded and gave me a free rein, allowing me to make conversation classes as fun as possible, and give the girls plenty of opportunities to practice communicating aloud in English.
Since I've always been passionate about drawing, it was only natural for me to incorporate my own silly illustrations into my classes and teaching resources. I drew elaborate scenes rich in details for the students to describe in English, made illustrated karuta cards to test their vocabulary, and included drawings throughout my PowerPoints, not only to add an element of fun to boring old English class but also act as visual aids for the concepts I was attempting to explain. It was such a delight seeing the girls react to new illustrated resources I introduced, and lovely to watch them engage with and get fully immersed in the activities.
Creating all sorts of classes, activities and illustrated resources throughout my three years as an ALT was an incredibly valuable experience for two main reasons. First, it allowed me to hone my teaching-resource-making skills, and (hopefully) cultivate an atmosphere in which learning and practising English was not a terrifying experience, but an enjoyable one. By incorporating elements of fun and plenty of silly drawings, I wanted to show the light-hearted side of learning English—one where making mistakes, is in fact, part of the fun, and where getting the message across is more important than perfect grammar.
Second, it allowed me to get my creative juices flowing on a daily basis, and realise what my next step after the JET Programme would entail. It gave me the courage to return back to Australia and pursue a career in illustration—and even incorporate my resource-making skills in my work. While I'm still at the beginning of my studies and career, since leaving Japan I've had the chance to create illustrations for Japanese language learning resources for the Japan Foundation Sydney, and have illustrated a Japanese language learning workbook called Casual Nihongo which is set to be published this month. While I'm now helping to make resources for learning Japanese rather than English, all the skills I acquired while I was an ALT have definitely come in handy, and I'm excited about the future.
When I embarked on the JET Programme in 2016, I had no teaching experience and no idea of how to make learning resources. It was terrifying being thrown into the deep end, but I managed to swim rather than sink, and now in 2020, drawing and creating resources has somehow become a part of my life and career even after finishing the JET Programme.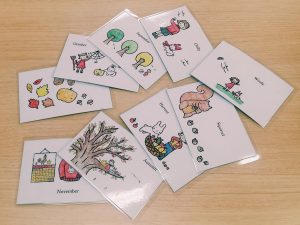 So, to bring my rambling to a close, for anyone out there who might be struggling to make activities and classes just as I did at the beginning of my ALT adventures, here are five things I usually keep in mind or do when creating activities/teaching resources/classes.
Do some research. It never hurts to do a Google search to see what kind of activities already exist out on the interwebs. From those, I picked and chose the best and most relevant parts, and combined them in a way that made the most sense to me and my students.
Be clear about your point. I wanted to make sure that I (and thereby my students) actually understood what it was I was trying to teach. When including illustrations, I did it not just to make the resource look pretty, but to make the activity clearer and easier to understand.
Give context. It helps to show students why you're covering a specific topic, and how it could be useful to them. The more relevant the students feel it is to them, the more they can find a sliver of motivation to participate and engage.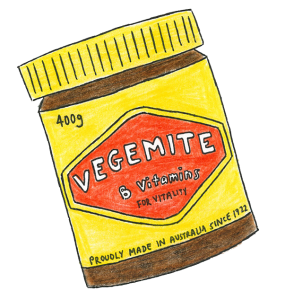 Make it fun. Not every part of learning English can be made fun, but whenever possible, I tried to make the experience enjoyable by adding as many visual elements as possible, getting the class up on their feet and moving around, playing games, and getting the students themselves to draw pictures to aid them in their discussions.
Think about the students. I think the most important thing is to always put yourself in the shoes of your students. If you were a bored and confused teenager, stuck in a class you didn't like but were forced to take, would this make sense to you? Would you understand it? Would it be fun?
All photos by: Hana Kinoshita
Hana is a former ALT, currently studying and working in Sydney, Australia as an illustrator. Her interests include rabbits, drawing, positive psychology, and of course, Japan. See more of her illustrations on Instagram (@hanaunderthetree) or her website at www.hanaunderthetree.com.