Anna Reyes (Nagano)
For as long as I can remember, cherry blossoms, or sakura, have always held a special place in my heart. I vividly remember back when I was a child, my uncle telling me the story of his trip to Japan. At the time, he worked for an advertisement company that was having a special event in Japan and he witnessed the blooming pink cherry blossoms. Once he returned, he brought photos for me to see, and it was at that moment when I realized how much I wanted to see them in person someday.
Fast forward to many years later, my thoughts on cherry blossoms have not changed. It became my goal to experience them while living in Japan. Despite going to famous hanami or flower-viewing spots in Japan, I unexpectedly found myself appreciating more of the lesser known areas, and specifically a place in my small town.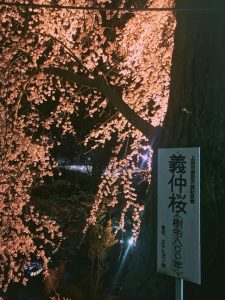 Ueda City in Nagano Prefecture is described as being an inaka by most of the locals, and yet it still has cafes, malls, and night spots for the young people to enjoy. The symbol of the six golden coins, the rokumonsen, from the Sanada Clan is famously plastered on sidewalks and the station. Surrounded by beautiful mountains, wide farming pastures, and a community of warm and friendly people, I have come to view Ueda as my home. With four long years under my belt as an ALT in Ueda, one would believe that I know most of the well-known parks, restaurants, and events. However, that is not true. Every time I venture out in my town, there is bound to be a place that I have yet to discover.
Iwayado Kannon is a Buddhist temple and park introduced to me by my friend, Keiko, a longtime resident within the Ueda area. She and her family lived in Maruko, one of the smaller surrounding towns that merged with Ueda a few years ago. One peaceful night in April, Keiko invited me and a friend of mine to go to Iwayado Kannon shrine. It was the first time I heard about the place, so I agreed as I was genuinely curious.
Keiko spoke about how the temple was popular amongst those who lived in the tiny town, and I was wondering what it could be. Whenever I went to see cherry blossoms, it would only be during the day time. Having this opportunity to see my favorite flower in the evening made me excited and I looked forward to what it would be like. Once we arrived at the park and I laid my eyes on the spectacular scenery, my expectations were definitely exceeded.
Iwayado Kannon was situated on a cliff on the mountain. The only way to access it was to climb steep stairs. Around the stone stairway, dozens of cherry blossom trees encompassed it with its vibrant pink and weeping branches. The light from the lanterns were bright enough to illuminate the beautiful flowers throughout the night. When we arrived, I was surprised to see that there were not a lot of people who came to see the park—it gave the park a peaceful atmosphere as Keiko and I ventured towards the entrance.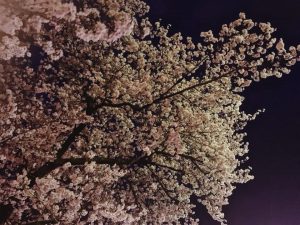 The climb to the temple would have been exhausting if there weren't any cherry blossoms to distract me. They were everywhere and the branches draped with pink flowers covered us like a roof. The darkness of the night sky created a sharp contrast, making the flowers' colors pop in a fun way. Once we had reached the top of the stairs where the temple was, we were greeted by the local volunteers and guides that took care of the temple. I smiled when they rewarded us with traditional Japanese snacks for our hard work climbing the steps.
Afterwards, the guides showed us to a small sitting area by the temple and served us green tea. As I sat, the view from the top felt so surreal because I did not realize how high up we were. We could see most of Ueda and the Maruko town area, as well as the shadowy outlines of the nearby mountains and the dotted lights of the stars. While drinking my warm green tea, we listened to the temple guides tell us the history of the temple, the red gates that were built near a rocky cave, and the main spectacle: an 800-year-old cherry blossom tree.
The temple was built supposedly around the Heian period (784-1195) and was regarded as one of the more sacred places in the little town. Though there were no festivals celebrated in the temple, people still came to visit to enjoy nature, serenity, and solitude. The guides also recommended visiting the Iwayado Kannon cave because of its interesting architectural design. As much as I loved the traditional designs of Japanese temples and shrines, I wanted to see the old cherry blossom tree.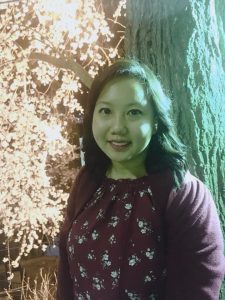 After finishing our tea and appreciating the overlook, I was finally able to see with my own eyes the 800-year-old cherry blossom tree. My eyes grew wide; it was the largest flowering tree that I had ever seen in Ueda. Its bark and trunk were surprisingly sturdy and its branches were filled with myriads of pink-petaled flowers. The temple guide commented that the tree was the very symbol of the enduring nature and community that thrived in small towns. If it wasn't for the people taking care of it, the tree would not have survived like it did for so long.
In many of the stories that I had heard or read about cherry blossoms, they were often represented as fleeting because of how they disappear so quickly. However, after seeing this specific tree, I feel that this isn't true. Not only does the cherry blossom continue to endure as a symbol of beauty and purity in Japan, but for me, it's more than that. It reminds me of strength and longevity.
Being able to experience this in my own town helped me realize that there were still small and charming places to explore. If anything, it made me appreciate my little piece of home and that my favorite flower wasn't too far away.
All Photos: Anna Reyes
Anna Reyes is currently a fourth-year ALT in Nagano. When she's not busy helping her students with speech contests, she enjoys drawing, reading books, traveling, studying languages, and dreaming about her next trip to the yakiniku restaurant.