This article originally featured in the December 2019 issue of of Connect.
Amy Lim (Nagano)
Coming from Singapore where it's summer all year round, I've always been fascinated with snow, especially snow-capped mountains. Being posted to Omachi City in Nagano Prefecture was a dream come true—I wake up looking at the outline of the Japanese alps from my bedroom window every morning, and Omachi being one of the two gateway cities to the only alpine route in Asia is another huge plus point for me.
The Tateyama Kurobe Alpine Route is also known as the "Roof of Japan". It crosses a mountain range some people call the Northern Alps between Toyama and Nagano Prefectures. To me, the greatest attraction is the snow wall at Murodo, where the highest station in terms of elevation (both bus and train) in Japan is also located. The area receives some of the heaviest snowfall in the world, with the accumulation of snow getting as high as 20 metres. In spring, snow-cutters drive and carve through the snow, creating a special route surrounded by snow walls.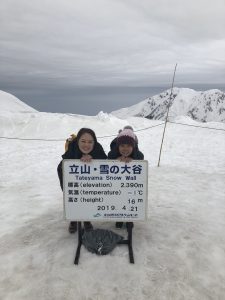 Unfortunately, thanks to the difficult process of creating the snow walls, travelling along the route comes with a heavy price tag. With the cheapest return ticket from my place starting at 11,000 yen, I had been putting it off until my friends from Singapore decided to visit me in April of this year. Without a car, there was a limit as to where I could take them and so it was finally time for me to check the alpine route off my bucket list.
My friends from Singapore, used to 365 days of summer every year, were surprisingly not as nervous as I was about them wearing sneakers to walk on the thick snow. The day before the trip, I dragged them out to the biggest supermarket, about a 30-minute walk from my house, to get some cheap snow boots. In the end, we all decided they should risk it rather than paying 3000 yen each to get something which they might use only once. I was used to the cold weather after living in Omachi for nearly 10 months, so I gave them both the thickest down jackets and the warmest heat-tech that I had. I also piled a couple of kairo (heat packs) on them and brought shoe spike attachments along just in case they needed them.
Being a schedule freak, I decided we should all take the earliest bus so we could take our time to sightsee. Travelling to Murodo requires five different modes of transportation and I was a little worried we might be too tired. However, the 40-minute bus ride from Shinano-Omachi Station to Ogizawa was amazing, with the view changing from sakura trees to leafy-green ones and then snow-covered pines. There was a long wait to get onto our second mode of transportation at Ogizawa, as it was the first Sunday since the route opened for 2019. It was crowded with tourists from all over the world, but being Japan, everyone was patient albeit excited.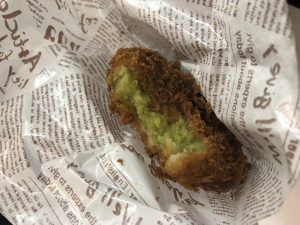 The destination, Kurobe Dam, was impressive. It's the tallest dam in Japan—the second "number 1" in Japan that this scenic route boasts. It was a cloudy day, so the view wasn't as great, but I can imagine what it would look like on a clear sunny day. If you're visiting in spring or summer, you may be able to see the dam letting out water at 10 tons per second. We walked on the pathway across the dam (which took about 20 minutes) then took a cable car to Kurobedaira, where there's a nice little lookout area. From there, you can see the beautiful landscape of the mountains. The cable car, which runs through a tunnel and even has its stations underground so that it doesn't affect the landscape, is the only fully underground cable car in Japan.
The next mode of transportation with the best views was the Tateyama Ropeway. From the inside of the car, you can see breath-taking views along the route. It's possible to observe the snowy, mountainous landscape without obstruction because the ropeway has no support towers along its 7-minute ride, supported only by ropes through its 1.7 km route. My legs were shaking a little while travelling along the ropeway, but luckily we managed to get a standing space near the windows and were able to enjoy the scenic view.
When we reached Daikanbo, at 2316 metres above sea-level, the views were even more spectacular and because we were there early, the observation deck was not as crowded as expected. We then boarded the trolley bus that runs across Mount Tateyama to get to Murodo. Without hiking up to the peak of Mount Tateyama, Murodo is the highest point along the route accessible by public transport. On a clear day, you can even see Mount Fuji from the peak of Mount Tateyama. Tateyama, along with Mount Fuji and Mount Hakusan, was one of Japan's three holy mountains from the 17th to 19th centuries. Seeing hot water springing from the ground at Jigokudani (Hell Valley) made people think they were looking into the underworld, so the peak of Mount Tateyama overlooking the valley of hell represented heaven. People believed there was a god residing on Mount Tateyama, and climbed the mountain hoping that their souls would go to heaven after their death.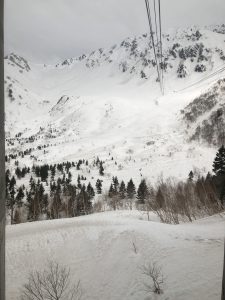 The snow wall was 16 metres high that day, and it wasn't as cold as we thought. Stepping off the bus and looking up at the walls under a cloudy sky reminded me of a scene from the Game of Thrones, and the crowd of tourists felt like the White Walkers—if not for their colourful down jackets. Nevertheless, we had a pleasant stroll and took a short break at Tateyama Hotel, eating wasabi croquette (famous in Omachi) and soba (Nagano's specialty), before returning to our starting point.
I have friends who have done the alpine route in both summer and autumn, and they say that the views are drastically different. There are several hiking options from the hotel onwards, such as to Shomyo Falls, the highest waterfall in Japan, or to visit Jigokudani Onsen (Hell Valley Hot Springs) as the pilgrims did in the old days. With all the different seasons and alternative routes to explore, I think I will be back again to finish crossing the route, across to Toyama.
Coming from Singapore, a tiny city-nation in Southeast Asia, Amy is always trying to prove her worth as an ALT while figuring out what she can and wants to do with her life. Right now she's just enjoying life as best as she can by watching Netflix and playing computer games like Cities Skylines and Sims 4, when she has free time.
All Photos: Amy Lim