This article originally featured in the November 2019 issue of Connect.
Sonali Dutta (Tokushima)
Most, if not all of us, have a staple pair of blue jeans in our wardrobe. Did you ever wonder where that distinctive inky hue came from? Indigo is an ancient dye made from a plant known as "sukumo" in Japanese. Tokushima prefecture in Shikoku boasts a unique museum featuring the history and craft of indigo fabric dyeing.
Tokushima has produced indigo, known as "Awa Ai" ("Awa" is the old name for Tokushima and "Ai" is the word for indigo), since the Edo period. There is even a nearby town in Tokushima called "Aizumi" which was named after the town's indigo production, as the "zumi" part means "to live". Tokushima is especially suited for cultivating indigo plants due to the climate, soil quality and plentiful water from rivers. Dye production has greatly benefitted and shaped Tokushima`s economy and culture. In Tokushima, you can also have a go creating indigo-dyed items yourself. The museum is about a 30-minute bus ride from Tokushima station and entry is 300 yen for adults.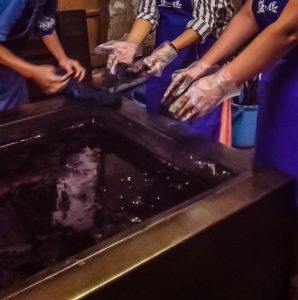 When entering the museum, you can see a few indigo-dyed textiles including kimonos and various wall-hangings. The older textiles are remarkably well-preserved and still bright in colour, perhaps due to indigo`s insect-deterring properties. The kimonos in particular have intricate detailing including embroidery. You can really sense the labour and time that had gone into creating these items.
The museum also has small models that show the process of growing and cultivating indigo plants as well as the method of dyeing. Sukumo leaves are locally grown, harvested and dried. They are then fermented for a few months to create the materials for dye with its characteristic blue colour. It's a long process that can take around a year and it was cool to see how much work goes into each stage of dye production. You can also see the tools needed to create indigo-dyed items.
We also had the opportunity to tour the house and workshop of an indigo merchant who used to live on the grounds of what is now the museum. The buildings date from around the early 1800s. It was interesting to see a historic house of someone who was wealthy as it was much bigger and had more rooms than a conventional house. Quick tip — you need to take off your shoes to enter the house and there are some steep, narrow staircases.
The best part of the museum experience was being able to experience indigo dyeing for ourselves. You can dye items such as handkerchiefs and scarves from 500 yen onwards. I chose to dye a white handkerchief. Dyeing the fabric is done in a special room which has huge vats of indigo dye. The dye has a strong, but not unpleasant smell. It's pretty cool that this method is similar to the process used hundreds of years ago for creating dyed textiles by hand. The staff help you during every part of the process, explaining and showing you what to do.
First, I chose my pattern and how dark I wanted my handkerchief to be. I chose the darkest shade and a star-shaped pattern. The star pattern was achieved by folding the handkerchief and then putting a wooden fan-like contraption to prevent the dye reaching that part of the fabric. The Japanese term for this technique is "shibori", which is known as resist dyeing because you are preventing the dye from reaching particular parts of the fabric to create a pattern.
Then we put on plastic gloves and aprons to protect clothes and hands from indigo stains. The staff at the museum told us how long to immerse the fabric into the vats of indigo dye. The fabric went from white to yellow in the first dyeing, then green and finally the vivid dark blue we were aiming for. In between immersions, we also needed to squeeze excess dye from the fabric—this was really fun!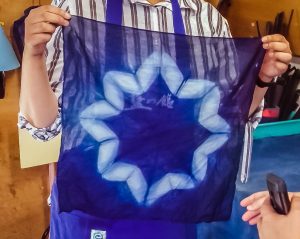 When the dyeing was completed, we then needed to rinse the handkerchief completely to remove all dye. To finish the process, I ironed my snazzy, freshly patterned handkerchief which revealed a vibrant blue colour. The whole process took less than half an hour, and we didn't need to wait in a queue to begin. It was a lovely, unique souvenir from the museum that would make a fantastic souvenir. There is also a gift shop where you can buy similar indigo-dyed products and clothing.
I would recommend a day out to the indigo museum to anyone who enjoys Japanese history, is interested in textiles or fashion, or who simply wants a unique Japanese cultural experience. I was lucky that I was accompanied by a Japanese speaker. But although English explanations and signage are limited, I would still recommend visiting the museum for non-Japanese speakers as you can still enjoy the models, exhibition, and dyeing experience.
Sonali Dutta is a first-year JET in Tokushima prefecture at three senior high schools. Before coming to Japan, she worked in the publishing industry in London, United Kingdom. She studied in York, United Kingdom and Massachusetts, America. Her hobbies include reading, yoga, and writing on her blog. She also enjoys exploring and eating her way through Japan. Her favourite discoveries so far are the Studio Ghibli Museum in Tokyo, deer in Nara, and Sushiro in Tokushima. Her goal while in Japan is to do as many tea ceremonies as possible.
All photos provided by Sonali Dutta