Lauren Handlon (Hokkaido)
On February 10th, 2018, 140 current JETs from all around the country, as well as a few worldwide alumni, gathered in the snowy capital of Hokkaido for an enkai following one of the most famous winter festivals in the world, the Sapporo Snow Festival.  
We enjoyed the Hokkaido specialty, Genghis Khan, and all-you-can-drink, for a night filled with good food, company, and fun!  
I began planning back in September of 2017 for this event. It started out as correspondence with Hokkaido's local AJET chapter (HAJET) about the potential for collaboration.  We decided to have the event be primarily National AJET, but HAJET's own Snow Festival Tour for non-Hokkaido JETs would be merged together with the National AJET enkai.  From there, preliminary reservations were made at the venue and with menu details in hand, a form was sent to gauge interest and see how much preparation would be needed.  Wanting to have official registration live before Christmas break, I set up the form and sent it out via Facebook, the National AJET website, and emailed it to PA's to forward to their JETs.  
Registration exploded way faster than I had anticipated, and before we knew it, we had about 180 people!  The final number, about two weeks before the event, tapered to 140. This was one of the largest turnouts ever for the annual enkai!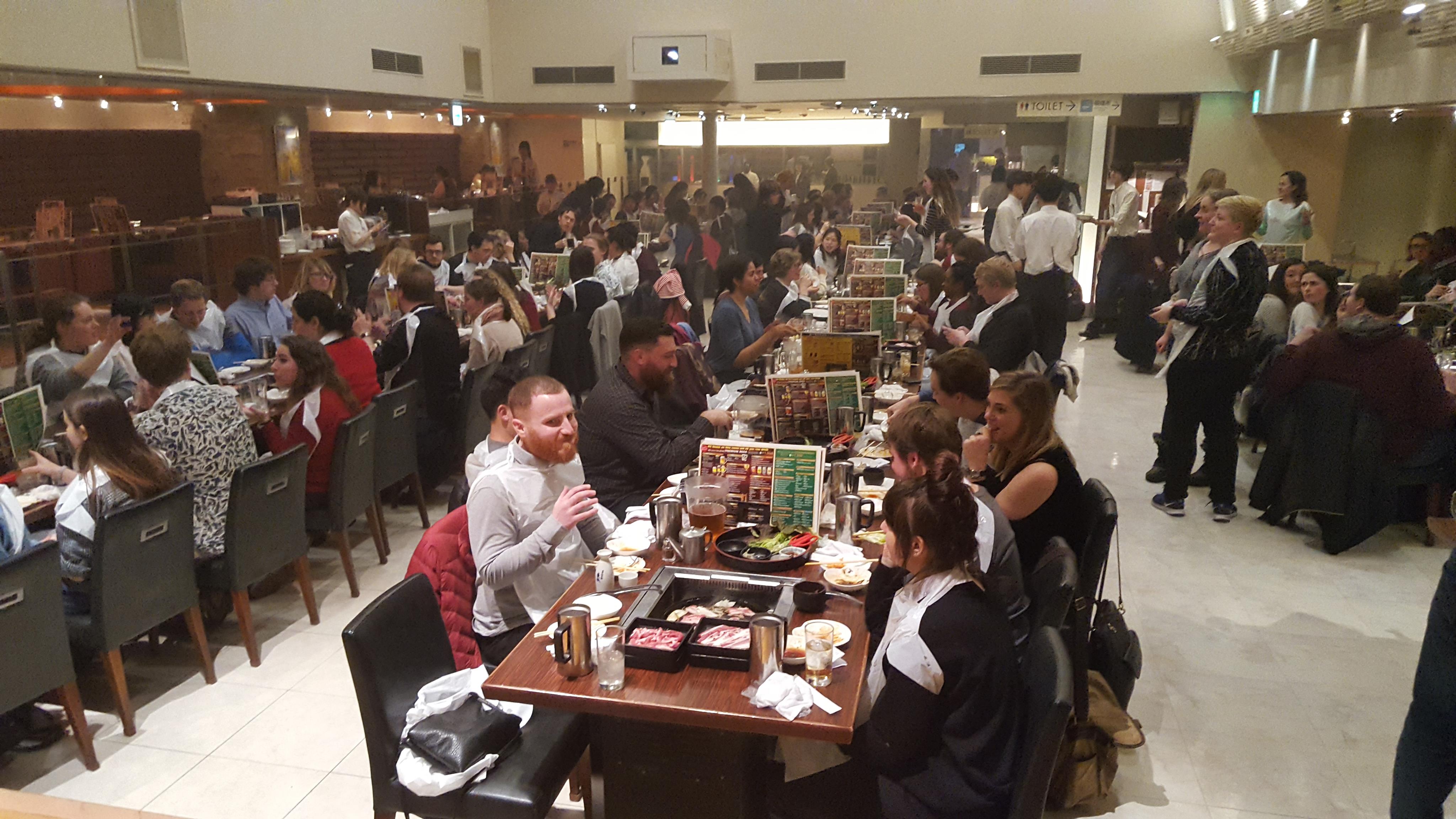 I quickly realized I could not handle the volume of people by myself, so I roped together a team of two other block representatives, their plus ones, and two of my local JET friends.  Together we did registration, money collection, and gave slips with a scavenger hunt that counted as their entry ticket. I relayed between the staff of the restaurant, my team, and participants throughout the entire event.  
About an hour into the meal, the official kanpai was toasted, and I was overwhelmed by the positive and huge response I got!  The scavenger hunt encouraged everyone to meet new people, and I think everyone walked out with at least one new friend!  It was truly moving to have so many JETs from all over the country, world, and walks of life gathered together in one place to share a meal and a drink.  It was then that I realized what a truly amazing experience we are blessed with on the JET Programme. Where else could you have such an opportunity? Until next year!
Lauren Handlon is the Block 1 Representative for National AJET.  She is on her second year in JET in the tiny town of Yubari (yes, like the melons) in Hokkaido.