This article originally featured in the November 2021 issue of Connect.
Mari Kurata (Mie); Interviewed by Sierra Nelson-Liner (Shizuoka)
I knew I was home away from home when I arrived in the town of Hakusan. Maple leaves were changing their colors, children were laughing and sliding down the grassy hill, smoky aromas from festival stalls reached my nose—their flavors carried along the crisp autumn wind.
My arrival was welcomed by warm hugs from Mari-san's two children. The stalls were getting set up for food and handmade crafts. Live music began to play and Mari-san grabbed my hand. We ran up to the front of the audience and began to dance to "Chiisana Koi no Uta," originally by Mongol800. The dancing carried into the evening as the coal fire cooking the wild boar kept us warm. It was a unique experience where I knew I was physically in Japan, but felt like I had just left the country. I am looking forward to attending the festival again this year.
I started volunteering at Harold and Mari-san's guest house and farm in August 2020 through WWOOF Japan. Each visit has brought me closer to being a part of Hakusan's community. Hakusan-cho is a heart-warming countryside town that is internationally connected. Close to Tsu and Ise cities, it is the perfect escape from the hustle and bustle of city life. You can enjoy onsen, seasonal fruit picking, and stay at Harold and Mari-san's Guest House Ilonggo. There you can learn about countryside living, farming, and about having a multi-national family in Japan. Harold is originally from Silay City in Negros Island, the Phillipines. While you stay with their family you can learn about Filipino culture by eating some of his delicious home-cooked Filipino food. Mari-san is a driven activist, mother, and community entrepreneur working to make her hometown an international-friendly one. This year she will host her town's third International festival on November 20, 2021. I hope you all can attend! You can purchase your festival ticket here.
For those of us who haven't heard of your festival, what do you want people to know about it?
This festival is a unique way for you to experience the feelings of being in another country even as you are standing in our town in rural Japan. In the open market, you can purchase handmade crafts and try traditional foods from around the world. The festival is held in the late afternoon and carries into the night. This means that you can dance under the moon next to a bonfire with good music and professional performances. With this environment, you can't help but join in with the festivities. All of us together with lovely local and international people. It's a dream come true.
This slideshow requires JavaScript.
What inspired you to start this international festival?
My experience in the Philippines and volunteering for the environment inspired me to continue international connections in Japan. I worked for an NGO, Ikaw Ako, which focuses on reforestation along the coastline with mangrove trees. As a forester myself, I developed a community-based reforestation program in Negros. Many Japanese volunteers participated in activities in the Philippines which my program provided. I wanted to continue those connections, even as I remain in my hometown in Japan. Furthermore, the happy memories of festivals in the Philippines inspired me to hold a more international-style festival in my hometown. Of course, my husband is from the Philippines so I hope to also make him feel at home away from home. 
What is your best memory of the festival so far?
Simply dancing together. I was so happy to meet my friends who are usually scattered all over Japan. It was lovely to see them and enjoy the festival together. There were many new foods for them to try, and people to meet for the first time. So, it was exciting to see. 
What is something that would surprise people about your festival?
One of the main festival foods we prepare is the roasted whole pig, or wild boar. The boar is cooked on an open fire. As the festival extends into the night you can help rotate the pieces of meat. This is a nice community act within itself. Everyone who comes to the festival is invited to help prepare the wild boar together. It is a nice experience to teach people about Filipino cooking. 
How can people get involved with supporting or participating in your festival?
Come and enjoy, meet us and start a conversation or join us for a dance! This year, we invited semi-professional performers. If there are no more COVID-19 restrictions, then we are going to make this event bigger.
What is the main purpose of your festival?
I really want to encourage interaction between foreign residents and local people. A lot of foreign residents are isolated in Japan. A lot of the time they are alone, or it might be difficult to make initial connections with local Japanese people. I would like to provide the environment for foreigners and locals to connect so that they can help each other and create a better life. This may start at my festival, but also continue through events I hold in my town hall.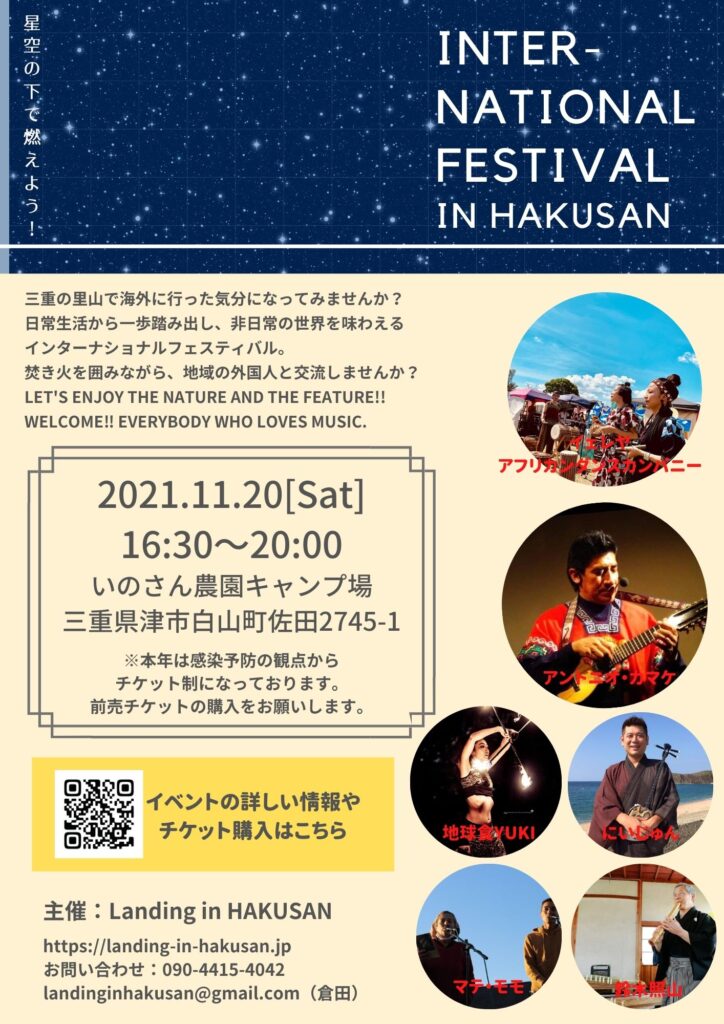 What are some other ways you are building your community in Hakusan?
I organized a nonprofit organization named Landing in HAKUSAN with local young professionals. We are promoting this town as a farm tourism site. With the help of the national government, we made a map, a website, and promotional videos like this one.
Can you talk more about starting your town hall and community center?
I bought an old village hall, which is a romantic, wooden, two storey building. With the help of many people, I was able to renovate it and open it as a community shared space. We are going to hold different events to attract and allow for interaction between incoming people and local people.
What events have you held there?
We have held a huge series of events that promote local products and healthy lifestyles. For example, yoga and zumba classes. We have also held discussions after documentary movie showings, and provided alternative school classes for children. 
Why do you want to build an international community in your town?
My hometown has an aging population. I really want to revitalize it with young people. The idea of an "international town" attracts young people. Therefore, having an international community is key to revitalizing our town.
What do you want to see in your town's future?
I want our children to be proud of this town and want to stay here. I want more young people to feel as if they would be happy to live here long-term. I also hope our lands are cultivated and our forests are maintained with a good number of diverse plants and animals. 
Mari Kurata is a friend, mother, and entrepreneur in her community and abroad. She has worked as a core-member of Ikaw Ako for 12 years. When she isn't working on promoting her town you can find Mari-san hunting, eating her husband's delicious Filipino cuisine, or going on outdoor expeditions with her family. You can reach her on instagram, through her town's website, or the website for her guest house.
Sierra Nelson-Liner is a third year ALT in Hamamatsu City and is the Community Editor for [CONNECT] Magazine. She enjoys biking to the beach and playing her ukulele at sunset. She wants to inspire cultural exchange through farming in the Japanese countryside. Her current dreams are to experience safflower harvesting in Yamagata prefecture, visit the cedar trees in Yakushima, and start her own flower farm.